LOGAN SQUARE — For years, Lincoln Park residents fought to get General Iron out of their neighborhood, citing poor air quality and dangerous conditions at the longtime scrapper's facility.
Now, the end is in sight for North Siders as the company prepares to move to the Far Southeast Side — much to the horror of environmental activists and residents in those neighborhoods who have been battling poor air quality and high rates of asthma for years.
On Saturday, more than 100 North and South siders came together near Mayor Lori Lightfoot's Logan Square block to demand the mayor deny the company's final permit that would allow it to operate at 11600 S. Burley Ave. in the East Side neighborhood.
In September 2019, Lightfoot signed an agreement with Reserve Management Group (RMG), the owner of General Iron, to facilitate the shredder's move from Lincoln Park to the East Side.
The Burley Avenue site is a half-mile from George Washington elementary and high schools in East Side, an 80 percent Hispanic neighborhood already home to a heavy concentration of industry.
Greg Miller, a 14-year-old freshman at George Washington High School, co-organized Saturday's rally.
"[Lightfoot] is supposed to be a leader and stand up for what's right, not go against us," Miller said. "We feel hurt because you are moving [General Iron] from the North Side, where there are not a lot of factories, to the East Side, where there are plenty of factories. If the pollution rate on the Southeast Side is already high, why make it worse? Lori doesn't care because it's not affecting her."
Just this past week, a fire broke out at the General Iron facility in Lincoln Park, rattling neighbors, including Ald. Brain Hopkins (2nd), who lives near the plant. He said he thinks the city should table its evaluation of the permit until the investigation into Tuesday's fire is completed. Neighbors were also shocked last week to hear that General Iron paid just $18,000 to settle with the city for its pollution violations from years past.
Miller said the plant's move to his neighborhood is especially personal for him: His 1-year-old brother was recently diagnosed with asthma and he does not want his brother to be further harmed from RMG's new facility.
He also expressed frustation with Ald. Susan Sadlowski Garza (10th) for not doing enough to stand up to Lightfoot and speak on behalf of East Side residents fighting against the move, especially during the pandemic that has disproportionately hurt Black and Latino residents.
Trinity Colón, a 17-year-old George Washington high school junior and youth activist, said the East Side is the the only place she's ever called home, and is fed up with the pollution she is forced to live with.

"We are a dumping ground, we are the garbage can of the city," Colón said. "They don't care about us, they don't want to keep us safe or breathe the same clear, privileged air they breathe." 
Alds. Daniel La Spata (1st) and Byron Sigcho Lopez (25th) also attended the rally to express their opposition to the new facility, which will be called Southside Recycling instead of General Iron, but is owned by the same company and will continue its scrapping operations.
La Spata, who represents part of Logan Square, said it was important to stand in solidarity with the East Side community and called the plant's move to the neighborhood — and its impending opening — dirty and racist. If it doesn't belong in Lincoln Park, it doesn't belong on the East Side, he said, which was a sentiment felt by many who spoke at the rally.
"It's not enough to just shut down, it is also entirely unfair and genuinely racist to continue to concentrate polluting the East Side," La Spata said.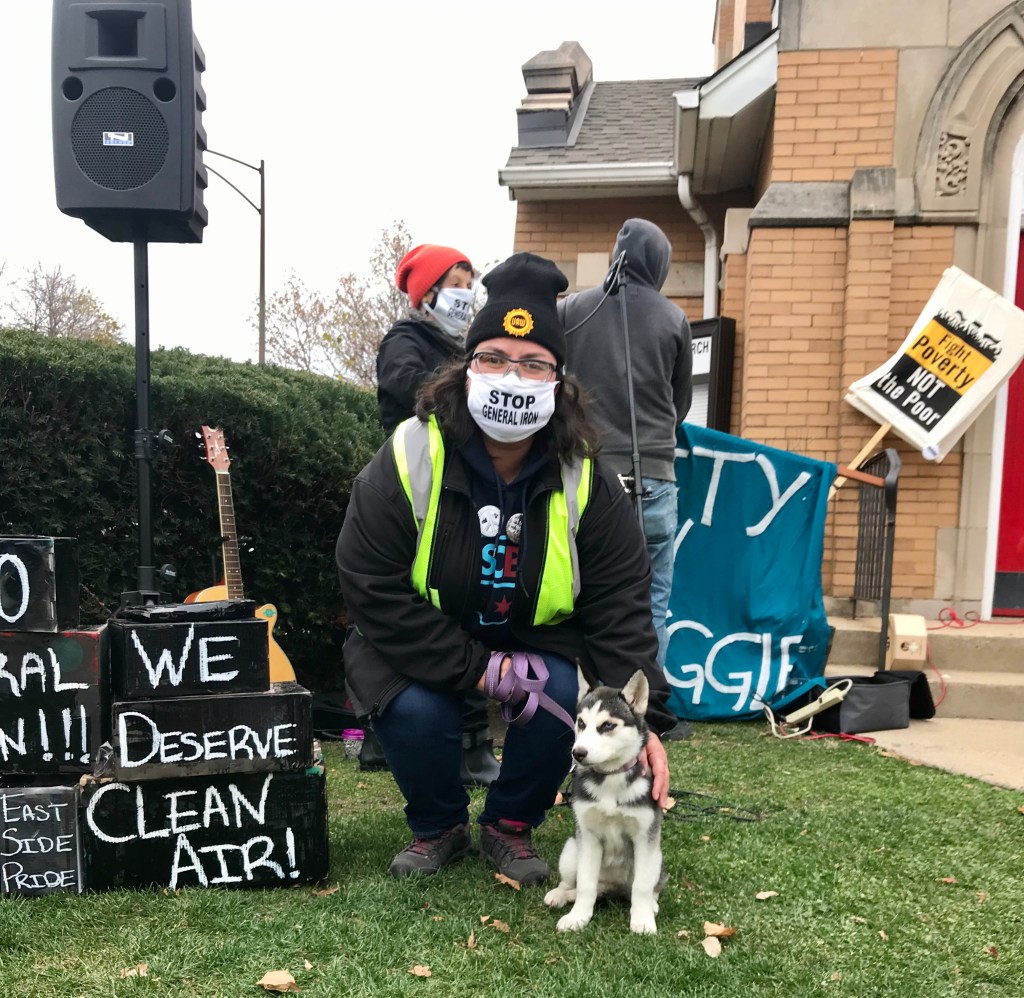 Many Logan Square residents came out to express solidarity as well, with some cheering from their porches and honking horns. One man even brought out his own drum to cheer on the crowd.
In response to residents' concerns, RMG officials gave repeated assurances that Southside Recycling would be a "state-of-the-art" operation during an Oct. 27 tour of the company's Burley Avenue site.
The core of Southside Recycling's operation will be a half-mile from the public right-of-way, a distance that "creates such a buffer from the things that cause issues" in Lincoln Park, RMG CEO Steve Joseph said.
"Number one, you can't see it; number two, you can't hear it," he said. "We don't think, when it's up and running, that it's going to have an impact that anybody is going to see."
A sewer system running around the entire facility will collect runoff from the recycling process, while misting cannons will be installed to prevent particulate matter and airborne pollutants from escaping the site.
North Side neighbors have repeatedly criticized General Iron for failing to control "fluff," or fugitive dust, from escaping into the surrounding neighborhood. Prior to RMG's purchase, General Iron agreed to two settlements with the EPA involving refrigerant and fluff escaping the facility.
Protections like the misting cannons would be crucial, as prevailing winds would direct a majority of the plant's emissions to the northeast — toward George Washington elementary and high schools.
If permitted, Southside Recycling would begin full operations in early 2021, according to Joseph. The facility would be required to monitor particulate matter and provide real-time notification if an issue arises.
Marie Collins-Wright, a member of the Jeffery Manor Community Revitalization Council and a citizen scientist with the Southeast Environmental Task Force, said General Iron's past violations and history demonstrates it is not safe and should not be allowed to move into another neighborhood simply under a new name.
"I find myself at a loss for understanding why, during a pandemic, the City of Chicago would want to force a dirty company that they know is very dirty into another our community," Collins-Wright said. "If it's not appropriate for Lincoln Park, it's not appropriate for the Southeast Side."
Officials did not answer directly when asked if Southeast Side neighbors would be provided previews and access to the facility, as Block Club and Sun-Times reporters had received.
"We have historically been an under-the-radar company … we haven't historically done community outreach," Joseph said.
Without providing specifics, Joseph said RMG will "hopefully" roll out its community engagement efforts soon. He said Southeast Side activists had been invited to continue discussions with the company following an initial August 2018 meeting, but they declined.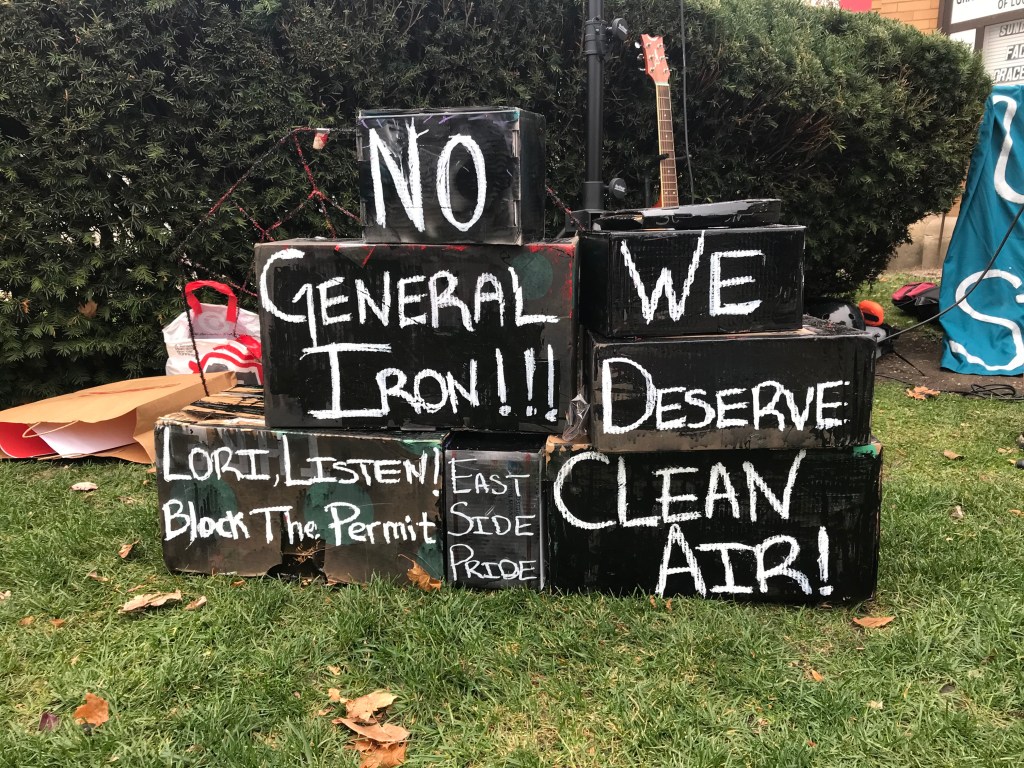 East Side neighborhood leader Gina Ramirez, part of the Chicago South East Side Coalition To Ban Petcoke, said Saturday activists are not interested in meeting with RMG for further discussion because she said it was clear in the initial meeting that residents did not want the operation in their community. She sees no point for further meetings now that the facility is built.
She said it doesn't make a difference that the new facility is set back half a mile and unseen by the public and would use misting cannons and sewer systems as buffers.
"Out of sight out of mind does not apply here when you are breathing in toxins," she said.
If given the chance, she said she would not want to meet with RMG or tour the new facility because it "should not be there in the first place" and said the company has not been the best neighbor, especially during the pandemic.
"They can tell me day and night that they have the best, state of the art equipment in place but the fact of the matter is General Iron exploded this year and there was a fire this week, so the actions are showing me that this is not a safe operation," she said.
In a statement released Saturday, RMG officials said it expects a rigorous vetting process to show the new recycling facility will "meet or exceed the city and state's strict permit conditions and regulations" and stressed that General Iron is not moving but being replaced.
"The alternative to this project is discarding metal in landfills or shredding metal at facilities that don't have any pollution controls," RMG said in a statement. "From the ground up, we are building a new shredding facility that will continue the environmentally responsible recycling we have conducted at our Southeast Side home, which has been properly zoned for metal recycling, for decades."
However, General Iron Vice President Adam Labkon is still employed by the "new" firm and essential equipment and most existing employees will make the move from Lincoln Park.
Despite community outcry, Lightfoot is expected to sign off on the final permit needed to get Southside Recycling up and running.
"We need to breathe just like everybody else and to put it near a school is unconscionable. My children all graduated from George Washington high school — there's enough dust there already," Collins-Wright said. "[City leaders] need to come down there and breathe for a few days so they can see the difference in the air and maybe that will influence going forward. But if not, we will be out there to remind them."
Subscribe to Block Club Chicago. Every dime we make funds reporting from Chicago's neighborhoods.
Already subscribe? Click here to support Block Club with a tax-deductible donation.