SOUTH SHORE — Staffers at a South Shore co-working space have organized an art residency for creative Black mothers, providing financial and professional support to women looking to boost their artistic profile.
The Wild Yams artist residency, named after a root used to support women's reproductive health and inspired by a bell hooks book on Black women's emotional health, "Sisters of the Yam," is in its pilot phase at COLAB 7100 in South Shore.
Art residencies rarely provide support tailored to the needs of working parents. Even fewer of them center Black parents, said Wisdom Baty, the director of development and community relations for the co-working space.
Wild Yams exists to reward creative Black mothers for the value they bring to their communities through their parenting and their art, she said.
"As [the residency] grows, I desire that there will be workshops that deal with mental health, financial stability and networking that connects all these vibes that propel you as a creative being," Baty said.
"Black women historically hold the community down … all the while, we're not receiving that reciprocity."
Wild Yams has helped COLAB 7100 expand its pre-pandemic focus on the "traditional small businesses" and "cater to the more creative entrepreneurs" in South Shore and on the South Side, said Chase Chavin, who founded the space with artist Amanda Williams and business consultant James Gray.
"A lot of co-working spaces are looking for unique ways to be of service," Chavin said. The art residency "seemed like a [good] fit — and more importantly, draws from the community that we were trying to support in this business."
The residency is supported by a $2,000 grant from the Propeller Fund, which supports "independent … collaborative and public-oriented" visual arts programs. It's administered by the University of Illinois at Chicago's Gallery 400 and Humboldt Park-based nonprofit Threewalls.
The one-time research and development grant supports "projects that have a strong idea and need additional time to flesh out the core of the idea," Threewalls executive director Jeffreen Hayes said in an email.
It allows programs like Wild Yams to hold a trial run "with the anticipation of receiving full support from the Propeller Fund when they are ready to fully realize the idea.""This residency and the artists co-leading it exemplify how the community shows up for each other, and that there is more abundance than deficit on the South Side and within Black communities," Hayes said.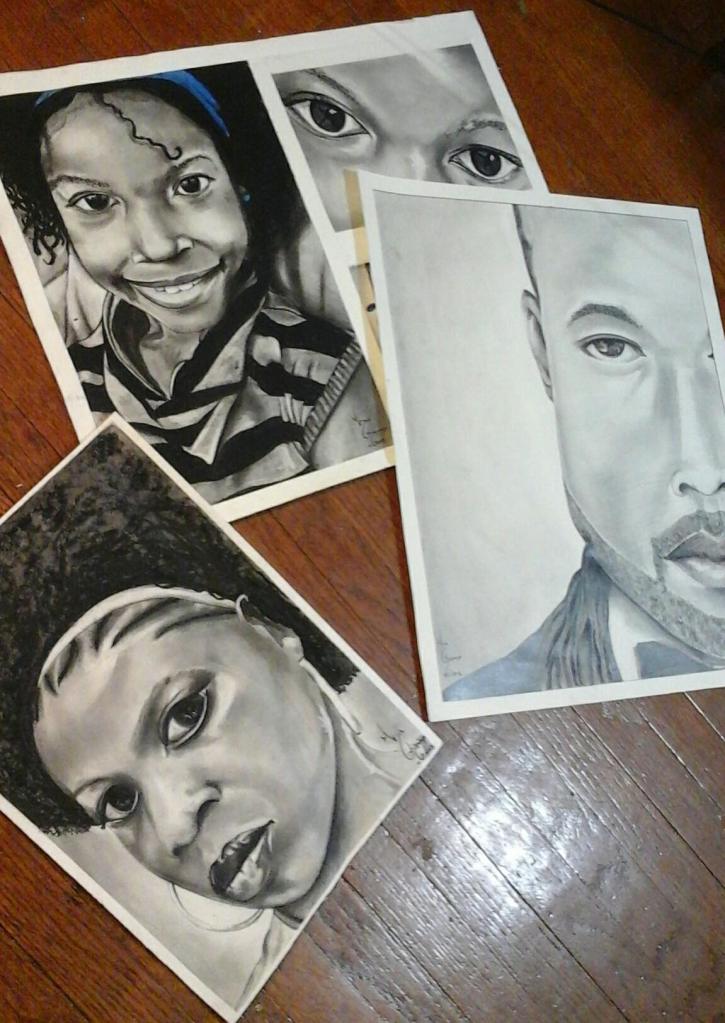 Minar Kalyango, a painter and photographer from Englewood, is the space's first resident artist. Kalyango has painted with oils on canvas since before her 16-year-old daughter was born, and she's since expanded into acrylics, face painting and photography.
Pursuing art professionally has been "a real slow journey," she said.
"One of my hardest times was trying to find places to sell my art, or the time to put a lot of marketing into it," Kalyango said.
Kalyango's gained skills and connections since taking up the residency, during which she focuses on her photography. A $700 stipend, studio space for portraits, places to display her work and relationships with potential mentors and buyers are some of the resources she's received.
"I'm not a religious person, but this was a blessing," Kalyango said. "I'm learning how to market myself out there in this art world."
Balancing motherhood and creative pursuits, particularly in a global health crisis, is a challenge, Kalyango said. The stop-start nature of her photo work can be frustrating; progress is often interrupted when her children need help with virtual classes or a host of other concerns.
However, these interruptions teach patience, which is a necessary skill for the artistic process, she said.
"I learned from working with my children: You have to calm down and take a step back," Kalyango said. "I give them advice that I have to take myself in the world that I do."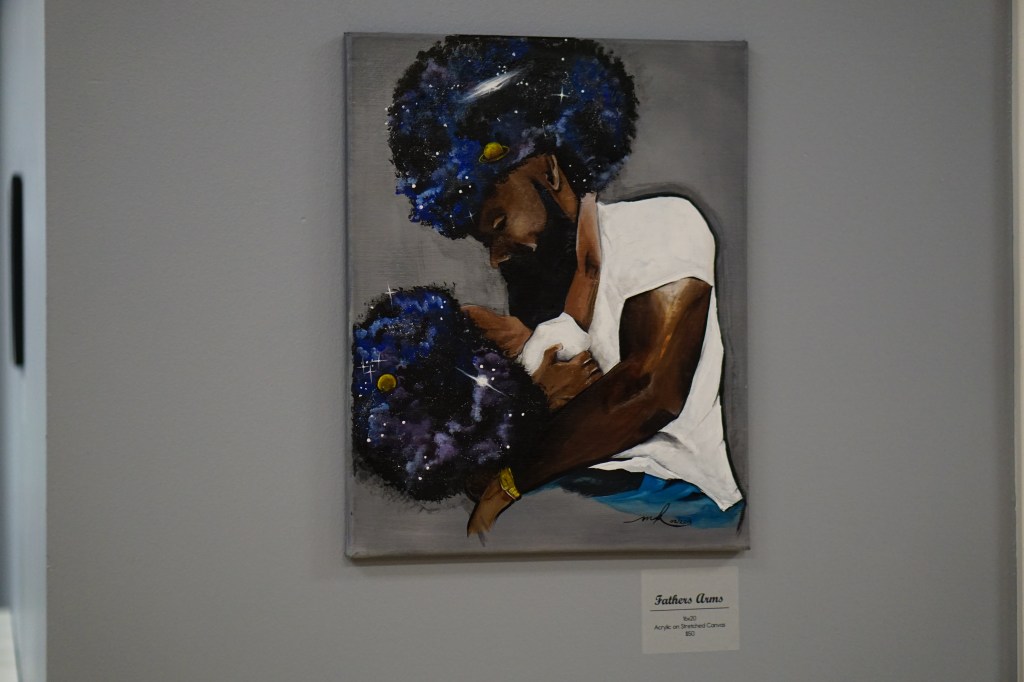 Patience has also been required in adapting the residency to the coronavirus pandemic, which led to a statewide shutdown just weeks after the residency launched. The crisis "has been a roadblock" to Kalyango's more ambitious plans, she said.
She's still holding out hope the pandemic will subside enough to organize an in-person, pop-up art sale for Englewood and South Shore creatives and an exhibition for teen artists citywide to sell their works before her residency is over.
"There's a lot of talent in our communities that needs to be put out there way more, especially with our children," Kalyango said. "I want to be able to tap into that, as opposed to putting in their faces, 'The only thing you're going to grow up and be able to do is be a basketball player or be an entertainer.'"
Kalyango will remain COLAB's resident artist until she completes studio visits, professional development workshops and a commissioned series, Baty said.
These tasks should be completed by the end of spring, Baty said, with an eye on opening the application process for the residency's next round shortly after. After selecting Kalyango herself, Baty said she plans to convene a panel to review applications and select a new resident artist by the summer.
For more information on the Wild Yams residency and updates on its next round, contact Baty at hello@colab7100.com.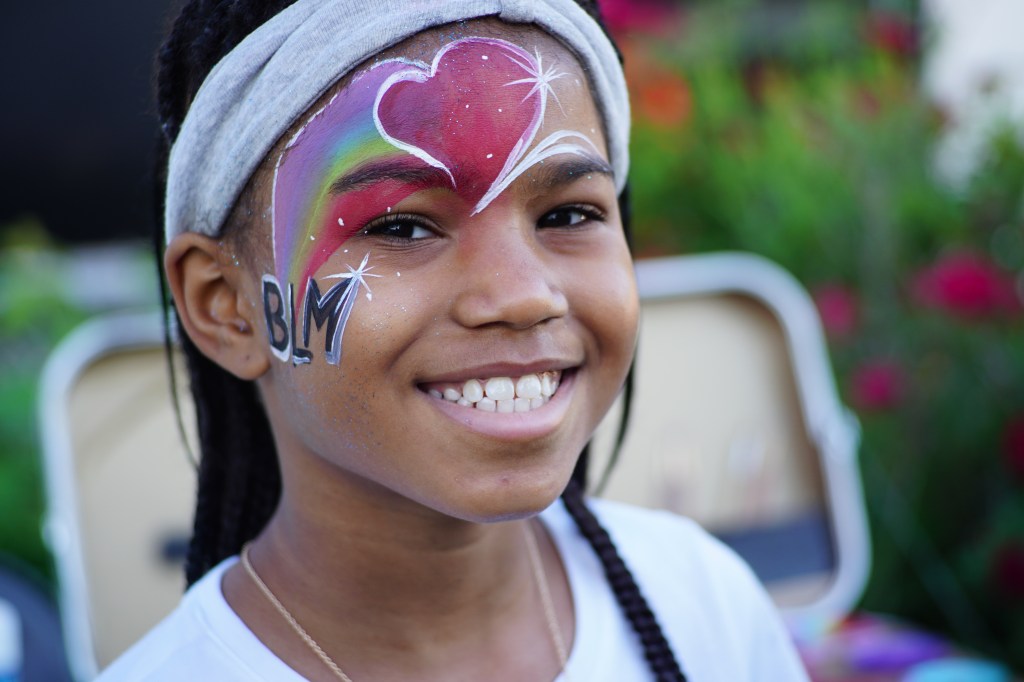 Subscribe to Block Club Chicago. Every dime we make funds reporting from Chicago's neighborhoods.
Already subscribe? Click here to support Block Club with a tax-deductible donation.