LINCOLN PARK — An afternoon debris fire broke out at the General Iron scrap metal facility in Lincoln Park on Tuesday.
North Siders reported smelling smoke and seeing light clouds emanate from the plant, 1909 N. Clifton Ave., around 2:15 p.m. Tuesday. Chicago Fire Department officials and a General Iron spokesperson said a pile of materials near the shredder caught fire, but the shredder itself was unaffected.
It wasn't immediately clear how the fire started but firefighters put out the flames by 3 p.m., fire officials said.
General Iron spokesman Randall Samborn described it as a "small smoldering debris fire" in a "material pile next to the metal shredder." The shredder was not in operation before the fire, Samborn said.
"No one was injured and the material was quickly extinguished by General Iron personnel and the Chicago Fire Department," he said in a statement. "According to the Fire Department, air quality monitoring did not detect any potentially hazardous pollution levels. We are investigating possible causes and we are fully cooperating with city officials."
Ald. Brian Hopkins (2nd) lives near General Iron. When he saw pictures of the smoke circulating on Twitter, he said he walked over to the shredder, arriving minutes before fire crews.
The alderman said he watched crews use grappling hooks to move the fiery pile around while trying to put out the blaze for nearly an hour.
"It required extensive movement of the scrap pile," Hopkins said. "When you have a fire within a scrap pile like that it's very difficult for the fire department … the pile itself contains the fire, and serves as a shield to the water."
While the air quality reports showed negative readings, Hopkins said it was "very windy" during the fire.
Readings from a Purple Air monitor installed by neighbors have showed relatively lower amounts of pollution in recent weeks, however levels of PM2.5 jumped drastically around the time of the fire, Hopkins said. (See the ratings here.)
"The wind would have dissipated any toxic emissions that occurred," he said. "This was a hazmat level 1 response. Scrap piles we know contain a wide variety of material — coatings, paint — they don't inventory these scrap piles, they simply unload the trucks. It's simply unknown what the exact nature of the contaminants of that pile might be. But for the neighborhood to breath a toxic smoke cloud like that, it's hazardous, even though it dissipated quickly."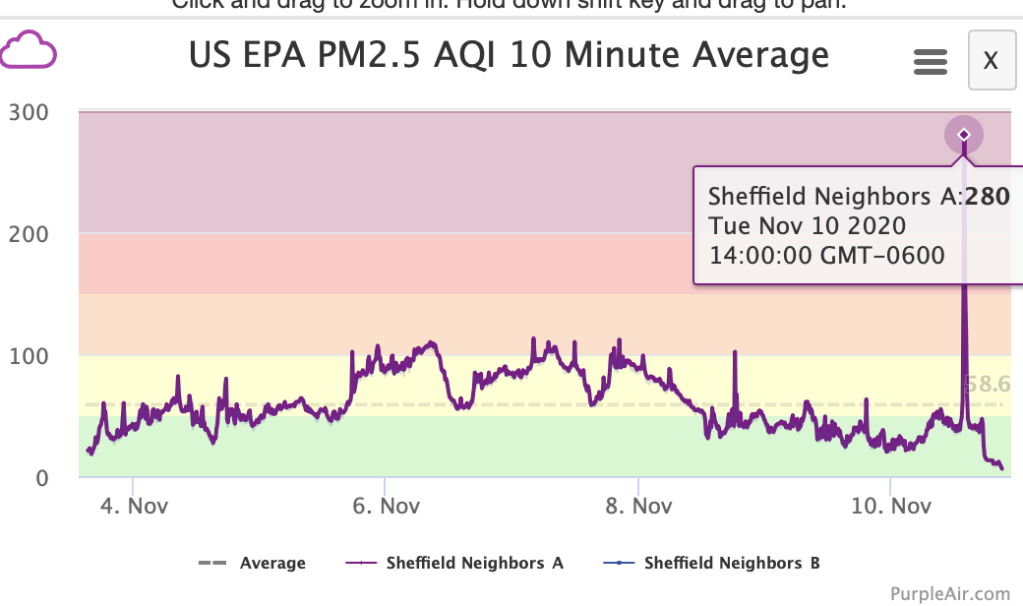 A fire in 2015 at General Iron originated in a 70 ft. high pile of combustible material, Hopkins said.
"They can contain corrosive materials, chemicals — things that react when they wind up placed in close proximity to each other," he said. "I'm sure the investigation will uncover that. We'll wait for that report."
The fire broke out just one week after Reserve Management Group, the company that owns the shredder, paid the city $18,000 to settle all of its outstanding municipal violations.
RELATED: General Iron's $18K Fee For Years Of Pollution 'Too Little, Too Late,' Activists Say — And Secrecy From City Makes It Worse
Earlier this year, a pair of loud explosions on the shredder's conveyer system rocked the neighborhood and terrified nearby residents.
RMG plans to relocate its shredding operation to East Side next year, renaming the company "Southside Recycling."
As of Tuesday afternoon, RMG had not filed its full application to receive its final permit, a city spokesman told the Sun-Times. 
Hopkins said he believed the city should table its evaluation of the permit until the investigation into Tuesday's fire is completed.
Subscribe to Block Club Chicago. Every dime we make funds reporting from Chicago's neighborhoods.
Already subscribe? Click here to support Block Club with a tax-deductible donation.