NORTH LAWNDALE — Some West Side parents are pushing back against a proposal to consolidate three underutilized neighborhood schools in favor of a new, high-tech public school in North Lawndale.
Parents and community organizers rallied Thursday outside Sumner Elementary School, one of three schools that would close to support the launch of the North Lawndale STEAM Partnership Academy.
Neighborhood leaders have spent years developing the school, which would specialize in science, technology, engineering, arts and mathematics. Sumner, Lawndale Community Academy and Crown Academy all would close, and their pre-K to eighth-grade students would be moved to the new school.
RELATED: A New High-Tech School Could Be Coming To The West Side — But 3 Nearby Schools Would Have To Close First
All too accustomed to seeing local schools close, opponents said Thursday the proposal doesn't address the real reason students are leaving Lawndale: existing neighborhood schools are underfunded.
"We have schools that are already open, and we are underfunded," said Shavon Coleman, a parent of two Chicago Public Schools students and a teaching assistant at Lawndale Community Academy. "Take the money that you were going to invest in the new STEAM school and invest that into our existing schools."
Parents said Sumner, Lawndale Community and Crown should be given the funding to have full STEAM programs, improved technology facilities and full-time social workers, nurses, librarians and speech pathologists.
School closures concentrated on the South and West sides have not worked out well, parents and teachers said.
Two schools in Lawndale closed in 2013 due to under-enrollment amid the wave of 50 school closures under the administration of former Mayor Rahm Emanuel. Another, Frazier Preparatory Academy, was shut down by the Board of Education this year.
Those past consolidations promised to bring more students to the surviving schools, which would translate to more funding, said Stacey Davis Gates, vice president of the Chicago Teachers Union.
"There were no savings. There were no discernable academic impacts that would justify the trauma of shutting down schools in communities that actually need a better deal," Gates said. "I'm sick of them telling me closing three down and building one means investment."
Parents said they were also concerned that teachers would have to re-apply to teach at the STEAM academy. A new school could mean students will be met with unfamiliar teachers who aren't from the West Side.
"Our parents want to know if there will be people who can relate to our children and their struggles," Coleman said.
State Rep.-elect Lakesia Collins said the proposal is a Band-aid solution for underutilization that will close three schools to boost enrollment at the STEAM academy "without addressing what the parents and teachers truly need."
Underutilization of Lawndale schools isn't just about program options, she said; it has more to do with social conditions that have shrunk the neighborhood population, like unemployment, a lack of affordable housing and high crime.
"We have to have a place where people want to live and stay," Collins said. "That's how you fix the enrollment issues; not by closing our schools."
The North Lawndale Community Coordinating Council, which is spearheading the proposal, have said the school is part of a broader neighborhood Quality of Life Plan to tackle multiple social issues in the area, including public safety, employment and affordable housing.
"The quality of life plan is a total program. It's not just focused on one thing," said Betty Allen Green, co-chair of the neighborhood's education committee. "One parent said the problem was housing. Well there's a housing committee … that's working on bringing 1,000 new houses to North Lawndale that residents will be able to purchase."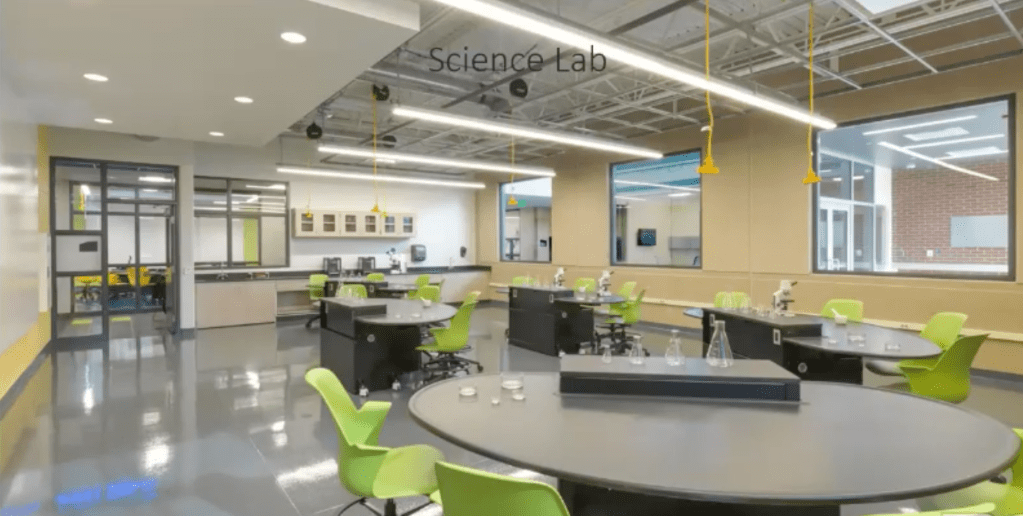 Some parents at the rally felt left out of the decision-making process for the new school, but Green said there has been extensive parent and teacher outreach at every step.
Since 2018, the school has been on the agenda for every monthly education committee meeting, which is attended by principals, local school council members, teachers and parents from many schools in the area.
RELATED: A STEAM School Is Being Developed In Lawndale, And Residents Get To Decide What It Will Offer
Neighborhood leaders also gathered feedback at North Lawndale Community Coordinating Council quarterly community meetings as well as its annual community meetings, which are attended by about 300 residents. Ald. Michael Scott Jr. (24th) held a town hall meetings to get people involved in the project.
"Our goal is to have everybody in the community who is interested in being involved, to have them involved," Green said.
Additionally, school principals notified all parents about nine parent engagement meetings in August, Green said. The proposal has generated overwhelming support among parents, and even among teachers and administrators who would be impacted by the closure.
"If this means that the children were going to get a high-quality education, they were fine with it. All three principals said that. When we met with the staff, that was generally what we got from the staff," Green said.
The proposal also gives priority to teachers at the three closing schools when the STEAM Partnership Academy builds its staff.
"We don't want the students entering the school feeling isolated. We want them to feel supported by familiar faces," Green said. "Not only the teachers, but the staff at those schools will be given first preference."
Parent feedback from the community meetings and a community survey resulted in a parent engagement center being included in the proposal. The center could offer GED and higher education classes, and a fitness center for families.
The STEAM school will not only benefit students who are enrolled, but all students and schools in Lawndale, Green said.
Partners on the project — including the University of Illinois at Chicago and Aurora University — are committed to developing the school as an anchor for building STEAM programming at other neighborhood schools, and will offer professional development resources for Lawndale teachers, Green said.
"What we are suggesting is not just for the new school," Green said. "We will have a STEAM hub in North Lawndale and get funded to go into all the other schools that are remaining once the STEAM Partnership Academy starts."
Pascal Sabino is a Report for America corps member covering Austin, North Lawndale and Garfield Park for Block Club Chicago.
Block Club Chicago's coronavirus coverage is free for all readers. Block Club is an independent, 501(c)(3), journalist-run newsroom.
Subscribe to Block Club Chicago. Every dime we make funds reporting from Chicago's neighborhoods.
Already subscribe? Click here to support Block Club with a tax-deductible donation.