CHICAGO — Illinoisans can help battle the coronavirus outbreak by answering when contact tracers call, Gov. JB Pritzker urged Friday.
The state's outbreak is worsening, with more than 10,000 people dead across the state and more than 10,000 new cases reported just Friday. At the same time, county and city health departments are trying to pinpoint where outbreaks are happening and where people have been exposed to the virus in an attempt to slow the spread.
"Just like wearing a mask, answering a contact tracer's call is a way to help keep your family safe and protect your community," Pritzker said at a Friday coronavirus update. "And that's going to be even more important with community transmission as high as it is right now."
The state released a barrage of contact tracing data online to highlight that effort.
But the data shows contact tracers across the state are struggling to reach and interview people with confirmed cases and people who might have been exposed to COVID-19 — and the issue is significantly worse in Chicago.
Statewide, between Aug. 1 and Oct. 24, there have been 191,960 confirmed cases reported and contact tracers have reached out to 133,017, or about 69.3 percent, of those people.
Contact tracers have only been able to interview 102,864, or about 53.6 percent, of those people, though.
In Chicago, contact tracers have only reached out to about 47.5 percent of people with confirmed cases over the same period, and they've only been able to interview about 30 percent of people with confirmed cases.
Tracers have had only slightly better success when trying to reach "contacts," or people who may have been in contact with someone with a confirmed case of COVID-19.
Statewide, tracers attempted to contact about 120,517 "close contacts" — 70.11 percent of the contacts who have been identified — and have only been able to interview 97,314 of them, or about 56.6 percent.
In Chicago, tracers have attempted to reach about 74.7 percent of contacts and have been able to interview just 45.47 percent of them.
Officials hope contact tracing can help slow the virus's spread because they'll be able to provide people who are sick or who might have been exposed with resources and information, so they know to take safety steps like quarantine.
If you get a call from a contact tracer, you should answer the phone and answer their questions, Dr. Ngozi Ezike, head of the Illinois Department of Public Health, said at the Friday news conference. People's information will remain anonymous.
If a Chicago contact tracer is calling you, the number on your phone will be 312-742-6843, or 312-74-COVID.
Pritzker said Chicago and Cook County are "still ramping up and looking to bring on more people" to serve as contact tracers, and their health departments are trying to get more of their information into the state's system. That could explain the lack of Chicago data available through the state's portal.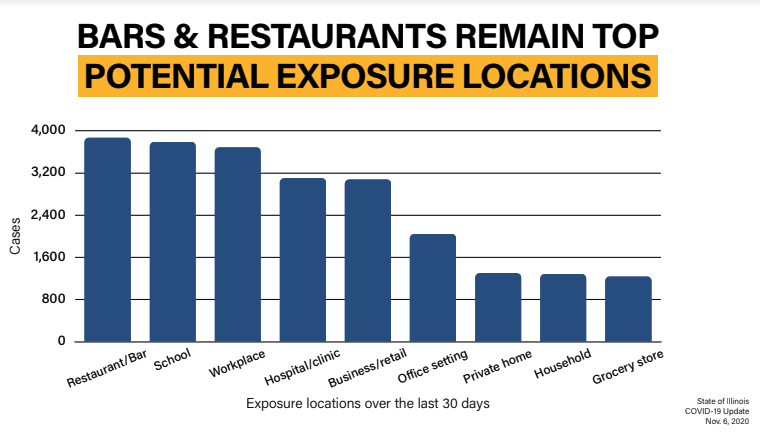 The state distributed $237 million to local health departments over the summer so they could hire contact tracers. Overall, the state has a goal of hiring about 3,800 contact tracers, and "we're almost at 3,300," Pritzker said.
Chicago's health department is hiring contact tracers and has had staff doing tracing throughout the pandemic, but it didn't jumpstart its hiring effort until September. The Chicago Department of Public Health is "still working on it" but hopes to hire "hundreds," Pritzker said.
"They're a little behind most of the other" local health departments, he said.
The state's data also shows that across Illinois, the most frequent place people report going to in the 14 days before showing symptoms for COVID-19 was a bar or restaurant. After that, schools, "workplaces — other than office" and hospitals or clinics are the most common.
Outbreaks — defined as five or more cases being linked to a common location during a 14-day period — are harder to find, but the data reports the most common places for outbreaks in Illinois are factory/manufacturer settings, community events and church or other holy places.
Block Club Chicago's coronavirus coverage is free for all readers. Block Club is an independent, 501(c)(3), journalist-run newsroom.
Subscribe to Block Club Chicago. Every dime we make funds reporting from Chicago's neighborhoods.
Already subscribe? Click here to support Block Club with a tax-deductible donation.