CHICAGO — With results from the presidential election hanging in the balance, hundreds of Chicagoans marched Wednesday night to demand votes be counted completely and President Donald Trump honor the outcome should he lose.
About 1,000 people gathered Downtown as part of a pre-planned, post-election protest organized by the Chicago Alliance Against Racist & Political Repression. About two dozen neighbors gathered on the Northwest Side for their own march.
Activists from local groups joined the Downtown demonstration to reinforce their longstanding demands for community oversight of the Police Department, anti-racist city policies and economic and rent relief for unemployed people — regardless of who wins the election.
But as the president and Republican operatives launched widespread legal battles Wednesday to try to affect vote-counting in battleground states — going so far as to falsely claim victory when several key states had not finalized results — several organizers shifted the focus of the demonstration to combatting voter suppression and safeguarding election integrity.
"Let me be clear: The will of the people will be heard today," said Erica Bland-Durosinmi, executive vice president at SEIU Healthcare Illinois Indiana. "The people have spoken. Across race and place, we voted in overwhelming numbers to move this country forward and start addressing the serious issues that we face.
"We are out here even though votes are being counted because there are efforts to suppress votes that were cast legally; and we will not stop until every vote is counted."
Hundreds gathered in Daley Plaza, and the crowd quickly grew and marched Downtown. As the crowd approached Michigan Avenue and Wacker Drive, city officials once again raised the nearby bridge over the Chicago River to prevent access to Trump Tower.
As protesters marched through the street, they chanted "count every vote" and "Trump, Pence out now!"
Andy Sturges, of Edgewater, said he came to the protest to lend his voice to the demands that Trump stop contesting the results and peacefully leave office if the election is called for his opponent, former Vice President Joe Biden.
"Trump has promised to not honor the results of the election," said Sturges, wearing a Biden face mask as he walked through a noisy Michigan Avenue. "That's unacceptable."
Esmeralda Montesinos, with the Illinois Coalition for Immigrant and Refugee Rights, said she and more than a dozen other fellows worked alongside thousands of community leaders and volunteers to engage new immigrant voters throughout the state through calls, texts and other outreach.
She told the crowd she joined the demonstration in part to defend the work community organizers did to get more people to the polls.
"We demand that every single vote gets counted. The fight is not over," Montesinos said. "I refuse to let our communities' work be in vain. The fight to defend democracy is happening right now, and we need to continue to build. We organized, we voted and now we organize some more."
Amisha Patel, executive director for Grassroots Collaborative, urged the crowd not to give up, saying democratic rights have always been something marginalized people have had to battle for.
"We will continue to fight for it today, tomorrow and every day that we need to make sure this election is not stolen from the people," Patel said. "We have to continue to fight for our justice and our liberation. That will not be handed to us through the current electoral system."
Protesters marched past Trump Tower before returning to Daley Plaza just before 7 p.m. At the plaza, protest organizers announced a second post-election rally, planned for Saturday at Union Park.
The effort to make sure Trump honors the election results is just getting started, organizers said.
"When he said he won the election, that was a challenge to the country," said Kobi Guillory, of the Chicago Alliance Against Racial and Political Oppression. "We are the ones who will have to remove them."
About 30 neighbors from Albany Park, Ravenswood Manor, Budlong and Lincoln Square gathered at the Lawrence Avenue entrance of Ronan Park Wednesday evening to demand all votes be counted.
Neighbors spent the weekend planning the event because they feared the president would try to disenfranchise voters.
In addition to Trump claiming he'd already won the election, the president tweeted his campaign had "claimed" the 20 electoral votes for Pennsylvania, which is a meaningless declaration. For months Trump also has peddled unsubstantiated claims the election would be stolen from him in a massive act of voter fraud.
"The president is not doing the things that the country values in our democracy. His refusal early on to indicate that he would accept the results of the election and his encouraging of threats of violence," said Rene Heybach, one of the neighbors who organized the Ronan Park event. "People suffered and died for the right to vote."
Heybach held one half of a banner that said "#CountEveryVote Honk For Democracy" and chanted, "Voting rights are under attack. What do we do? Stand up fight back."
Some cars slowed down to ask for a flyer the group had printed out that said, "Count Every Vote." Drivers honked in support as they passed.
"There's larger actions happening across the country. But we also wanted to make sure we brought this message to the neighborhoods, too," said Rhoda Rae Gutierrez, one of Heybach's neighbors. "From little actions like this and larger ones happening Downtown right now we need to show the federal government that every vote counts."
Gutierrez said she was not surprised Trump would try to call the results of Tuesday's vote into question but she was shocked when she saw him on the news early Wednesday falsely declaring himself winner and demanding a halt to the tallying of the millions of votes that have yet to be counted.
Pastor Tom Terrell from Christ Lutheran Church led the crowd in prayer.
"We're in the midst of an election where someone is trying to steal it. And someone is treating this election so unfairly," Terrell said. "And so we pray that you're giving each one of us courage, tonight, tomorrow and the next day to do everything we can to make our voices heard. So that every vote is heard. And that fairness, that justice, will prevail."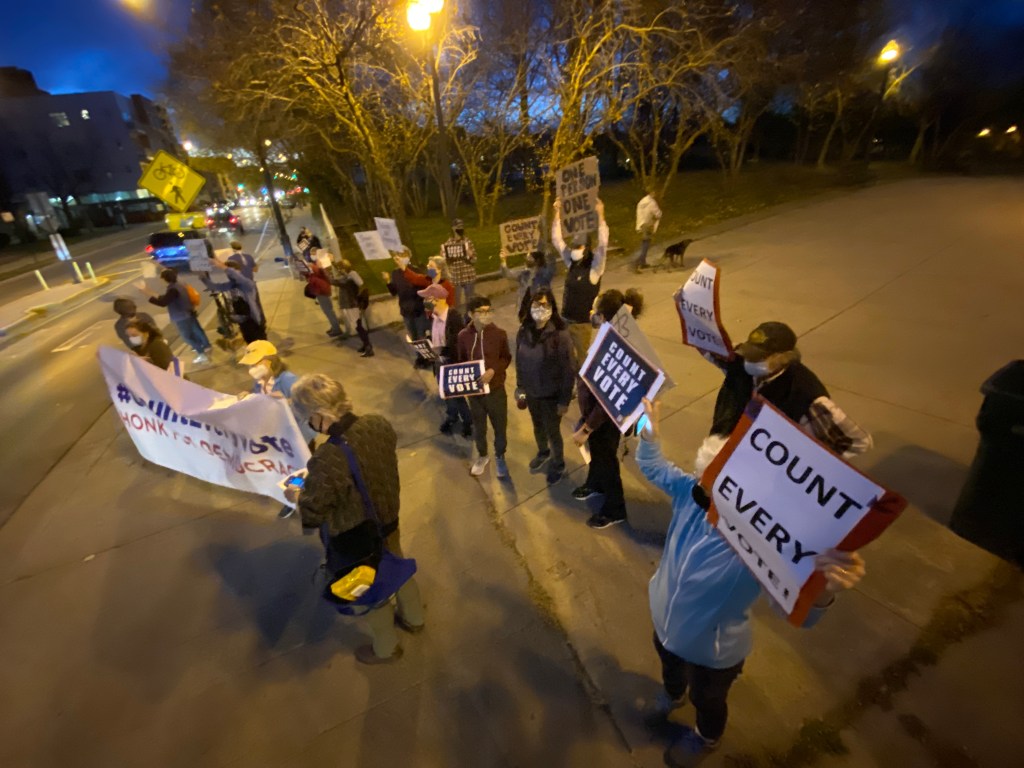 Do stories like this matter to you? Subscribe to Block Club Chicago.  Every dime we make funds reporting from Chicago's neighborhoods.
Already subscribe? Click here to support Block Club with a tax-deductible donation.