CHICAGO —After crushing previous mail-in and early voting records, Chicagoans lined up at polling places across the city at 6 a.m. Tuesday to cast their ballots in the 2020 presidential election.
More than 336,000 Chicagoans voted early, breaking the previous record of 325,000 early votes cast during the 2016 presidential election.
Those numbers will climb even higher as more mail-in ballots come in and people continue early voting Monday, election officials say.
RELATED: Voting In Chicago 2020: Here's Everything You Need To Know For Election Day
10:50 p.m.: Fair Tax Amendment Up In The Air
Chicagoans overwhelmingly supported a move to implement a graduated income tax in Illinois, but the outcome of the measure remains unclear.
Nearly 71 percent of Chicagoans voted to support the tax with more than 94 percent of precincts reporting. But more than half of voters throughout the state have opposed it with around two-thirds of precincts in.
The issue has become a battle of the billionaires. Gov. JB Pritzker has backed the tax while Ken Griffin, the state's wealthiest man, poured millions into defeating it. Read more here. — Kelly Bauer
10:45 p.m.: Cook County State's Attorney Kim Foxx Claims Victory In In Re-election Bid
Kim Foxx has declared victory over Republican Pat O'Brien in the race for Cook County State's Attorney.
With around 90 percent of precincts reporting in the city and suburbs, Foxx was ahead by around 236,000 votes by 9:30 p.m. Foxx claimed a significant advantage among Chicagoans while O'Brien fared better with suburban Cook County voters.
"Tonight, voters chose safety and justice instead of law and order," Foxx said in a Tuesday night statement where she claimed victory. Read more here. — Kelly Bauer
9:30 p.m: Lakeview Neighbors Vote Down Booze Ban, Effectively Saving Late-Night Bar Tai's Til 4
A referendum to ban alcohol sales in a part of Lakeview has failed, enabling longtime late-night bar Tai's Til 4 to avoid closing down.
Lakeview neighbors added the referendum to the 16th district of the 44th Ward, seeking to ban any sales of drinks with an alcohol content above 4 percent at restaurant and bars. Had it gone into effect, Tai's likely would have closed.
The owner of Tai's, 3611 N. Ashland Ave., said neighbors pushed for the measure after years of frustration of violent crime near the bar.
Residents voted against the ban by a 63-to-37 margin, with all votes tallied, according to Chicago elections board. Read our previous coverage here. — Jake Wittch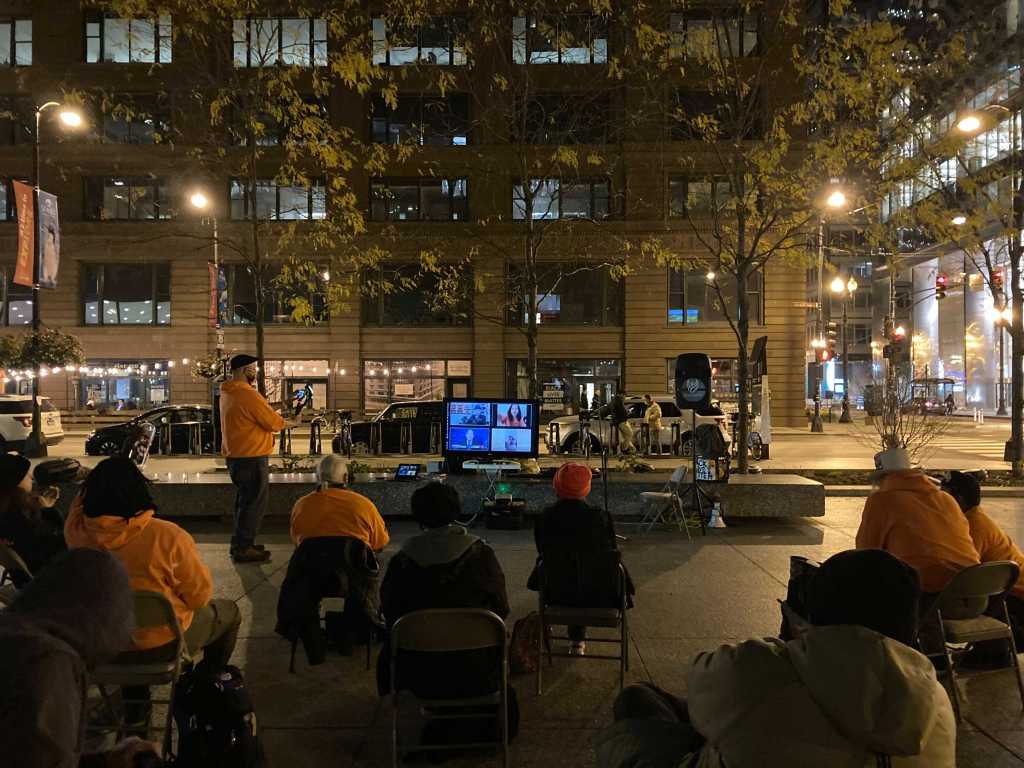 8:45 p.m.: No Protests, But Activists Keeping A Close Eye On Results: 'We Are Getting Ready.' 
One of the only preplanned protest actions on Election Day more closely resembled a political watch party.
Refuse Fascism Chicago has gathered about 40 people in Federal Plaza to watch its own election returns livestream. The production included livestreams from Refuse Fascism groups in states throughout the country.
The idea of the event is to organize ahead of any potential stealing of the election by President Donald Trump, said Lou Downey of Refuse Fascism Chicago.
"We are getting ready,"  Downey said. "We want to be together … if there's a reason to take the streets tonight." — Joe Ward
8:00 p.m.: Joe Biden Wins Illinois: AP
Democratic candidate and former vice president Joe Biden has won Illinois in the U.S. presidential election, according to the Associated Press.
Biden carrying the deeply Democratic state was not a surprise. Results are still being tallied but the AP called the race for Biden quickly after polls closed.
It's too early to project what that means for the overall race, as results are being counted in several key states. Read more here. — Kelly Bauer
7:30 p.m.: Polls Are Closed. Here's Where To Follow Chicago Election Results
Polls closed in Chicago at 7 p.m. with the city heading toward more than 70 percent voter turnout.
Remember, if you were in line at your polling place 7 p.m., you have the right to vote.
You can follow results as they come in at the Board of Election Commissioners site. Elections officials said results should start trickling in around 8 p.m.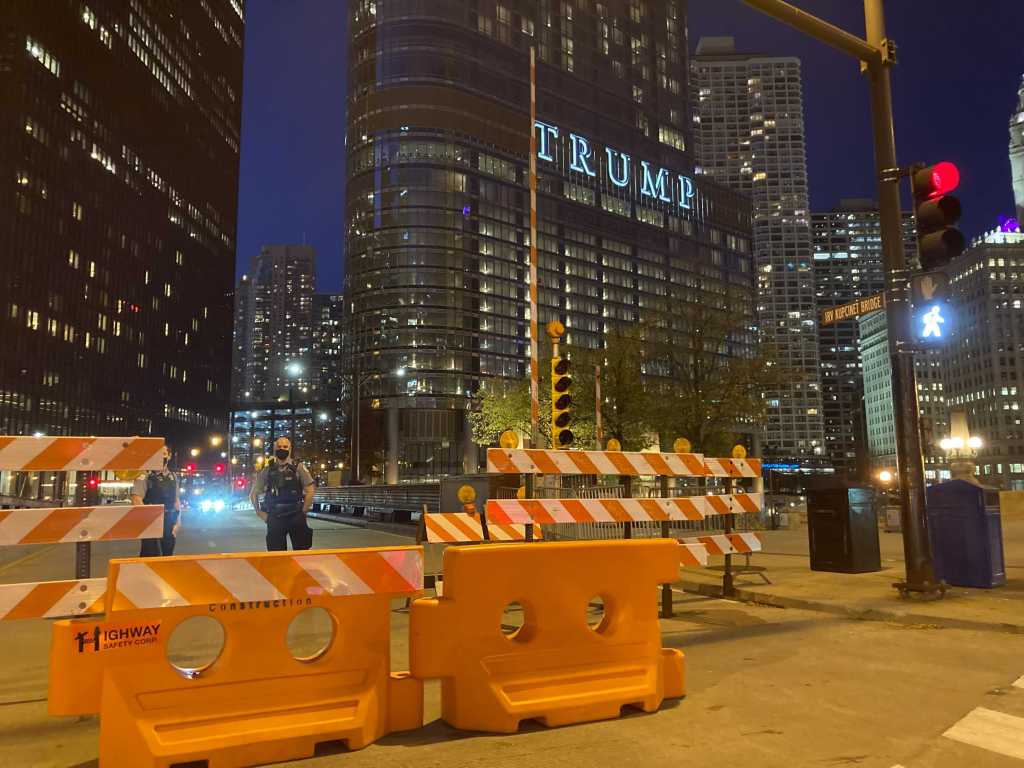 5:30 p.m.: Tight Security Around Trump Tower In Downtown, Officers Stationed Throughout City
Chicago Police blocked off North Wabash Avenue near Trump Tower on Tuesday night in anticipation of potential election night protests.
Salt trucks, used as barricades in recent protests, are parked nearby on Wacker Drive.
Police and OEMC staff are surveying several Downtown intersections, including near Federal Plaza, where officials warned of expected protest activity. But as of 5 pm, there was no protest at the site, and much of the rest of the Downtown is sparsely populated.
City agencies issued an alert Tuesday about expected protests throughout the city on election night. The city has practiced drills and held meetings to prepare for possible election-related unrest.
So far, there have been few signs of planned protest activity. But just before 7 p.m. local time, city officials raised the Wabash Avenue bridge over the Chicago River to further block access to the building, which has been a frequent site of social justice protests in recent months.
Chicago Police tweets showed officers lined up in Wrigleyville and mounted unit patrols surveying near the Magnificent Mile— Joe Ward
5 p.m.: Chicago On Track To Pass 1.1 Million Votes
With less than two hours before polls close Tuesday, 1,051,529 Chicagoans have cast ballots in the 2020 election.
Board of Elections Spokesman Jim Allen said the latest numbers don't include the numerous mail-in ballots they're receiving, whether they arrived in the mail today or were submitted at one of the city's drop boxes.
Right now, voter turnout is just over 65 percent. Once everything is tallied, the city is in "really good shape to easily top 1.1 million" votes, Allen said, and record turnout in the low- to -mid 70s. 
Voters age 25-34 continue to be the largest share of voters, with 233,802 ballots cast; followed by people aged 35-44, with 191,765 votes.
5 p.m.: Burst Pipe Closes West Town Polling Place, But Ballots Safe
Election officials had to close a polling place at James Otis School this afternoon, after a burst pipe in the ceiling partially flooded the building.
But Board of Elections Spokesman Jim Allen said they don't believe any ballots have been damaged, because they already would have been fed into a scanner and protected from the water.
"We'll make every effort to make sure we secure and recover every single ballot," Allen said. "We should be in good shape there."
Any voters in the 47th District of the 1st Ward can vote at Goldblatt's Building, 1615 W. Chicago Ave. Polls close at 7 p.m. Read more here. — Kelly Bauer
4 p.m.: 1st Ward Polling Place Flooded By Sprinkler System
We'll provide more information on what's happening here after a 4:30 p.m. call with election officials.
3:30 p.m.: City Officials Prep For Election Night Protests, But Little Planned So Far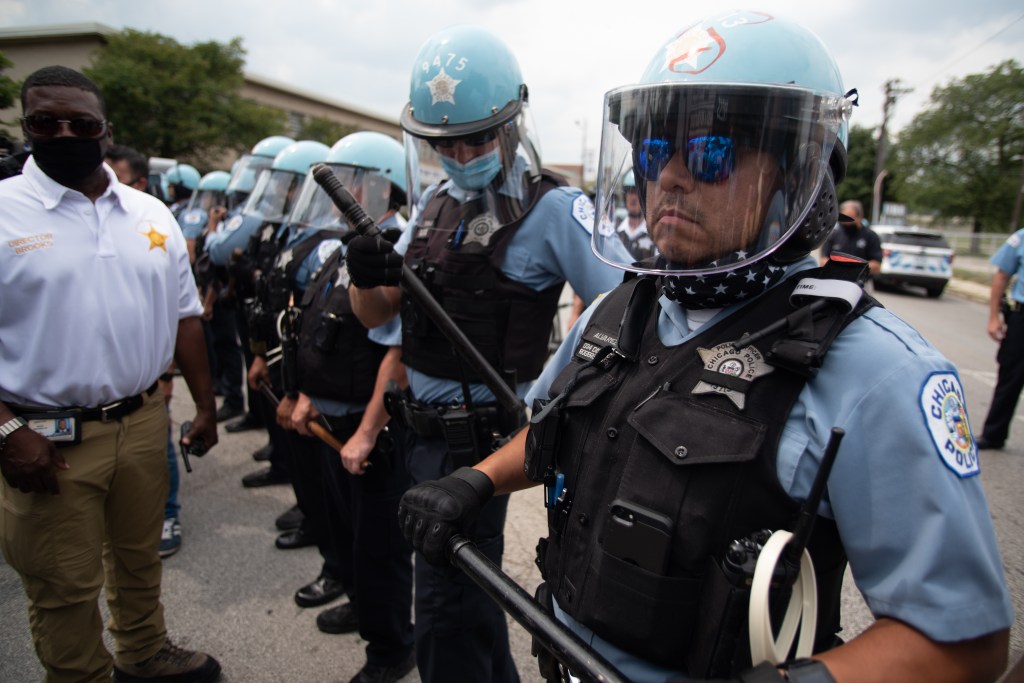 The city's emergency management agency is alerting residents to possible election night protests throughout the city.
But so far, many local activist groups have not signaled any plans to demonstrate.
People should expect possible traffic disruptions and protests at Federal Plaza, Millennium Park, Hyde Park, Union Park, Wrigley Field and Palmer Square Park, according to alerts tweeted Tuesday afternoon. Read more here. — Joe Ward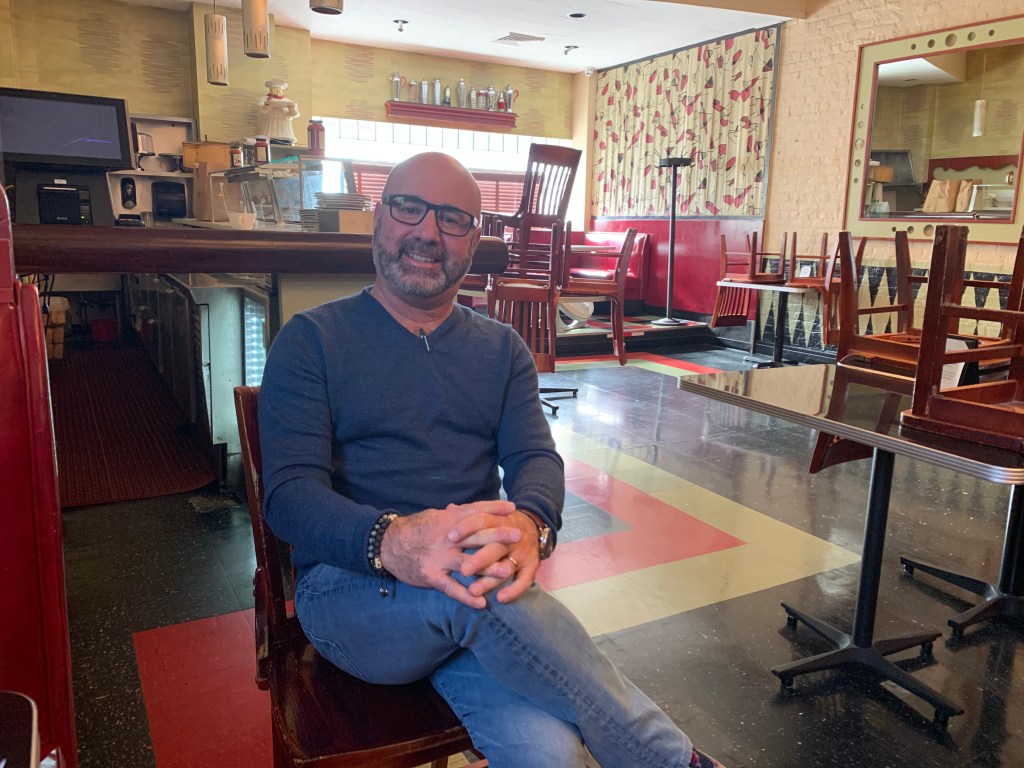 3 p.m.: Bucktown's Club Lucky Is A Tavern … And A Polling Place
Club Lucky, 1824 W. Wabansia Ave., is one of Chicago's rare taverns or restaurants to serve as a polling precinct on Election Day.
Owner Jim Higgins, a Humboldt Park native, said he felt it was his civic duty to offer up his restaurant for voting. He hoped other bar and restaurant owners would work with the Board of Elections to establish themselves as polling precincts for future elections.
"You need to give something back to the community," he said. "If you have a space that's convenient for seniors … mothers with kids … You wanna make it as easy as possible for people to vote."
Higgins has offered Club Lucky as a polling precinct since he took over the restaurant in 1990. To his knowledge, the restaurant operated as a precinct for at least two decades prior. Read more here. — Hannah Alani
2:35 p.m.: Chicago Surpasses 1 Million Votes — And Voters Love The United Center
More than 1 million people have cast a ballot in Chicago as of 2:35 p.m., meaning the city's seeing a turnout of about 63 percent, said Jim Allen, spokesman for the Board of Elections. That's expected to go even higher, hitting the mid-70s.
The biggest bloc of voters has been people age 25-34, with more than 220,000 votes cast from that age group. The next-biggest group has been people age 35-44, who have cast about 180,000 votes, Allen said.
Voting has slowed down throughout the day. During the first hour of polls being open, just under 30,000 votes were cast; but from 1-2 p.m., about 20,000 votes were cast in an hour, Allen said.
The United Center has been the most popular spot to vote by far on Election Day. The arena — home of the Blackhawks and Bulls — was transformed into a massive polling place where any Chicagoan can vote. It's had more than two times as many voters as any other site.
The next-most popular site was the 2nd Ward early voting site. Allen said he didn't "know why" that spot was popular. — Kelly Bauer
11:50 a.m.: We Need Help With COVID, So VOTE, Public Health Boss Says
11:45 a.m.: Chicago Seeing Big Turnout For Election — And It's Led By Young People
The city is seeing big turnout this Election Day, with younger people leading the charge.
Between in-person and mail-in voting, the Chicago Board of Elections has received more than 916,000 votes as of 11 a.m. Tuesday, spokesman Jim Allen. The city's on pace to see 1.1 million to 1.2 million ballots cast.
That won't be record-breaking, Allen said, but it is "very solid turnout." The city's at about 57 percent turnout and should hit the mid-70s.
People age 25-34 make up most of the voters so far, Allen said. The next biggest bloc of voters is people age 35-44, and then people 55-64. People age 45-54 are next, then people age 65-74 and then people age 75 or older.
People age 18-24 make up the smallest bloc of voters so far, but that's also because they're the smallest age group that can vote, Allen said. Read more here. — Kelly Bauer
11:30 a.m.: Groups Push Latino Residents To Vote — With Megaphones
A lively dozen-car caravan traveled through Little Village Tuesday morning encouraging neighbors to get out and vote in the general election.
Cars and SUVs participating in the caravan were plastered with posters reading "sal a votar" — "get out and vote" and "haz que se escuche tu voz" — "make your voice heard."
As they passed down residential blocks, group members yelled through a megaphone to tell neighbors which polling place they should vote at.
The group focused their caravan on blocks that traditionally have a low census completion rate. Louridas said low census tracts typically also have low voter participation. Read more here. — Mauricio Peña
10:30 a.m.: Polls Running 'Fairly Smoothly' So Far
The Board of Elections hasn't encountered any big bumps so far, spokesman Jim Allen said during a call with reporters. There have been a few issues reported, but all polling places are expected to close on time.
"Everything has been going fairly smoothly," Allen said.
A few polling places had issues opening up at 6 a.m., but voters who had to leave said they'd be able to come back before the polls closed at 7 p.m., meaning no spot will have to stay open late, Allen said.
Some people reported concerns about Sharpie ink bleeding through their ballots, and there have been some technical issues with machines, but nothing has been major, Allen said.
Ballots are designed so even if ink bleeds through, it won't fill in a candidate's bubble on the side of the paper, Allen said. And all polling places have auxiliary ballot boxes so voting can continue even if a scanner breaks down.
Allen said the board is thankful to the 13,500 people who volunteered and underwent online training to serve as election judges "during one of the most challenging elections of our lifetimes."
No judges have had to be removed so far, he said, and the volunteers tend to be younger than they were in elections past. — Kelly Bauer
10 a.m.: Polls Slow After Morning Rush
9:45 a.m.: Mail-In, Early Vote Totals Updated
The Board of Elections reported 364,649 early votes as of 6 p.m. Monday. And the board reported 419,549 mail-in ballots had been cast and arrived as of 8 p.m. Monday. More mail-in ballots are expected to come in during the next 14 days.
Both totals have shattered records that were set in 2016, when there were 94,000 mail-in ballots cast and 325,000 early votes. — Kelly Bauer
9:20 a.m.: A Look At Voters From Across The City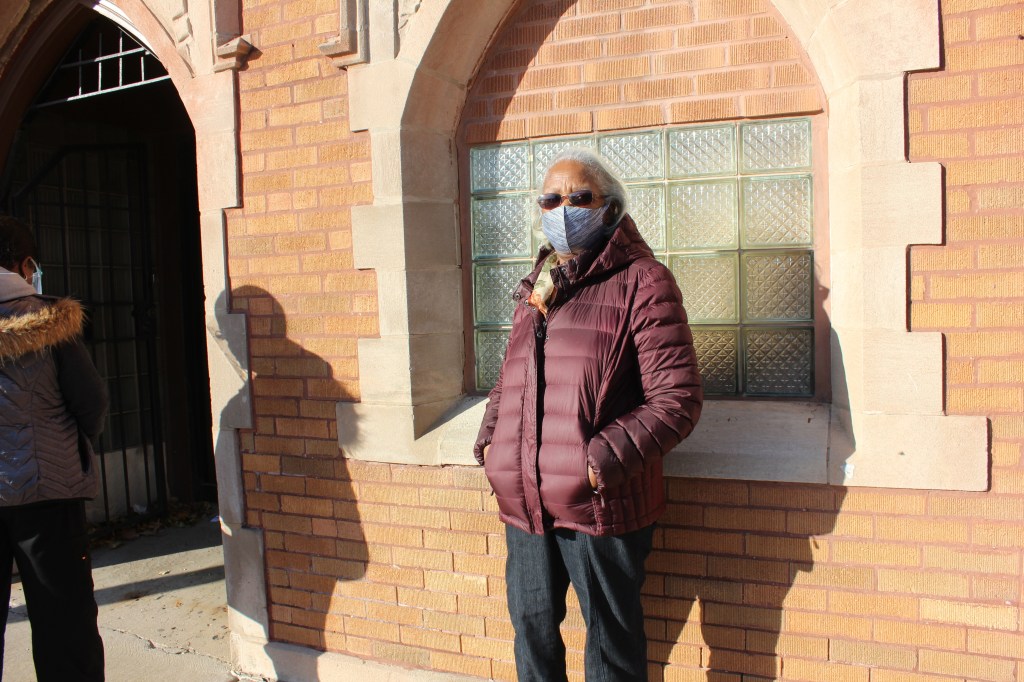 GRESHAM
Marie James, 83, has voted in every election since she turned 18. She never early votes because she likes the excitement of Election Day. She said she is "cautiously optimistic" about Tuesday's turnout.
James was voting at Holiness is the Way Church, 8210 S. Racine Ave. — Jamie Nesbitt Golden
WEST GARFIELD PARK
DuShaun Branch Pollard's experience at the Clark Park polls, 4615 W. Jackson Blvd., was the worst voting experience of her life, she said.
The voting location on the West Side was disorganized and understaffed and unprepared, she said. The electronic ballot reader was broken. The stations lacked pens and markers needed to fill out the ballots.
Pollard and her husband were the first two in line at another polling station 6 a.m., but the site was moved to a smaller location at the last minute.
"My husband said as we left this is another way they show us our communities don't matter," she said. She "just started crying. It's ridiculous." — Pascal Sabino
SOUTH SHORE
Logan Williams, who has lived in South Shore for six months, said he was voting for Biden, who "places an importance on people moreso than anything." Williams was voting Tuesday at O'Keeffe School 6940 S. Merrill Ave., where the line was short but the voting room was bustling.
Williams said he voted in person because he didn't trust mail-in voting. He was concerned a mail-in ballot wouldn't be received in time and he had heard news stories about ballots being thrown out when their signatures did not match voter registration rolls. — Maxwell Evans
LAKEVIEW
Collectively, 83 people had voted at Merlo library as of 9 a.m., poll workers said. Among them were best friends Mike Milstein, 28, and Andrew Townsend, 30.
The two friends said they waited until Tuesday to vote for the symbolic feeling of Election Day. As gay men, they both said they are worried about their civil rights being further restricted if President Donald Trump wins a second term.
"As gay men, we need to be mindful that our rights are at risk right now, especially with a conservative Supreme Court," Milstein said.
Townsend said he voted on behalf of his husband, who's in the process of immigrating to the U.S. form Mexico.
"I want someone who supports our marriage and allows my husband a path to citizenship, Townsend said.
Locally, the two friends both voted for Kim Foxx to receive another term as Cook County State's Attorney. The two said they'd like to see more criminal justice reform, but they appreciated Foxx's efforts to change the system in her first term.
"Kim Foxx has done a good job of ensuring that people who are victims of crimes or have committed crimes get the help they need," Milstein said. "We can't keep throwing people in jail and giving them no support." — Jake Wittich
LOGAN SQUARE
8:45 a.m.: Alderman Votes At Haas Park Field House
8:30 a.m.: Some Spots Slow After Surge In Early Voting
At Robert Lawrence Senior Housing Center, 655 W. 65th St., voters had been coming in a steady line since the polls opened, a security guard said.
But other spots were slower.
Poll workers at Wells Community Academy High School said it'd been a slow morning, and there was no line to vote about 8:15 a.m.
Many 1st Ward voters took the opportunity to vote early at Goldblatt's Building in West Town, where lines wrapped around the block and down Ashland Avenue through the weekend and Monday.
There was also no line at LaSalle II Magnet School in East Ukrainian Village, where Edward Labatt — a neighbor of 13 years and a Chicago resident for more than three decades — cast an enthusiastic vote for Biden.
"We need to get away from this divisiveness, we need to start working together again," he said. "Trump is just a pox upon this land."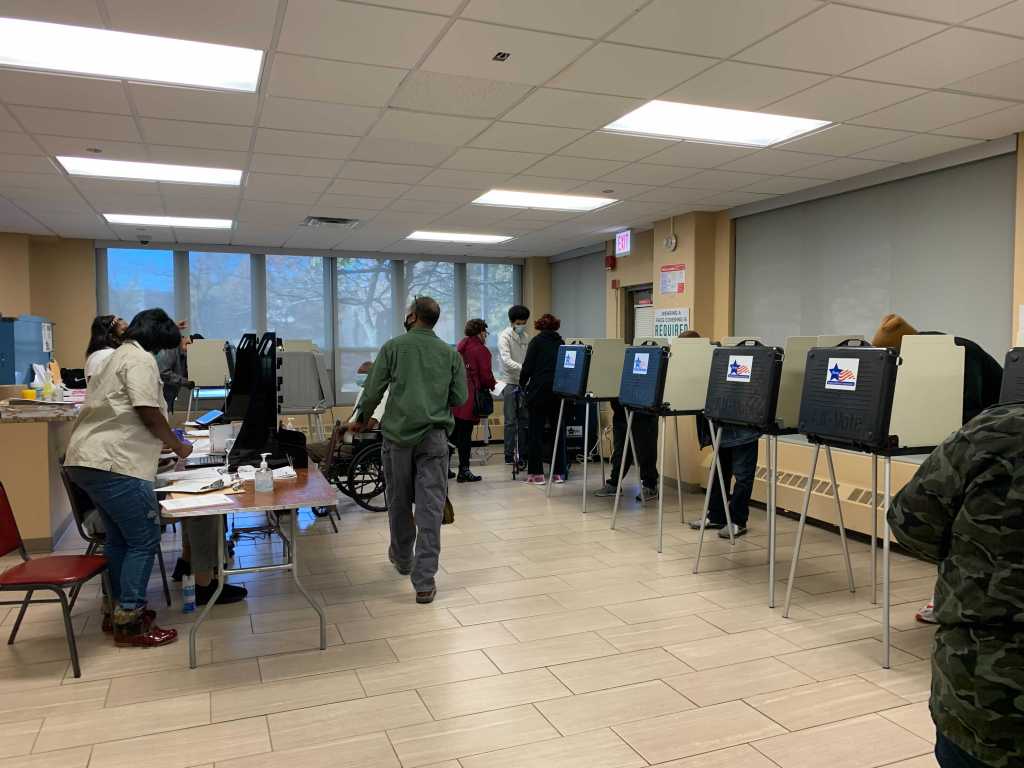 Outside Little Village Public Library, 2311 S. Kedzie Ave., Silvia Garcia said she cast her vote for Joe Biden.
"The truth is we don't have much of an option — a demented person and an old man," Garcia said in Spanish. "I don't want a demented person as president. I don't like either, I'd prefer someone who is young and active with new ideas."
Garcia expected lines to be long outside the library but said there were only about seven voters inside while she cast her ballot. She said she was concerned about voter turnout because there's still thousands that need to vote.
"There aren't people, I don't know why," Garcia said. — Hannah Alani and Mauricio Peña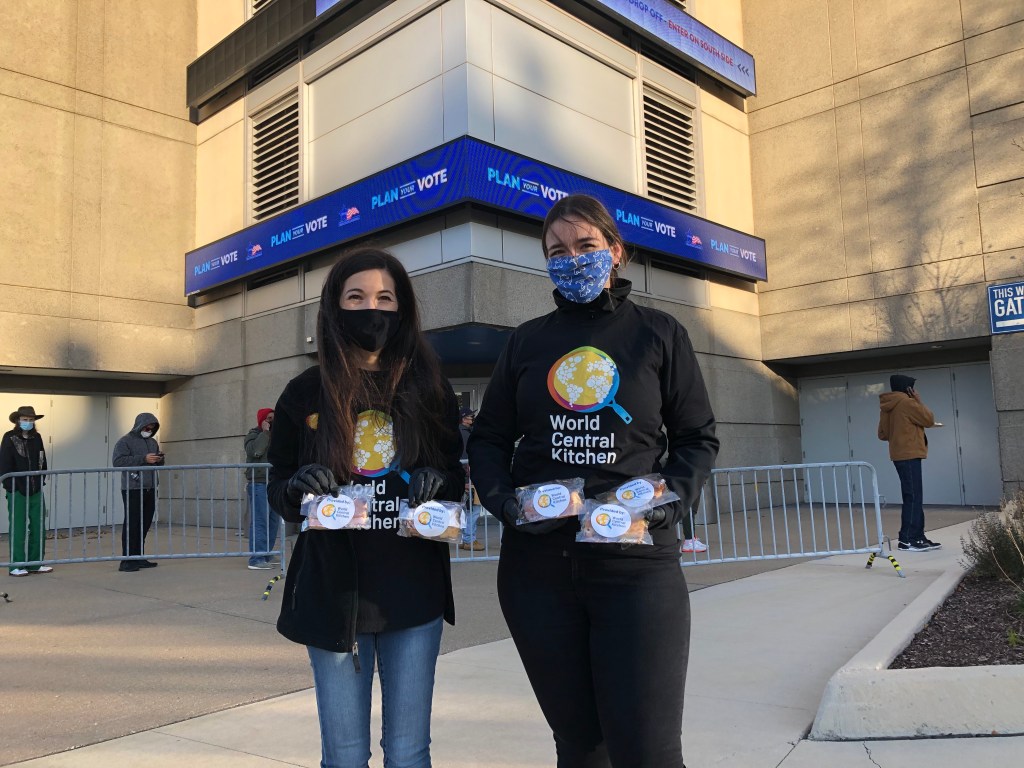 8 a.m.: Neighbors Pass Out Food To United Center Voters
Members of World Central Kitchen, a crisis relief organization, handed out scones to voters and poll workers outside the United Center.
They had white chocolate and rosemary and Mexican chocolate scones, and during lunchtime they plan to distribute salads from Stephanie Izard's Goat Group Catering. Fat Shallot plans to be at the site later today.
"We figured the United Center was going to be a big hub today. We are trying to get people out and feed them," Kristi Katz, head of operations in Chicago.
7:30 a.m.: First-Time Voter Casts His Ballot
Near West Side resident Jason Debray, 21, registered and voted for the first time at the United Center. Debray said it was "time for us as young people to step up because at the end of the day we are the future of this country."
Debray said he feels "Biden would make a better president."
Near West Side resident Andrea Cargill accompanied Debray to vote. "I remembered my first time voting eons ago, and I wanted him to have an experience his first time voting," Cargill said.
Cargill, who voted for Biden, said after the last four years there needed to be a "positive change." — Mauricio Peña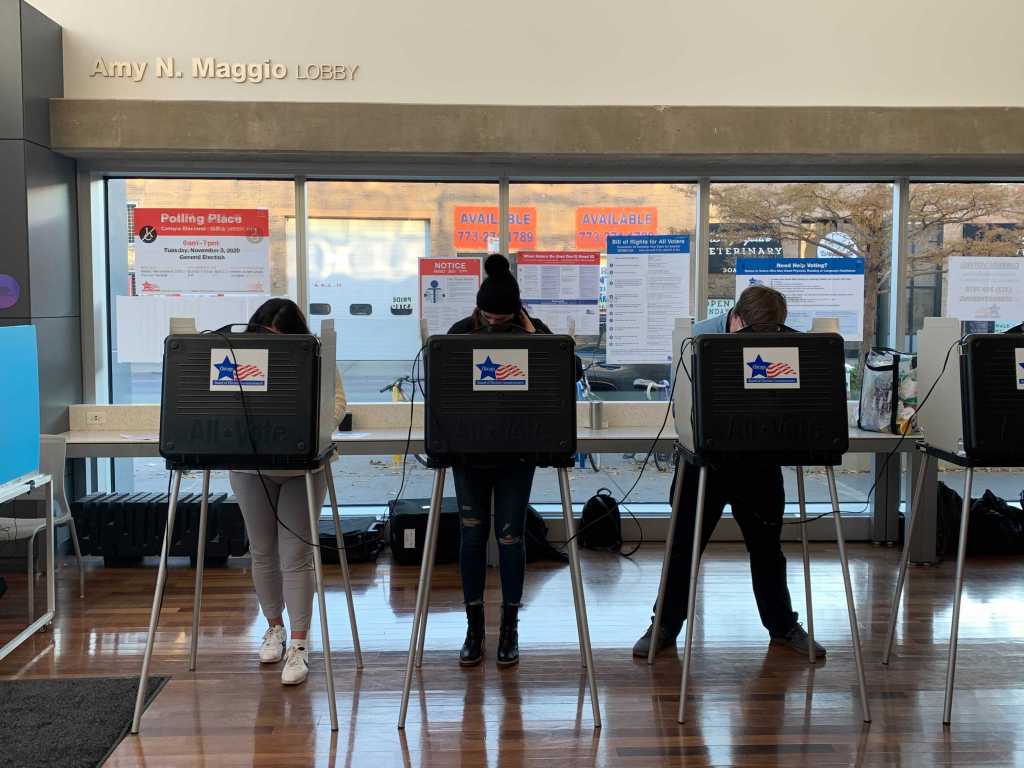 7 a.m.: Voters Anxious For Results
Just 25 people had voted by 7 a.m. at the Center on Halsted's polling place, located at 3656 N. Halsted St. in Lakeview, according to an election judge.
Voters trickled steadily into the LGBTQ community center, which was still decorated with Black Lives Matter artwork that was painted on its boarded-up windows earlier this summer.
Scott Heintzelman, 30, was among the early morning voters. He said the biggest issue on the ballot for him was the presidential race.
"The last four years have been so bad for our society and now the pandemic is making things even worse," Heintzelman said. "We need a change and stronger unity from the top-down, which is why I voted for Joe Biden."
Locally, Heintzelman said his biggest concern is Chicago's gun violence. He voted for Pat O'Brien for state's attorney rather than incumbent Kim Foxx, saying her office had been too lenient on people charged with violent crime.
"I've been reading a lot about how chronic gun offenders are continually getting released back onto the street, and with gun violence so high in Chicago, somebody needs to change that," Heintzelman said.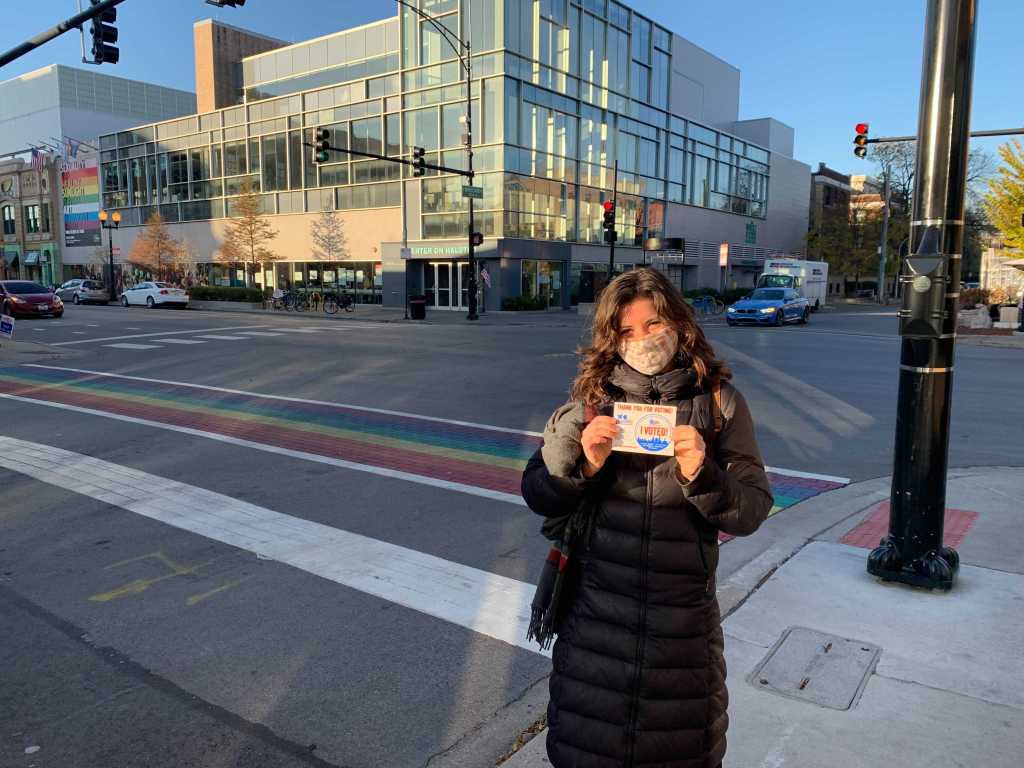 Zoe Kaufman, 24, also voted for Biden, and said she felt "physically anxious" waiting for the election results.
"What's really got me worried is my home state of Michigan," Kaufman said. "Luckily all my family there is voting for Biden, but I'm nervous for my home state."
Kaufman said she was also worried for potential unrest once votes are counted, no matter the election results.
"I think there will be riots no matter what happens, and I'm scared for my friends and other people from marginalized groups who might get harassed," she said. — Jake Wittich
6 a.m.: Voters Line Up Across City For Opening Of Polls
Before 6 a.m. Tuesday, voters lined up outside the biggest polling place in the city: The United Center, 1901 W. Madison St., which was transformed to a polling place to allow social distancing and encourage turn out.
West Town resident Reggie W. was among the voters at the home of the Chicago Bulls and Blackhawks. He cast a ballot for former Vice President Joe Biden.
Reggie said he voted for Biden because of President Donald Trump's response to the COVID-19 pandemic, lack of a health care plan — and his "nationalistic, anti-people of color" messaging.
Reggie and his roommate Emma G., decided to vote in-person after her mail in ballot arrived the day before the election. 
"I figured just to be safe and make sure my vote was counted, I came in and got that canceled and voted in person. It's been quite embarrassing to be American [under President Trump]," the West Town resident said.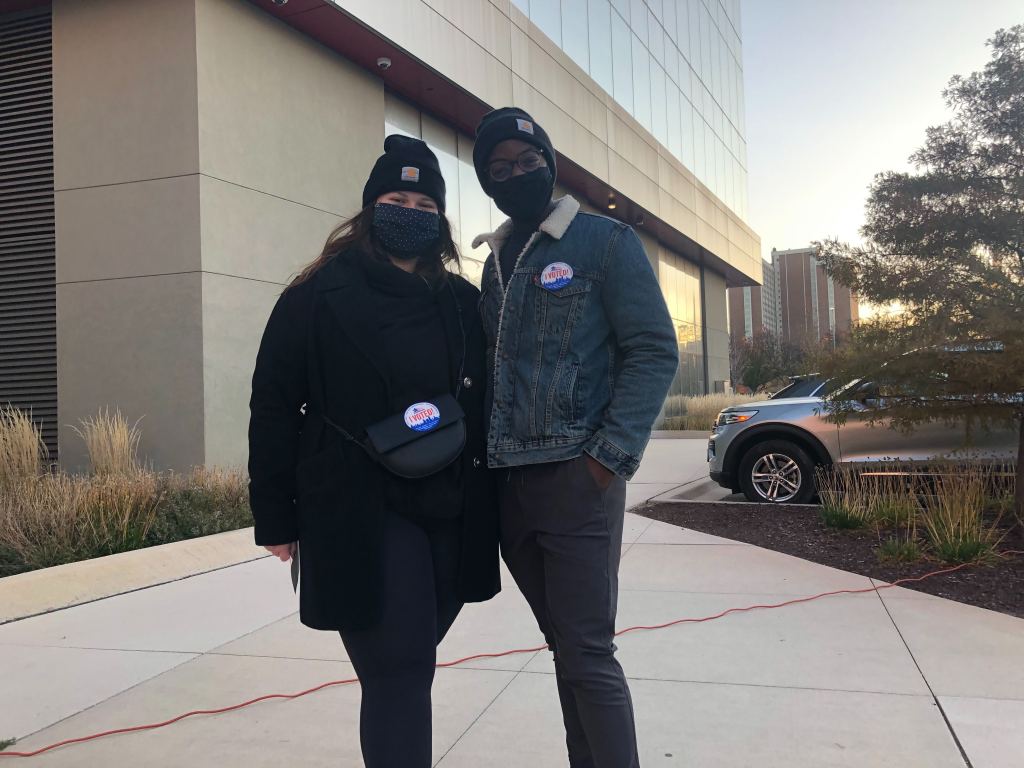 After record early voting, poll workers at Logan Square's Monroe Elementary, 3651 W. Schubert Ave., didn't expect a large Election Day turnout — but people were lined up at 6 a.m.
"I just assumed that many people had early voted or voted by mail," said Adam O'Leary, a first-time election judge at Monroe. "It goes to show how passionate people are about this election."
Early morning Monroe voter Jerry Soriano, 34, didn't vote last election. He said he "didn't really care honestly," but he made it a point to vote for Biden this year.
"It's time for a change. Donald Trump says there's no such thing as COVID-19 but he got sick of COVID-19," Soriano said. "But now it's serious. It's time to be focused on what needs to be done."
Another Logan Square voter, M. White, 55, cast a ballot for third party candidate Jo Jorgensen.
"It's a sh-tshow," he said. "Traditionally … I've been conservative but what I've seen with the conservative supporters, not necessarily Trump, is you ruined it. Joe Biden is pretty much the same thing on the other side. I voted third party — I know it was a wasted vote — to give more strength to more than just a two party system."
East Garfield Park resident James Smith, 41, said he had decided to vote in person because he wasn't sure who to vote for until he woke up Tuesday.
He said he cast his vote for Trump for a second time.
"A lot of things can be corrected but he has done a lot of things right," Smith said. — Mina Bloom and Mauricio Peña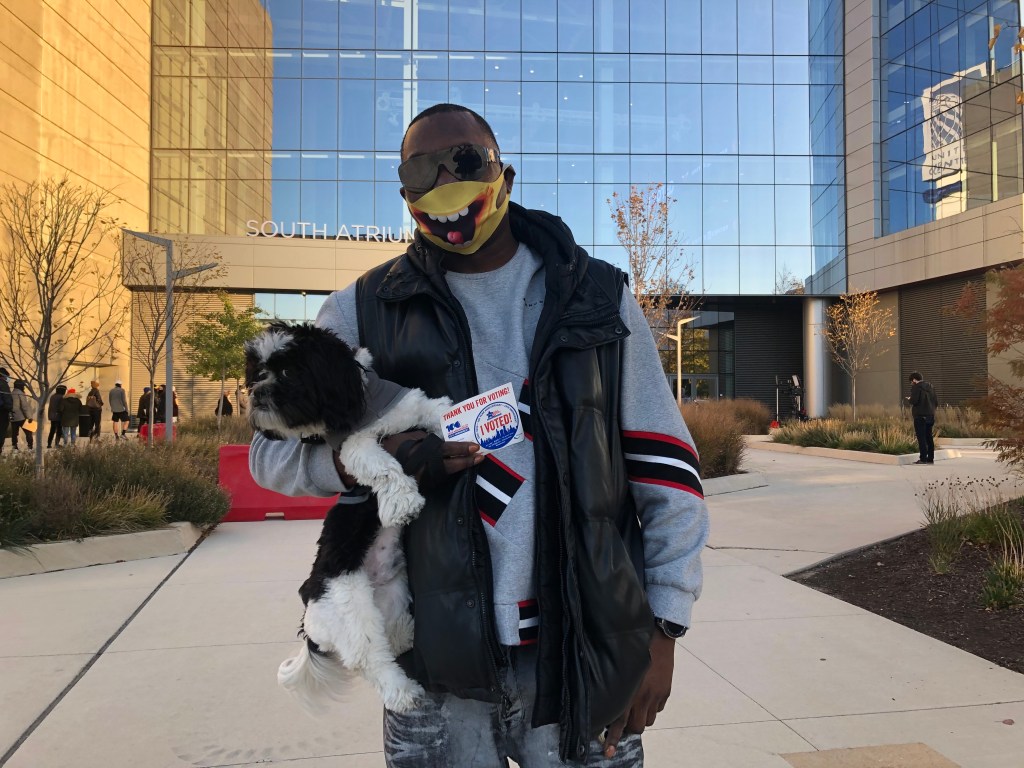 When Will Results Come In? How Are Votes Counted?
The huge surge in mail-in votes shouldn't greatly slow down election results in Chicago, officials said Monday — but we'll likely be waiting for returns from other states for the presidential race.
Read more about what to expect Tuesday night here.
Election Day Trouble? Call These Lawyers If You See Something Sketchy At The Polls
Officials and volunteer groups are helping protect people's right to vote Tuesday.
The Board of Elections has a full Voters' Bill of Rights on its website. The site reminds voters they have the right to check their ballot, have their child with them in a voting booth, cast and ballot and more.
If you have any issues with voting — like if someone tries to intimidate you or stop you from casting a ballot — you can contact the Chicago Board of Elections at 312-269-7870. There will also be poll workers at every site who can answer questions and address issues.
People with questions and concerns can also call the independent, free Chicago Lawyers' Committee for Civil Rights at 866-687-8683. They'll talk to people over a hotline and, if necessary, send out lawyers.
And remember: So long as you're in line by 7 p.m., you should be allowed to wait and cast your ballot. Read more here.
Chicagoans Asked To Wear Masks When Voting
Officials are urging everyone in Chicago to wear a mask when voting — and, yes, it should cover your nose.
Coronavirus is surging in the city, with the positivity rate and number of new cases quickly climbing. Hoping to slow the spread, election officials have said they expect voters to wear masks and stay 6 feet apart when waiting in line and when inside polling places.
Poll workers will also wear masks and practice social distancing, Marisel Hernandez, chair of the Chicago Board of Elections, said at a Monday news conference. Polling places will provide masks to people who do not have an appropriate face covering.
If someone refuses to wear a mask, they'll be able to vote — but they'll have to do so away from everyone else. Poll workers have been trained to handle issues that could arise. Read more here.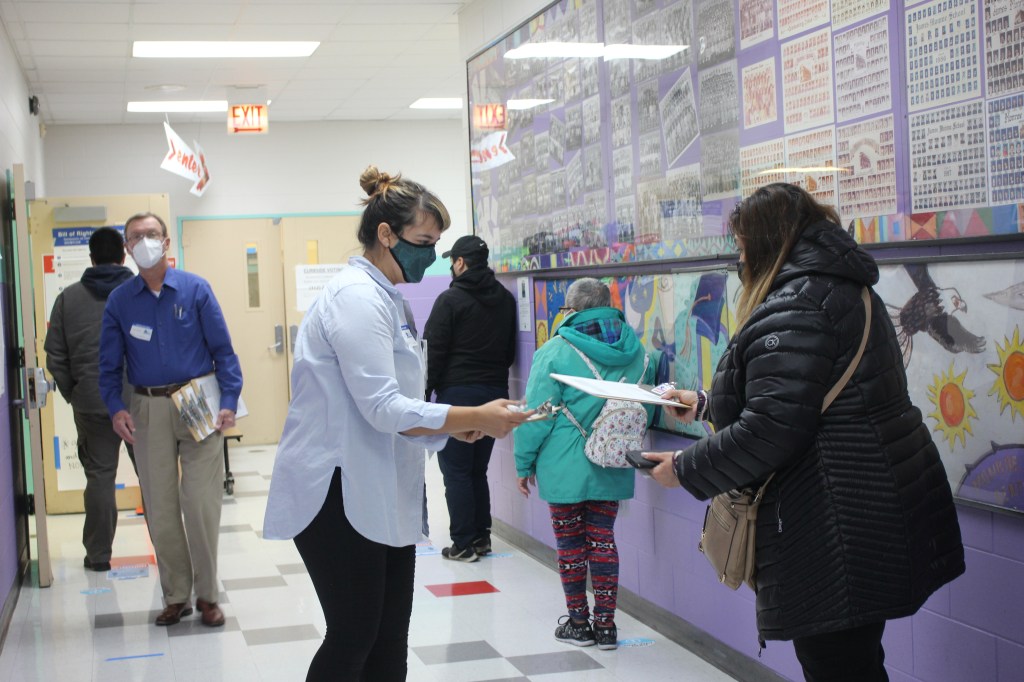 Here's Where You Can Bring Your Vote-By-Mail Ballots On Election Day In Chicago
If you received a ballot in the mail but haven't sent it in yet, you should bring your ballot to a secured drop box rather than mail it in to ensure it's counted.
People who applied to vote by mail can also still vote in person. If that applies to you, you'll have to take your mail-in ballot to a polling place and surrender it; or, if you never received a mail-in ballot, you'll have to sign an affidavit. After that, you'll be able to vote in person.
Some of the early voting drop boxes have been removed. Check the full list of Election Day of drop off locations here.
Still No Confirmation Your Mail-In Ballot Has Been Processed? Here's How You Can Vote In Person On Election Day.
Wicker Park resident Madeline Nygaard took her mail-in ballot to the 1st Ward early voting site on Oct. 17. More than two weeks later, she still hasn't received confirmation her ballot was processed.
The same thing happened to Nygaard's boyfriend and several 1st Ward neighbors who also say they voted by mail Oct. 17.
After calling the Chicago Board of Elections, Nygaard learned there were problems with the 1st Ward's West Town dropbox specific on this particular date. An elections staffer said the ballots were sent to the wrong location and will eventually be processed, but to be on the safe side, the staffer advised Nygaard and others to vote in person this week.
Are you in the same boat as Nygaard? Make a plan to vote-in person, officials said Monday.
At a news conference, Board of Elections chair Marisel Hernandez said if your mail-in ballot still hasn't been marked as "received," you should vote in person via a provisional ballot.
Go to an early voting site Monday or your regular polling place Tuesday and explain your situation to a judge, Hernandez said, and the judge will give you a provisional ballot.
The city will record whichever ballot it gets first and will block the second ballot. This will ensure your vote gets counted without you getting in trouble, Hernandez said.
Additionally, people who applied to vote by mail but never got a ballot can go to an early voting site Monday and sign an affidavit to vote in person. Or, on Tuesday, those people can go to their regular polling place and can fill out a provisional ballot. Read more here.
Block Club Chicago's election coverage is free for all readers. Block Club is an independent, 501(c)(3), journalist-run newsroom.
Subscribe to Block Club Chicago. Every dime we make funds reporting from Chicago's neighborhoods.
Already subscribe? Click here to support Block Club with a tax-deductible donation.