BUCKTOWN — Thousands of Chicagoans have visited schools, churches and community centers Tuesday to cast their votes in the 2020 election.
In Bucktown, a handful of voters in the 32nd Ward's 36th precinct had a much different experience.
Club Lucky, 1824 W. Wabansia Ave., is one of Chicago's rare taverns or restaurants to serve as a polling place on Election Day.
Owner Jim Higgins, a Humboldt Park native, said he felt it was his civic duty to offer up his restaurant for voting. He hoped other bar and restaurant owners would work with the Board of Elections to establish themselves as polling places for future elections.
"You need to give something back to the community," he said. "If you have a space that's convenient for seniors … mothers with kids … You wanna make it as easy as possible for people to vote."
Higgins has offered Club Lucky as a polling place since he took over the restaurant in 1990. To his knowledge, the restaurant operated as a voting location for at least two decades prior.
Having the restaurant as a polling place gives people in this corner of Bucktown a polling location that's a bit closer than the nearest schools, he said. And he hopes that makes a difference in whether people vote.
"People show up in their pajamas," he said.
Tucked away in a back room Club Lucky on Tuesday, four voting booths were set up in the shape of a square. The booths stood parallel to Club Lucky's kitchen, and by noon, the aroma of fresh dough filled the room as voters filed in and out.
Eighty-one of the precinct's 894 registered voters had come through the doors by 11:30 a.m. Higgins suspected many voted early or by mail this year.
Cassidy Goldman, 17, was the youngest election judge at Club Lucky. The Jones College Prep student said she wanted to help with the election after learning about voter suppression efforts around the country — even though she herself wasn't yet old enough to vote.
"I've been realizing how big an election this is," she said. "It made me want to take action."
RELATED: Chicago Seeing Big Turnout For Election — And It's Led By Young People
Susan Stock, another election judge, said she was glad to be working inside Club Lucky.
"It's unique," she said. "It's neighborhood-like. We eat here. … Everyone's had a mask. It's felt pretty normal."
Club Lucky's participation in elections was featured in the 2016 documentary "One Vote."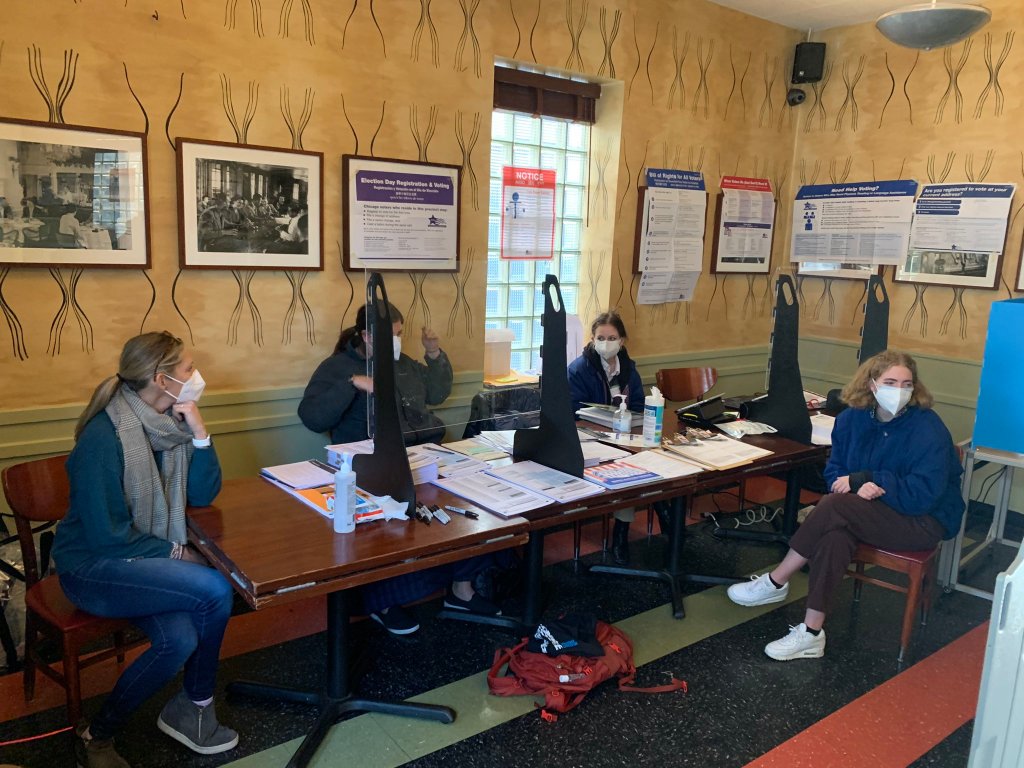 It makes sense that Club Lucky would be a polling place, Higgins said. In Chicago, neighborhood bars and taverns have long acted like community centers, drawing neighbors together for political conversations, community meetings, fundraisers and other occasions.
Voters stuck around Club Lucky after voting in the 2016 election to sit and have a cup of coffee — or a red or blue-colored martini, Higgins said. The restaurant was open for lunch and dinner. TVs played the election results.
Things are much different this year because of the coronavirus pandemic, Higgins said.
"If it wasn't for COVID, it would be much more festive in here," he said. "[Last year] brought out a sense of community. That's a healthy thing."
With unseasonably warm weather in the city, Club Lucky's patios will open for dinner Tuesday. TVs inside will show election results, which diners can catch up on as they walk to the bathroom, Higgins said. (Indoor dining and drinking is currently banned amid a second wave of coronavirus in Chicago.)
You can book a table or place an order for carryout online or by calling 773-227-2300. Follow the restaurant for updates on Instagram or Facebook.
In addition to Club Lucky, unorthodox polling places across Chicago include the Lincoln Lodge venue in Logan Square, The Drake Hotel in Streeterville, Lawn Lane Bowl in West Lawn, Soukal Floral Greenhouse in Garfield Ridge and Ricobene's in Bridgeport.
Block Club Chicago's election coverage is free for all readers. Block Club is an independent, 501(c)(3), journalist-run newsroom.
Subscribe to Block Club Chicago. Every dime we make funds reporting from Chicago's neighborhoods.
Already subscribe? Click here to support Block Club with a tax-deductible donation.