UPTOWN — A staple of Uptown's restaurant scene is getting citywide recognition Saturday, which has officially been dubbed Fiesta Mexicana Day in Chicago.
Fiesta Mexicana, 4806 N. Broadway, is being recognized for its 41 years in business after City Council passed a resolution this month honoring the Uptown institution with its own holiday.
The restaurant was opened in 1979 by Lucy Matthew, who came to Chicago from Peru. She died in 2016. The restaurant is now owned by Matthew's daughter, Tania D'Agostino, and is the oldest continually operating restaurant in Uptown and the 46th Ward, according to the City Council resolution.
"This is her restaurant," D'Agostino said of her mom. "We're working very hard to make sure the thing she built will be around for a long time."
After coming to Chicago, Matthew worked in a factory during the week and as a server at restaurants on the weekend, according to the Chicago Sun-Times.
Eventually, she went into business for herself, opening Fiesta Mexicana in her home neighborhood of Uptown.
Matthew opened a second Fiesta Mexicana at 2423 N. Lincoln Ave. in Lincoln Park in 1985. She also opened a clothing store next to the flagship restaurant in Uptown, and she invested in property, including the building where they operated in Lincoln Park.
Throughout her career, Matthew championed immigrant education and home ownership efforts, according to the city's resolution.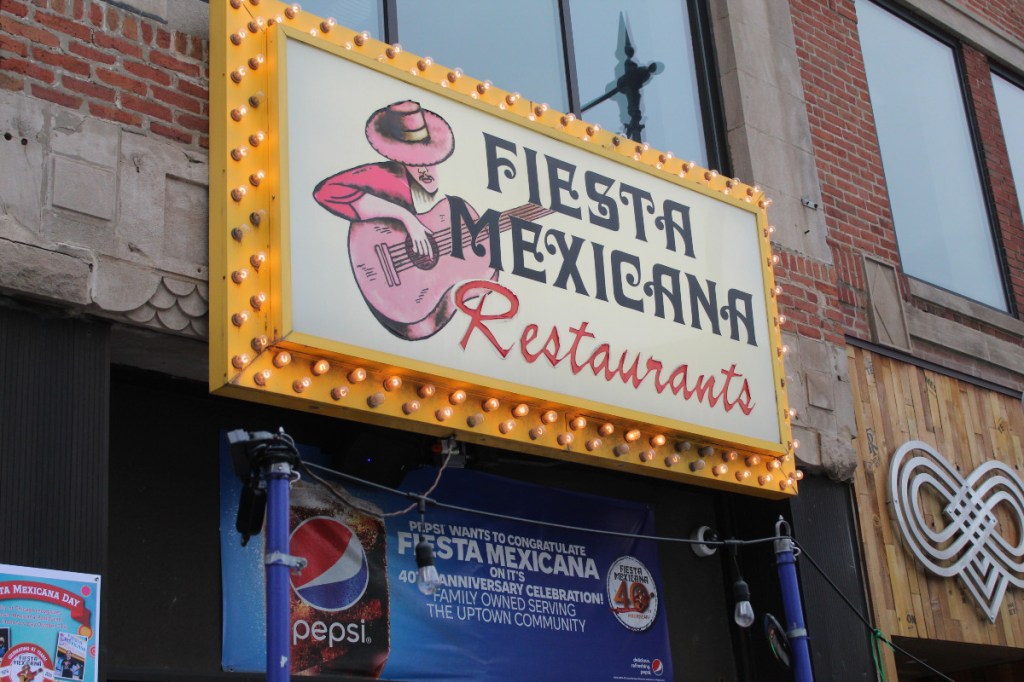 D'Agostino was the general manager at the Lincoln Park location before she took over the business.
The Lincoln Park location closed last year. D'Agostino and her husband, David Estrada, operate the Uptown restaurant, where D'Agostino's brother and cousin also work.
Fiesta Mexicana is a popular hangout for concert goers at the Riviera Theatre, The Green Mill and Aragon Ballroom. In its early years, business also benefitted from being near the Uptown Theatre, which closed in 1981.
"It was very much an immigrant community" when the restaurant opened, Estrada said of Uptown. "It's obviously transitioned with the times. But we stayed."
Celebrating the 40th anniversary of the restaurant's opening slipped the couple's mind last year, D'Agostino said. By the time they started thinking about marking the occasion, the coronavirus pandemic hit.
RELATED: Free Asian Carp Tacos Available This Weekend At Uptown's Fiesta Mexicana
Since the pandemic, Fiesta Mexicana has worked to stay afloat by expanding its outdoor dining and partnering with its neighbor, the Green Mill, to offer food service on the legendary jazz club's new patio.
The Green Mill is hosting socially distanced concerts in the vacant storefront between the club and Fiesta Mexicana, allowing for entertainment for the restaurant's patio clientele.
"It was a lifesaver," Estrada said.
But with the prolonged closure of the neighborhood theaters, Fiesta Mexicana has lost about 40 percent of its business. And with the end of patio season, the business stands to lose another 30 percent of its business, though takeout will make up for some of that loss, D'Agostino said.
"It's been a challenge we didn't anticipate," D'Agostino said. "We have to figure out new ways to do things."
During the pandemic, Fiesta Mexicana partnered with NeighborFood Meals, a local nonprofit that seeks to boost minority-owned businesses through charity. The group collects funds, which then are given to restaurants to prepare meals for the needy.
On Saturday, Fiesta Mexicana will hold a "buy one taco, give one taco" promotion, and with every taco purchased they will donate food in conjunction with NeighborFood Meals.
When 46th Ward Committeeman Sean Tenner heard about Fiesta Mexicana's efforts to help fight food scarcity, he said he would seek to officially recognize the business, D'Agostino said.
That led to Ald. James Cappleman (46th) submitting a resolution recognizing Saturday as Fiesta Mexicana Day in Chicago.
D'Agostino said the recognition feels validating, especially given all the hard work they have put in to endure the pandemic.
"It assures us that our partnerships with the neighborhood will get us through this," she said.
Subscribe to Block Club Chicago. Every dime we make funds reporting from Chicago's neighborhoods.
Already subscribe? Click here to support Block Club with a tax-deductible donation.