JEFFERSON PARK — The longtime owner of The Gale Street Inn, the Jefferson Park mainstay renowned for its ribs, has been among the most cautious restaurateurs in the city.
George Karzas closed his doors earlier than the state mandated. He waited longer than other restaurants to begin carryout service and then patio seating. And he just started limited indoor dining last Friday.
That indoor service lasted just one week.
Friday begins the latest ban on indoor dining in Chicago, leaving Gale Street and hundreds of other restaurants wondering what's next. Karzas said Thursday he'll comply with the new restrictions from the state, but is leaving the door open to reopening without Gov. JB Pritzker's approval in the future.
"I think you have to leave the door open, you don't want to say never ever," Karzas said on Thursday as his staff was getting ready to open for the last night of indoor service for the foreseeable future.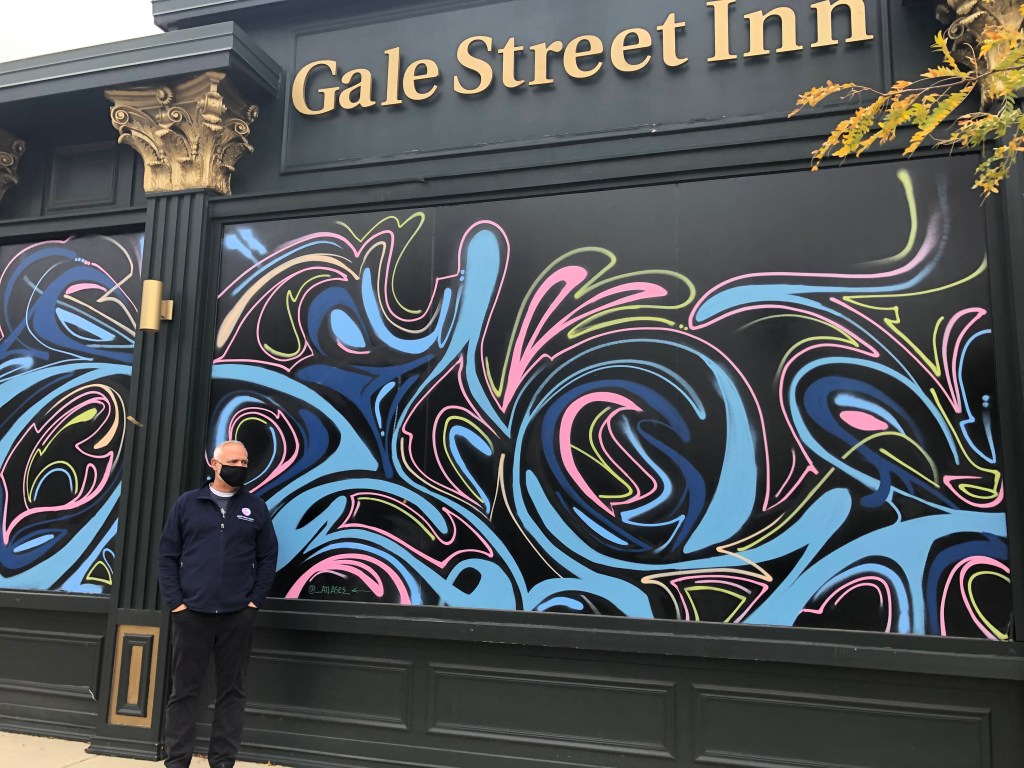 The Gale Street Inn, which has been in operation since 1963 (originally across the street from its current location at 4914 N. Milwaukee Ave.), was bought by his father in 1985. After his death in 1994, Karzas took the reins, where he's remained ever since. The staff, most of which have been at the restaurant for more than a decade, has dwindled since the pandemic from 36 to 12, and Karzas has taken a cautious approach since first closing on March 15, a day before the mandate kicked in.
Like many restaurant owners, Karzas said he believed the first shutdown would be short. Although his initial feeling was wrong, he ended up keeping the restaurant closed longer than the mandate called for — doing carryout only starting April 24 and then finally opening patio service in July and indoor service a week ago.
During the time Gale Street was open for indoor seating, Karzas said they were very strict.
"If I get my kind of guest, which is the guest who says 'we're a little nervous, this is our first time out.' It's my job to say 'you're in a great spot. Let's walk you through and we'll show you what we are doing. You're going to feel it when you get here. There's no standing around and hanging out. We'll call you in like the doctor's office would and it's not for everybody. Some people want to come in and they are taking the mask off before they get to the chair. We're asking people to keep their mask on until after the server takes the order. Leave it on until you get something to eat or drink. Just because I let you in doesn't mean you get to be a cowboy."
Karzas said since the start of the pandemic he has lost approximately $300,000, roughly the same amount he received in a federal government Paycheck Protection Program loan in April, which he thinks he'll likely have to pay back. On Thursday, Karzas said he didn't regret not opening sooner, saying the safety of his staff is his biggest concern right now.
"If we're not comfortable ourselves, we can't make you as a guest feel comfortable," he said.
Karzas invested in UVC technology to clean the air inside the restaurant. He also bought outdoor heaters and propane, along with plexiglass for some areas and a lot of cleaning supplies. He believes the virus will still be an issue even when the restaurant is allowed to reopen and doesn't regret spending the money. Nor does he blame other restaurants for causing the spike in cases that led to the recent shutdown — but he did say he saw a lot of things at other restaurants that weren't up to his standards.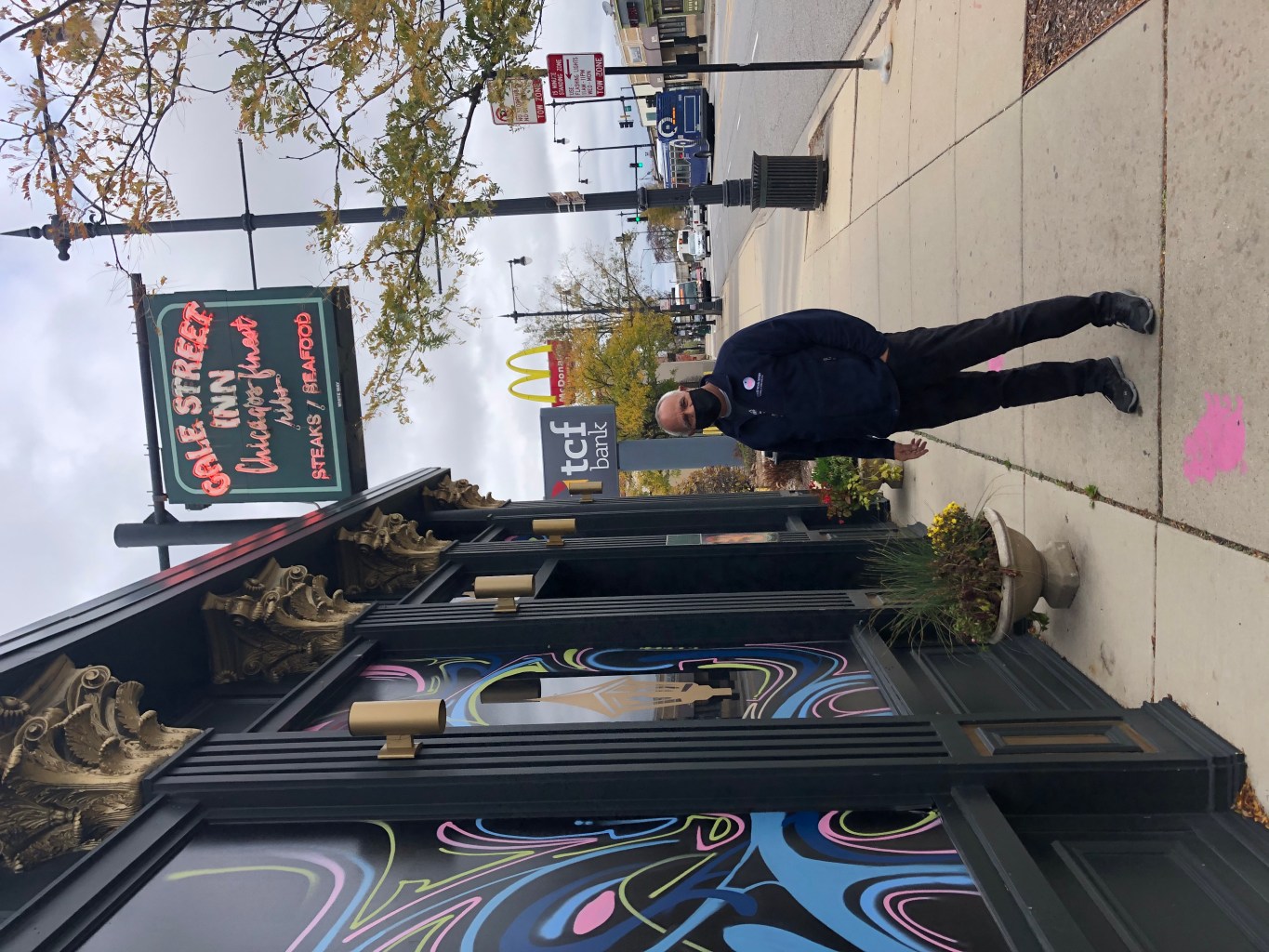 "Sh–show is the word I use," Karzas said.
Asked if restaurants that didn't enforce masking and social distancing rules ruined it, he said it's not for him to judge.
"I don't know, I can't tell anyone else how to run their place and I'd never do that," Karzas said.
He added that many restaurant owners are not on the same page, and even though he's been cautious and adhered to all the rules imposed by Mayor Lori Lightfoot and Gov. Pritzker, he may eventually be forced to open.
"All of us have a different approach. I'm not saying I won't open if everyone else is open. I believe in a competitive and fair playing field and environment but I don't feel my freedom to operate is being taken away. Maybe I'm being scammed, I don't know."
Denise Breitenstein, who has worked at Gale Street since 2008, said the uncertainty is the worst thing about the shutdowns, and added that this time around it's more controversial.
"This time it's a little crazier because there's a lot more dissent," Breitenstein said. "Even though no one liked it in March, everyone understood it and thought it was probably the right thing to do, but that's not true anymore. You don't know what to believe anymore, you can get inundated with information while trying to find the truth. It's really hard to sort it out."
She added that the rules from state and city government seem inconsistent and that Pritzker should show some proof that restaurants have contributed to the increase in virus cases.
"It doesn't make sense. Kids can go to school, the casinos are open. I think the biggest thing that is on my mind right now is the data they are using to say it's spread in restaurants has not been proven. They can make those statements but they need to show us and back it up."
Both Breitenstein and Karzas said Gale Street has a couple advantages in that they own the building and the restaurant has a long, loyal following. But they said ultimately, even if they open without governmental approval, the customers will be the ones to have the final word.
"It really doesn't matter what a bunch of restaurateurs think," Karzas said. "It's what the patrons want. People aren't going out like it's 1999, they just aren't. I have best friends that live down the street who won't come in. It doesn't matter what we think, it's what the guests think."
Block Club Chicago's coronavirus coverage is free for all readers. Block Club is an independent, 501(c)(3), journalist-run newsroom.
Subscribe to Block Club Chicago. Every dime we make funds reporting from Chicago's neighborhoods.
Already subscribe? Click here to support Block Club with a tax-deductible donation.