CHICAGO — When Chicago artist Zola conceived of Molasses, a grassroots collective of Black and transgender artists, she said she was "creating the space I wish I had as a younger artist."
At the time, opportunities for Black transgender artists in Chicago's LGBTQ nightclubs were sparse, and the Molasses parties were among the only nights produced specifically for and by trans people of color, Zola said.
"Even in clubs where you did see Black trans performers, the bookings were slim and hard to keep if you didn't follow the whims of white gays who controlled the scene," Zola said. "So Molasses really manifested itself out of a need for representation and community."
Those parties in early 2019 laid the foundation for a network of transgender artists and activists who have been on the front lines of trans liberation, mutual aid during the coronavirus pandemic and the anti-police brutality uprisings that followed the killing of George Floyd by Minneapolis police.
Molasses organizers are now offering a series of free trainings for transgender people of color to learn self-defense, protest safety and strength training.
The workshops will be taught by local queer athletes and artists Saturdays through Nov. 14 at Reunion Chicago, 2557 W. North Ave.
Participants will receive a self-defense kit filled with pepper spray and other tools, donated by the Thorn Self Defense Project, which advocates for trans women who are sex workers in Chicago.
"We're trying to make lives better for our Black and Brown trans and gender non-conforming people, especially our Black trans women, who are still killed at an alarming rate all over the world," said Lucy Stoole, a prominent drag queen, activist and one of the Molasses co-founders.
Violence against transgender women is a national problem. At least 33 trans or gender non-conforming people have been killed in 2020, according to the Human Rights Campaign, which tracks anti-trans violence. Black women make up the majority of people targeted by that violence.
In Chicago, at least three trans women have been killed in the past two years, including Selena Reyes-Hernandez, who was allegedly shot and killed May 31 by a high school student in Marquette Park after he learned she was transgender, prosecutors said, according to the Chicago Sun-Times.
"One of the things that instantly came to mind was that we need to help get the girls some training and some weapons," Stoole said. "If they can have this little bit of knowledge on hand to make them feel more comfortable in dangerous situations, they can end up saving a life."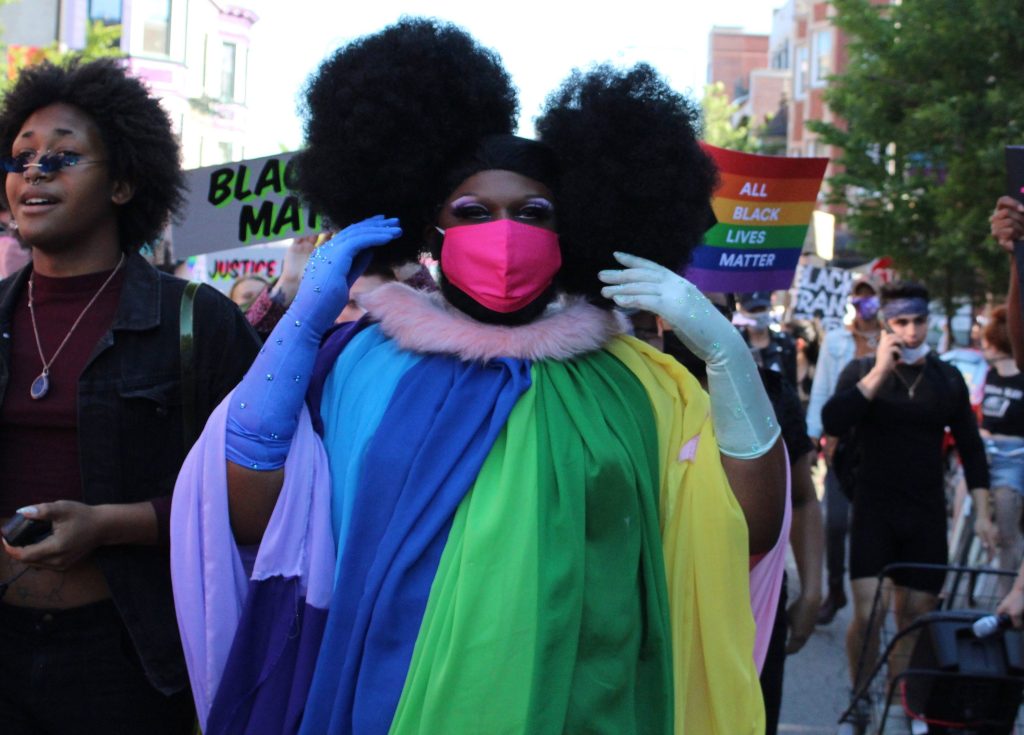 The self-defense series is among the latest of Molasses' mutual aid efforts supporting Black trans and gender non-conforming people in Chicago and across the world.
The collective also fundraises to provide direct monetary aid to transgender people of color experiencing financial hardship. Organizers have sent out self-care packages to Black trans people across the country, said Choya, another Molasses co-founder and a DJ known as Bone Reader.
So far, Molasses has disbursed more than $4,000 through its mutual aid fund.
"We're a Black-, trans-led organization looking to liberate and support Black trans people in all the ways, whether that's through our art and cultural work or mutual aid," Choya said.
Artists from Molasses were also on the ground protesting during the uprisings that followed Floyd's slaying, and they took part in the July 17 Decolonize Zhigaagoong protest, which led to the city's decision to take down the Christopher Columbus statue in Grant Park.
Zola, who also was among the dozens of artists behind June's massive Drag March for Change protest, said Molasses organizers are following in the footsteps of Black trans activists who came before them, like the trailblazing Marsha P. Johnson, who resisted police during the Stonewall Uprisings of 1969.
"It's the history we inherited as Black trans people," Zola said. "Black trans people, especially women, are always at the forefront of fighting injustice, and we believe in elevating Black trans people in a collective sense."
People can support Molasses' efforts by donating to its mutual aid fund.
The self-defense classes are open to all trans and gender-nonconforming people, but each session will be capped at 10 participants with priority given to Black and Indigenous people and other people of color.
The classes will be taught:
Noon and 2 p.m. Saturday by activist and self-defense trainer Ilyas.
6 and 8 p.m. Nov. 7 by body-building drag queen Miss Toto.
Noon and 2 p.m. Nov. 14 by G Silverstein Tapp from the Queer Kickboxing Club.
Reservations must be made online to attend, and face masks are required.
Jake Wittich is a Report for America corps member covering Lakeview, Lincoln Park and LGBTQ communities across the city for Block Club Chicago.
Subscribe to Block Club Chicago. Every dime we make funds reporting from Chicago's neighborhoods.
Already subscribe? Click here to support Block Club with a tax-deductible donation.