CHICAGO — The Chicago Fire Department's rank and file fails to reflect the diversity of the city it serves — and City Council's Black Caucus wants to change that.
In a city split roughly one-third Black, one-third Latino and one-third white, of the department's 2,551 firefighters, there are just 430 Black and 520 Latino members. About 17 percent of the department is Black, 20 percent Latino and 60 percent is white, fire officials said at city budget hearings Wednesday.
Including paramedics, there are 4,792 members of the rank and file, but just 434 members are women. 
The department has been plagued by allegations of racial and sexual discrimination in hiring practices for years, including several high-profile lawsuits requiring the city to pay tens of millions of dollars towards judgements and settlements.
Ald. Derrick Curtis (18th) said the system the city has in place to bring in Black recruits to the fire department "is flawed."
"If this is a diverse city, why can't we just start with plans where there's a third, a third, a third?" he asked.
To boost diversity in the department, the city needs to increase recruitment efforts and the City Council should pass an ordinance to require regular entrance and advancement exams, Fire Commissioner Richard C. Ford told aldermen.
Ford said his department is hamstrung in hiring, because they rely on the Department of Human Resources to administer entrance exams required before recruits can enter an academy class. The last test was held in 2014. The next test is scheduled for September 2021.
But the most recent recruiting class accepted to the academy in July was similar to the department's current demographics: of the 99 recruits, 55 are white, 19 are Black, 21 are Latino and four are Asian. 
Another class of 100 is expected to graduate in December, and four classes of 50 could pass through the academy in 2021, Ford said, although those numbers could be adjusted based on the amount of retirements in the department.
Ald. Michael Scott Jr. (24th) suggested the department do more work with Chicago Public Schools to "catch our folks while they're young" and get kids interested in a career as a firefighter.
Ford, a Black man set to retire in 2021, is hopeful that more Black applicants will sign up for the 2021 exam, and pointed to the Black Fire Brigade's "phenomenal" outreach efforts to Black Chicagoans as a model.
The Brigade, headquartered on the South Side, provides free EMT training, and Ford hopes those who've received the license go on to take the Fire Department exam, too.
More regular entrance exams would provide the department with a new pool of potential minority applicants that could enter the force and rise through the ranks, Ford said.
But past lawsuits suggest it's not only a lack of recruiting that led to the department's white male majority.
An analysis by the City Council Office of Financial Analysis in 2019 found that the department is responsible for 88 percent of all employment related judgements and settlements against the city from 2010 through 2019, including a $75 million verdict payout in 2012 stemming from a 1998 case where thousands of African Americans argued an entrance exam was biased.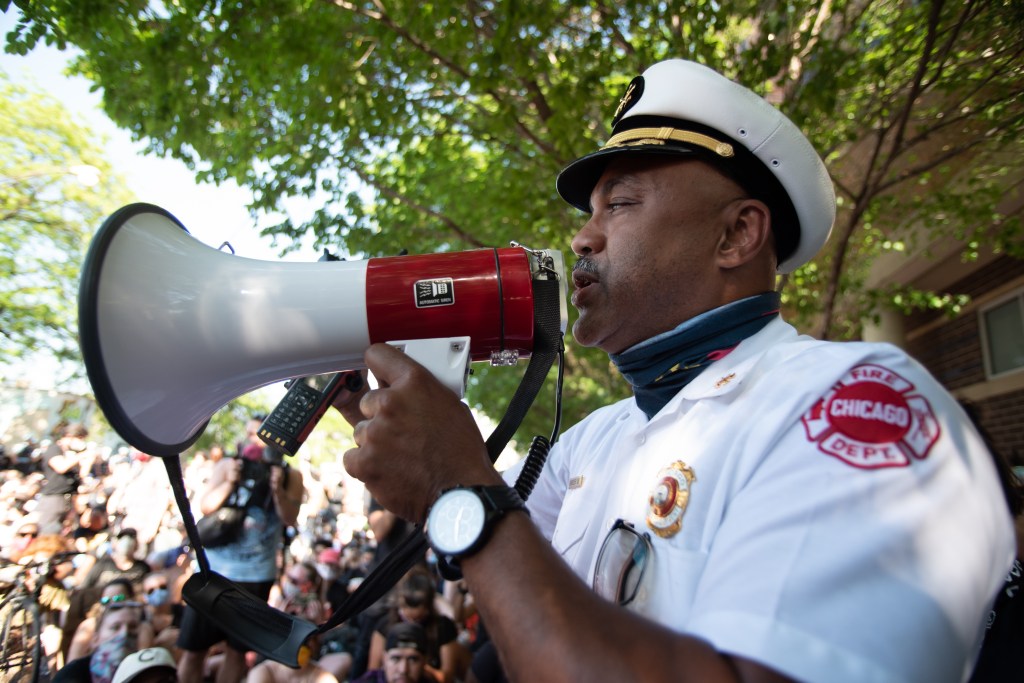 Many of the lawsuits were filed decades ago, but in August, two white men allegedly were seen jumping out of a fire truck and ripping down a Black Lives Matter flag in Ald. Sophia King's 4th Ward, according to the Sun Times.
In response to questions from King, Ford said one firefighter was disciplined for the incident and faces a "lengthy suspension," although he declined to disclose the exact number of days.
"That conduct will not be tolerated. There's nowhere in the fire department where that's acceptable," he said. "The offending member will be held responsible and accountable."
Overtime Spending
The department's overtime spending and decision to not eliminate more vacancies from its budget were also questioned Wednesday.
In 2018, the department budgeted $31 million for overtime wages but paid out over $65 million in actual overtime spending. In 2019, it spent over $76 million despite again budgeting just $31 million. Through October, overtime spending in 2020 is at $66.1 million.
The department is giving up just 34 vacancies to contribute to the over 1,900 vacancies Lightfoot's budget eliminates to save money and plug the $1.2 billion budget deficit.
But, with an expected wave of retirements, the department could have hundreds of vacancies it carries into 2021, Ford said. That didn't sit well with Ald. Jason Ervin (28th).
"I'm not proposing that we balance the city budget on the backs of the fire department, but at the same time…we have to have an honest conversation about it. It's not a dig on anybody, but we need to be fiscally responsible in this time we are facing," he said.
425 Firefighters Have Tested Positive For Coronavirus
The effects of the coronavirus pandemic loomed large in department hearings on Wednesday.
The Fire department, which was forced to temporarily shutter its academy because of an outbreak, has had 425 positive cases through Wednesday, with two deaths and another three members currently in the hospital.
At the height of the first outbreak, 22 percent of the city's 911 call center was "impacted by COVID," said Rich Guidice, executive director of the Office of Emergency Management and Communications. 
Both the Fire Department and OEMC said they fielded more calls at this time this year than last year, which they attributed to the pandemic.
Do stories like this matter to you? Subscribe to Block Club Chicago.  Every dime we make funds reporting from Chicago's neighborhoods.
Already subscribe? Click here to support Block Club with a tax-deductible donation.