CHICAGO — As winter approaches and the coronavirus pandemic rages on, struggling bars and restaurants are trying something truly radical: making patio season last through a Chicago winter.
When the city rolled out its winter outdoor dining contest this fall, coronavirus cases were at a more manageable level, and many restaurants opted to seat customers inside instead of building expensive heated patios. But as cases surge, a citywide ban on indoor dining and drinking is back Friday, leaving business owners scrambling to winterize their patios.
But if a patio is kept enclosed to keep diners comfortable, is it any safer than eating inside?
Block Club talked with Dr. Richard Novak, head of Infectious Diseases at University of Illinois at Chicago, about the outdoor options available to Chicago diners this winter. Here's what he said:
Single-Party Igloos And Greenhouses
When it comes to the health of customers and workers, Novak said there's not much difference between an enclosed outdoor structure and indoor dining. 
Igloos and greenhouses are "cute," he said, but if there is a lack of ventilation, they won't protect the restaurant's servers — or the group using the igloo after you — from your virally-loaded droplets. 
"Cleaning it afterwards is gonna be a problem because there's no ventilation in there," Novak said.
At a news conference last week, the Illinois Department of Public Health's director, Dr. Ngozi Ezike, agreed, saying any winterized outdoor dining option should ideally be open on two of its four sides to allow for proper ventilation. 
"For the outdoor dining, we expect there's gonna be some apparatus … that should only have two sides," she said. "If it has four sides, you are essentially indoors. So that's that." 
There are ways to make igloos relatively safer, Novak said. All diners must wear masks when servers are present. 
Novak also suggested restaurants institute mandatory cleaning protocols that include timed two-door ventilation between parties to "air out" the enclosed spaces before workers clean off tables. A deep cleaning between parties is imperative as well, he said.
However, Novak said he didn't have concrete guidance as to how long to "air out" an igloo between parties. Whether igloos need 10 minutes or one hour to properly ventilate is not something that's even been studied, he said. 
"They need to open them up between diners so after each party is done, they can … let air circulate," he said. "Wipe off surfaces, let the air circulate, then seat somebody else. That might be the safest.
"… As long as patrons continue to wear masks when wait staff are present, it'll be relatively safe. It's not optimal, but if everybody's masked, the amount of exposure to wait staff is minimal. It should be mandatory to follow those rules." 
A mix of 21 igloos or greenhouse-style pods debuted earlier this month along Fulton Market between Green and Peoria streets. The enclosed pods were set up outside Publican, Duck Duck Goat, Beatrix, Kuma's Corner and Gus's Fried Chicken.
In River West, The Matchbox bar, 770 N. Milwaukee Ave., enclosed its sidewalk patio for the cool weather. In Wicker Park, The Perch installed two igloos and a large tent at its patio, 1932 W. Division St.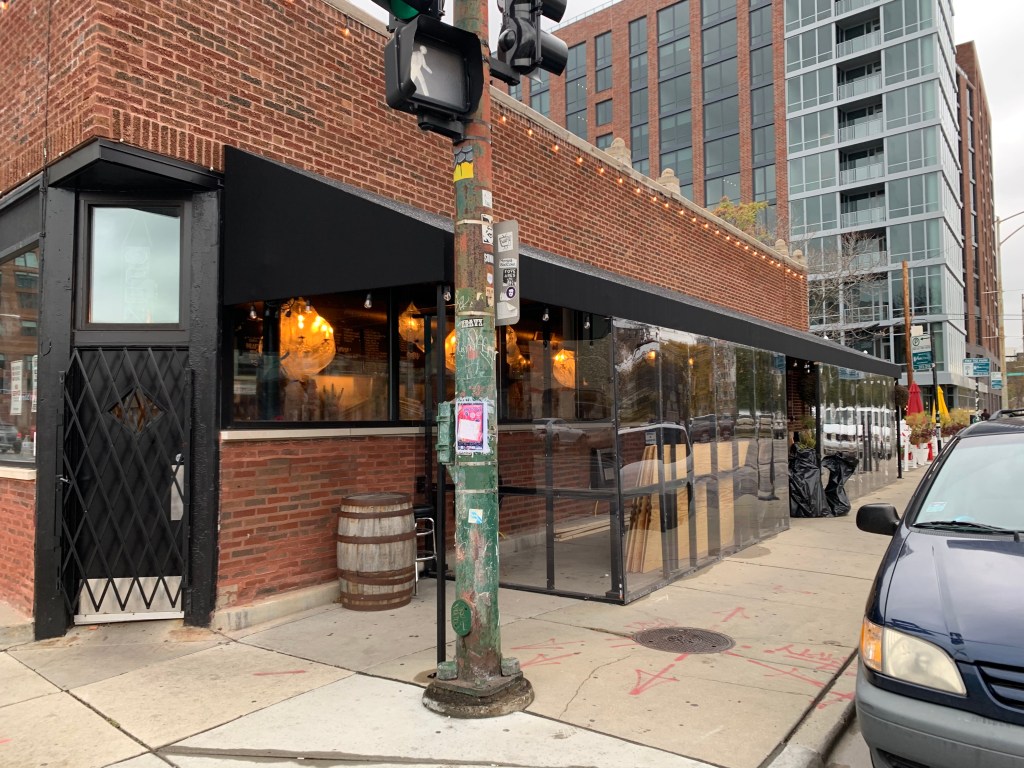 All of the structures allow staff to come and go, though some are open and allow air flow while others are completely enclosed.
A city spokesman said the Fulton Market plan to use the domes and greenhouses was reviewed by the Chicago Department of Public Health and met safety health standards.
RELATED: Igloos, Greenhouse Pods Extend Outdoor Dining In Fulton Market As Cold Weather Hits
Tents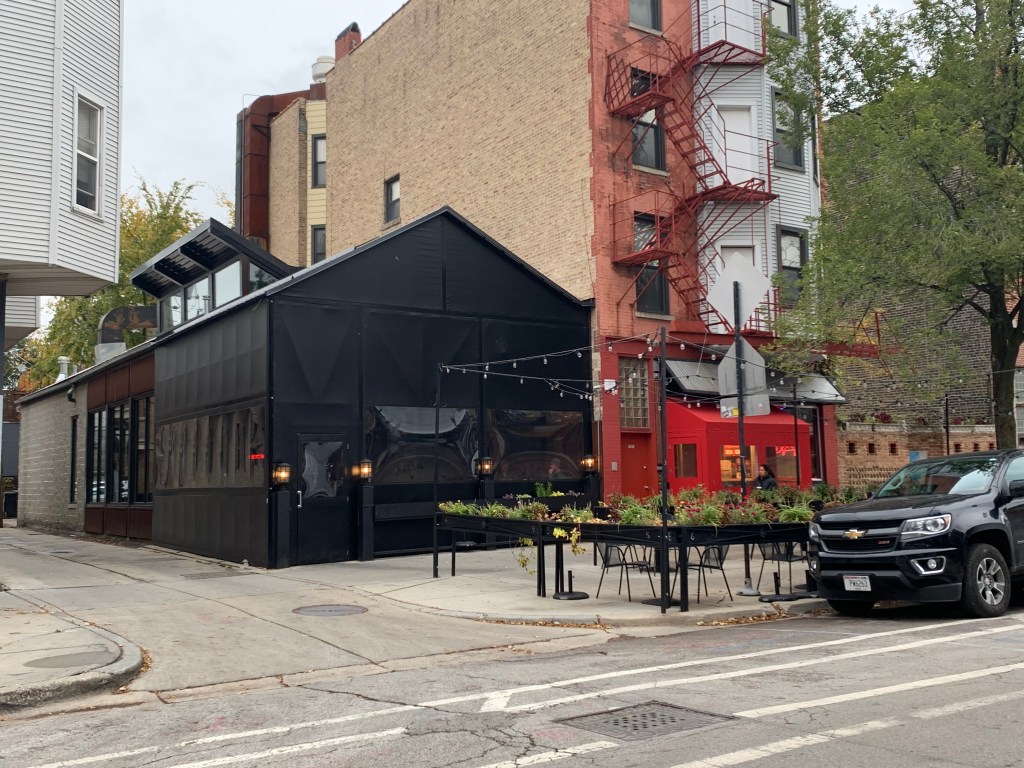 Outdoor tents are relatively safer than the igloos, Novak said, because they allow for better ventilation. For structures that seat multiple parties, the city rules stipulate that 50 percent of a structure's walls must have an opening to allow for better air flow. 
Partially enclosed tent seating with gas heaters or fires can be slightly safer than indoor dining when it comes to coronavirus spread, but only with proper ventilation, Novak said.
"The propane gas heaters are blowing into the tents, and that provides some ventilation, but really it isn't much different than being indoors, frankly," he said. "The advantage of being outdoors is the circulation of open air. … Just because you're sitting in a tent, don't think you're outdoors. You're not getting that kind of circulation."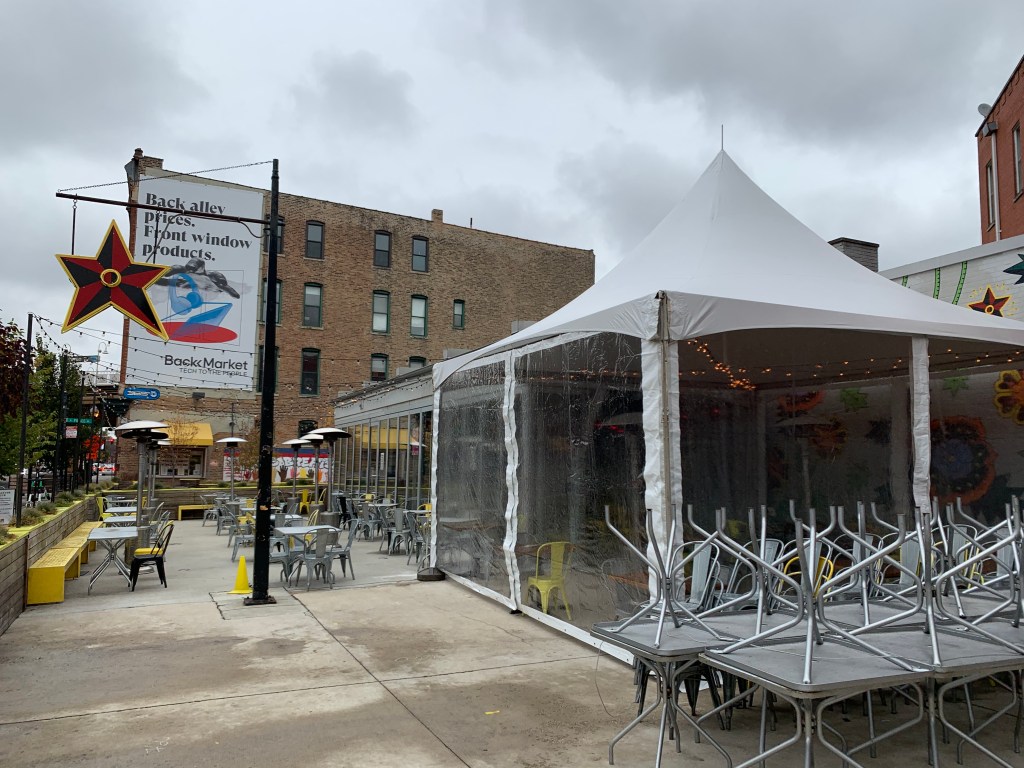 Currently, the city's guidelines for outdoor structures do not stipulate sanitization protocols; however, they do require temporary outdoor structures seating multiple parities to have at least 50 percent of the sides open to increase air flow. 
While gas flames do produce carbon dioxide emissions, Novak said the emissions would not pose a significant danger to the health of workers or customers. Emissions produced by the heaters "pales" in comparison to that of car traffic, he said.
RELATED: City Rolls Out Rules For Heating, Air Flow During Winter Patio Season As Restaurants And Bars Prepare For Cold Weather
'Buckle Down' With Social Distancing, Masks
At the end of the day, restaurant workers are at "high risk" of contracting the virus, Novak said, adding that servers are more at risk than diners. In addition to health care workers, UIC has specifically sought restaurant workers for its Moderna vaccine trial, he said.
But Novak also said he is sympathetic to the plight of restaurant owners. Many of his favorite neighborhood spots in Wrigleyville have closed due to the pandemic, he said. 
"I understand the problem," he said. "Even if you close restaurants for cold months, they have to still pay rent. There has to be some other formula to make this happen."
Some restaurants are closing for the winter altogether, while others have been scraping by on takeout and delivery to protect staff.
With no relief in sight, the public can help restaurants by wearing masks and practicing social distancing — things that will reduce the number of coronavirus cases and allow restaurants to operate safely again, Novak said.
"We're looking at a really difficult winter unless people buckle down with their efforts to wear masks," Novak said. "The young people need to start wearing their masks. … Until we have more prevention strategies widely available to public, we're not gonna see society moving back toward some semblance of normalcy."
Block Club Chicago's coronavirus coverage is free for all readers. Block Club is an independent, 501(c)(3), journalist-run newsroom.
Subscribe to Block Club Chicago. Every dime we make funds reporting from Chicago's neighborhoods.
Already subscribe? Click here to support Block Club with a tax-deductible donation.