WICKER PARK — During the summer, the small team behind popular brunch spot Hash agreed not to reopen for dine-in. 
Hash, 1357 N. Western Ave., could only seat about eight guests given initial restrictions, and co-owners agreed to tailor their business model to full-time carryout and delivery rather than risk endangering staff or customers.
They scaled back their menu to reduce food costs and suspended "luxuries" such as knife sharpening. Even though there's minimal contact with customers, the team gets tested every two weeks and keep a contact tracing log in case of possible exposure.
"It's not really about the bottom line anymore," co-owner Emily McKern said. "It's about humanity. This is the side of history we want to be on." 
The owners of Bar Kumiko in the West Loop and Lula Cafe and Lost Lake in Logan Square made the same decision to not reopen for dine-in, instead tailoring their business models to carryout. Kumiko's chefs do local deliveries as well.
Lost Lake owner Shelby Allison pivoted her tropical cocktail bar and restaurant at 3154 W. Diversey Ave. by selling cocktail kits, to-go cocktails and carryout food. She also launched Lost Lake at Home, a subscription program for frequent customers. 
Allison did so while paying 50 percent of health insurance premiums for her staff — but it hasn't been easy. On Wednesday night, she only saw $219 in sales.
"I definitely thought about opening [for dine-in]. I worried about my staff becoming housing- or food-insecure," Allison said. "In the end, as a team, it was very clear that no one wanted to take on that risk, including me."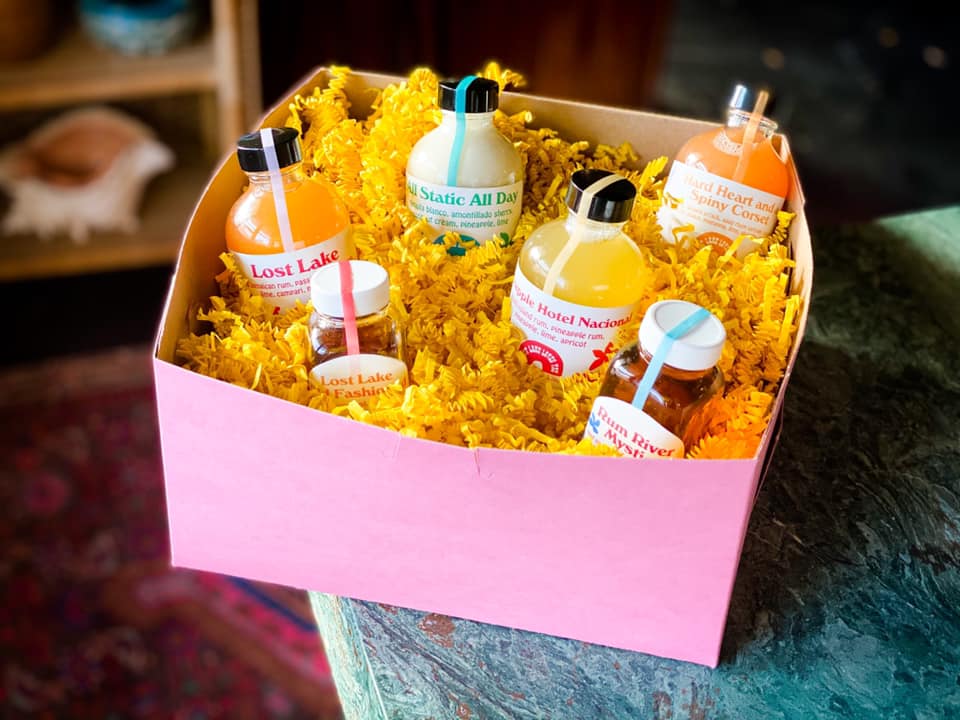 As Chicago is in the midst of a second wave of coronavirus, these owners feel confident they made the right decision in terms of protecting their staffers from the virus.
City and state officials said last week indoor service at bars has caused significant spread of COVID-19 in Illinois. Mayor Lori Lightfoot created a 10 p.m. curfew for all non-essential businesses, including bars and restaurants, to slow the virus's spread.
As sales plummet, some owners feel abandoned by the government. Federal legislators are negotiating another round of coronavirus relief, but it's not clear whether the final bill will help restaurants.
The House initially proposed a $2.2 trillion "HEROES Act" package, which set aside $120 billion for small and independently-owned restaurants.
Republican leaders said the bill was too big. In response, the Senate proposed a $500 billion package covering small business loans, unemployment benefits, schools and testing and vaccine development.
The bill failed to pass last week as Democrats believed more money was needed, and it's unclear when or if relief is coming.
Opening for dine-in and risking the health of guests and staff would only "normalize" the lack of help from the government, said Jason Hammel, owner of Logan Square staple Lula Cafe, 2537 N. Kedzie Ave. Lula is also offering delivery via Caviar.
"I don't want to normalize that situation," he said. "I'm pushing for the aid for all of us so we can rehire staff, support farmers, support fisheries, support florists … all the many, many people who are a part of the restaurant supply chain."
Without government aid, Bar Kumiko, 630 W. Lake St., may not survive, co-owner Julia Momose said. At the end of each week, the restaurant needs to make at least $13,000 in sales to break even. That hasn't happened since the pandemic hit.
"Every day is this big question mark," she said. "We're looking at the numbers every week to see if we've hit our goal. It's terrifying and it's stressful."
'Cutting Off Your Nose To Spite Your Face'
When restaurants first reopened this summer, the pivot to carryout held promise.
On opening day, Lost Lake had a 90-minute line. Sales reached $5,000 per night. But on Wednesday, Allison brought in only $219.
In early October, after Lightfoot announced restaurants could increase indoor capacity from 25 to 40 percent, Hash had its worst week of sales since reopening. 
In light of surging cases, Allison characterized the push to increase indoor capacity limits as the "very definition of cutting off your nose to spite your face."  
"I want this thing to be over as fast as possible," she said. "I don't feel like opening up does anything to help stop [the virus] from continuing." 
For Momose, not reopening Bar Kumiko for dine-in was the hardest yet simplest decision she's made. Even though finances are grim, there's a reason she still hasn't wavered in her decision, she said.
"I would be breaking the trust of my staff," she said. "If we were to go back on our word so easily, what does that mean for the rest of the values we claim to hold? Even when times get really hard, a sense of dignity and honor — those are things that should never go away.
"Putting people in a position where they feel they're physically in harm's way, it doesn't feel right to me. I think of places that have chosen to open. I don't want to sound like I'm looking down on anyone. It's extremely personal to me. … I don't place them on anyone else."
At least four spots in Logan Square temporarily shut down in recent days due to possible exposure to COVID-19.
In July, Replay Andersonville closed after a server the tested positive. Lincoln Park's Galit, one of the participants in the neighborhood's outdoor dining program, closed when a worker tested positive, as did an Alinea pop-up in West Loop. Before that, Logan Square's Longman & Eagle shut down for the same reason, as well as Fork in Lincoln Square.
In August, Big Star in Wicker Park and Recess in Fulton Market closed after staffers contracted the virus. 
All restaurants had safety measures in place for workers and diners.
Not all business owners have decided to close after a staff outbreak. Etta, in Bucktown, neither closed nor alerted the public when multiple people contracted the virus. 
"I don't think people who are opening are wrong," said Hammel, of Lula Cafe. "Everyone has their own individual business decisions they have to make, their own relationships with landlords. I don't pretend to have a single answer for everyone to follow."
"I know there's a lot of privilege in the decision we've made, and not every restaurant is able to pivot and rework things the way we have," McKern said. "I don't mean to imply that I have a one-size-fits-all solution for everyone."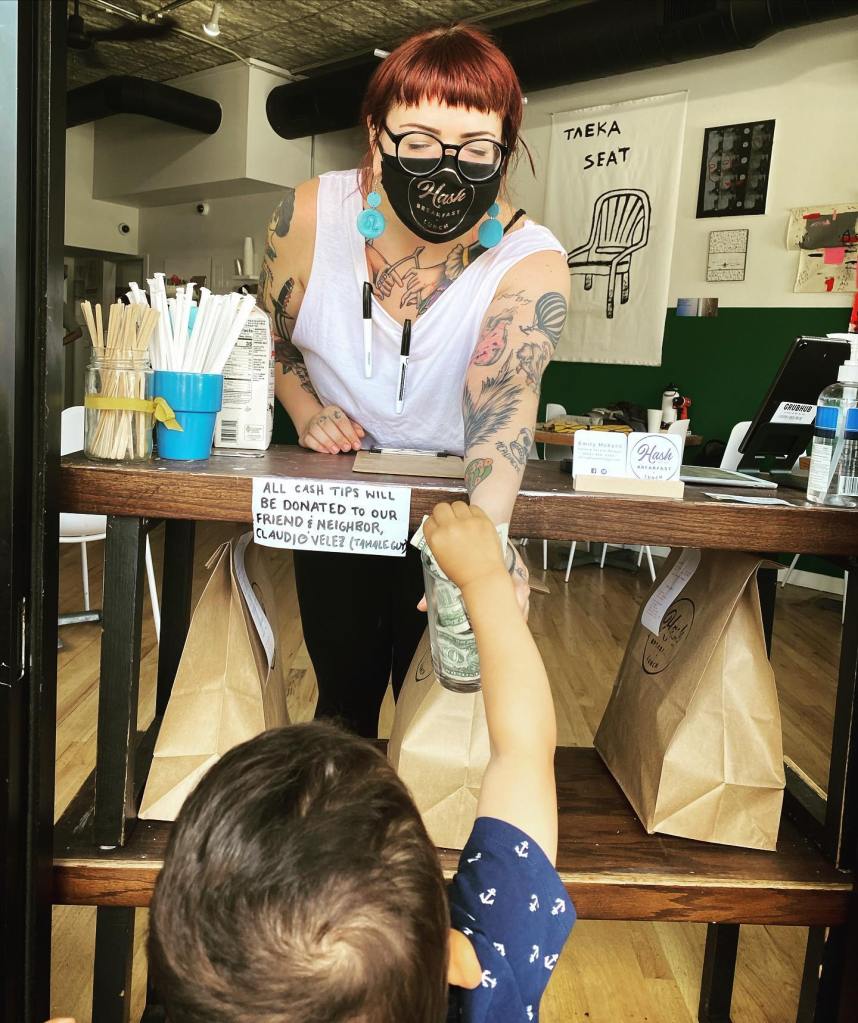 'We Need Another Round Of Relief'
Neighbors who support independent restaurants can help in a variety of ways, business owners said.
Concerned customers can write to elected officials to advocate for more funding for restaurants and bars, Allison and Momose said.
Lost Lake was able to use most of the money from its Paycheck Protection Program loan in a forgivable way, but the money's been gone since September.
"There is still a pandemic raging on and there is no real end in sight," Allison said. "We need another round of relief — not necessarily the PPP loans, which so many places found unhelpful." 
Allison suggested customers follow the Independent Restaurants Coalition on Instagram for more information about helping their favorite restaurants and bars survive.
RELATED: Chicago Small Businesses Shut Out Of Federal Government's Loan Program: 'We Don't Matter To Them'
Moral support is huge, too. McKern said her frustrations mostly lie "with the entitlement of the diner, and the notion that service workers are expendable during all this."
"We get about 30 calls a day about, 'When your dining room is gonna open? When is your patio gonna open?'" she said. "It's on Facebook, it's written on our windows, it's on Google."
And, of course, those who support restaurants can put their money where their mouth is. Instead of simply "liking" Bar Kumiko's posts on Instagram, order a to-go cocktail or use word of mouth to promote the restaurant among your neighbors and friends, Momose said.
"Please don't forget about us. … If we can get those people who follow us on Instagram and like our posts to order at least once a week, then we would be OK," she said. "We do a really good job of having a strong smile and positive energy on social media … . People see that and they think that we're OK. It's more important now than ever to support those businesses you want to see on the other side. By 'support,' I mean spend your money there with them."
Ordering from restaurants not only keeps a small business afloat, Hammel said: Your dollars support an ecosystem of food-related industries, from farmers to fisheries to florists.
"All restaurants are hurting. Supporting them in whatever way you can, if you can, is critical," he said. "I have seen place after place close and I am just so concerned that this winter is going to bring a literal extinction event."
In the meantime, you can contribute to fundraisers for Lost Lake staffers here, for Bar Kumiko here and for Lula Cafe staffers here.
Ever day counts; Lost Lake suspended its food service last weekend and chefs have gone back on furlough, Allison said.
"We are all tired of this. We are all over it," she said. "I promise to God there is no one that loves going out to eat more than me. At all. I know that the hard thing is also the right thing, and it's to get takeout. … If you don't spend money at the places you love now, we won't be around after." 
Block Club Chicago's coronavirus coverage is free for all readers. Block Club is an independent, 501(c)(3), journalist-run newsroom.
Subscribe to Block Club Chicago. Every dime we make funds reporting from Chicago's neighborhoods.
Already subscribe? Click here to support Block Club with a tax-deductible donation.