GAGE PARK — The Southwest Side is being hit hardest by the second surge of coronavirus in Chicago — and local leaders say the area never fully recovered from the pandemic's devastating first wave.
In the 60629 and 60632 ZIP codes — which include parts of Gage Park, West Elsdon, Marquette Park, Chicago Lawn, West Lawn, Brighton Park and Archer Heights — 11,300 confirmed cases have been reported and 225 people have died from coronavirus. One in every 18 residents has had a confirmed case, according to city data.
The 60632 and 60629 ZIP codes also have the highest positivity rates in the city, at 27.5 and 27.9, respectively. That's nearly double what the ZIP codes faced in mid-August.
Local leaders in the area, which is largely Latino and home to many essential workers and undocumented folks, said more resources are needed to help residents who are struggling to access testing, food and financial relief.
"When the city's numbers begin to spike, the working class people who keep industries running are being affected at a disproportionate rate," said Antonio Santos, co-founder of the Gage Park Latinx Council. The group is desperately working to bring resources to Southwest Siders who need them most.
There's huge demand for testing in the area, but it's primarily been served by temporary, mobile testing sites. At a pop-up coronavirus testing site at St. Clare of Montefalco Catholic Church in Gage Park, about 100 drivers were in line to get tested before the site opened 10 a.m. Saturday. Donning masks, dozens more waited in line on foot.
At a recent testing event, organizers had to turn away residents because the site ran out of tests.
"We know there is more COVID in that community," Dr. Allison Arwady, Chicago Department of Public Health commissioner, said during a news conference last week. "It also means we need to push additional testing resources."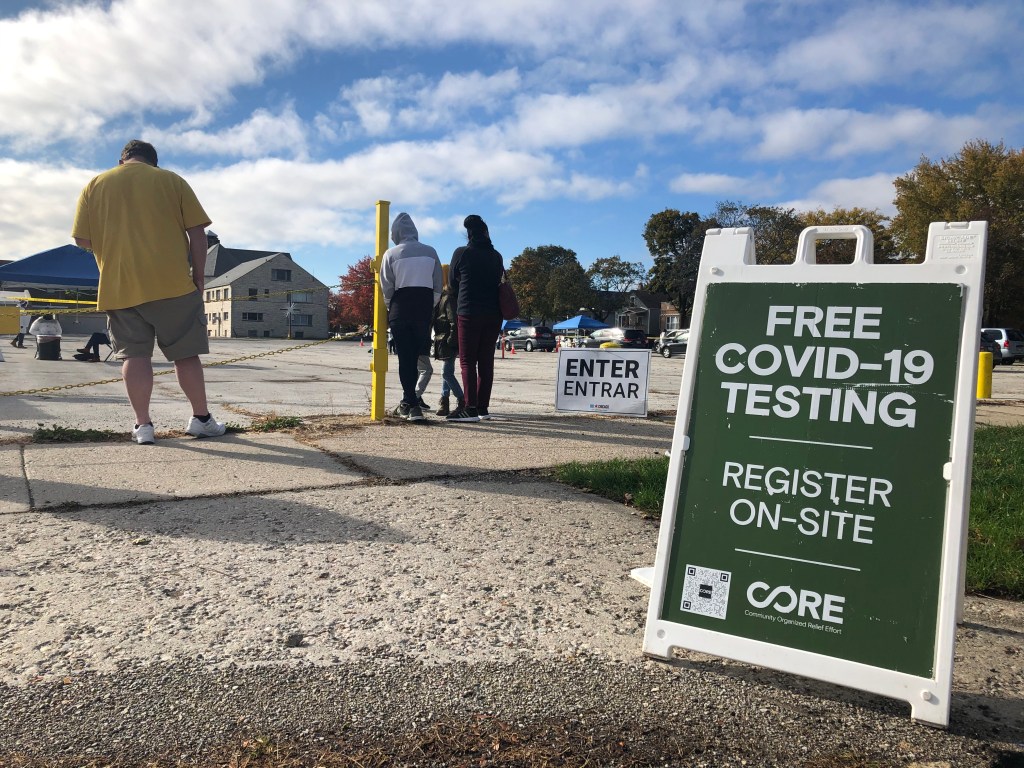 The 60629 ZIP code, which includes parts of Gage Park, West Elsdon, Marquette Park, Chicago Lawn and West Lawn, has had the most people test positive out of any Chicago ZIP code, with more than 6,100 confirmed cases since the start of the pandemic. It's also the ZIP code seeing the biggest surge in new cases, with 365 cases reported Oct. 11-17 — a 75 percent increase from the week before.
In the 60632 ZIP code, which covers parts of Gage Park, Brighton Park and Archer Heights, 5,200 confirmed cases have been reported, the third-most of any city ZIP code. With 264 cases reported, it's also seen a 65 percent week-over-week increase in new cases.
Demand For Testing 'Going Up Fast'
Consistent testing is needed in the area, where many essential workers are unable to work from home, Santos said.
In May, the city announced plans to open multiple static sites, including one at Senka Park, 5656 S. St. Louis Ave. in Gage Park. But that site hasn't materialized to date.
The Chicago Department of Public Health did not respond to questions about the Senka Park site or if it had any plans to open a static site in the neighborhood.
Santos said his group has had an influx of folks reaching out to learn where they can get tested. The nearest static testing site is at Esperanza Health Center, 4700 S. California Ave. in Brighton Park, Santos said.
The nearest static city-run testing site is at Maria Saucedo Scholastic Academy, 2850 W. 24th Blvd. in Little Village. The city held four one-day mobile testing events there last week, but the sites change regularly.
Lines at mobile pop-up sites have been long, Santos said.
A worker at the pop-up testing site at St. Clare of Montefalco Church said demand for testing in the area is high.
The site was prepared to give 1,200 tests Saturday. A day earlier, organizers capped online registration at 1,100 in anticipation of walk-ups, the worker said.
Last weekend, walk-ups at the Southwest Side mobile clinic were turned away after the testing site reached capacity, the worker said.
Patrick Brosnan, executive director of the Brighton Park Neighborhood Council, said people are having to wait up to two days to schedule an appointment because there isn't enough testing available.
City data shows the 60629 ZIP code had 1,327 people tested Oct. 11-17, a 34 percent increase from the week before. The 60632 ZIP code had a 9 percent jump from the week before, with 947 people tested.
Wealthier ZIP codes on the North Side have had just as much or even more testing, even though they've had far fewer confirmed cases and deaths. And the 60629 and 60632 ZIP codes have lagged behind or just been stable with the city's overall test rate — which measures the rate of testing per 100,000 people — despite being among the areas hit hardest by COVID-19.
RELATED: Chicago's Latino Neighborhoods Have Most Coronavirus Cases In The State. Is The City Doing Enough To Respond?
Rosabla Valdez, a CORE outreach coordinator, said they are trying to increase capacity beyond 1,200 tests a day as more people are getting tested and positive cases are rising. CORE is a volunteer organization working with the city's Department of Public Health to offer free testing.
Because of the spikes, Valdez said she's advocated for weekly mobile sites in the community. 
"We weren't testing at capacity about two weeks ago, but numbers are going up and they are going up fast," Valdez said. "Positivity rates are high."
Ald. Raymond Lopez (15th), whose ward includes portions of Brighton Park, Gage Park and Back of the Yards, said in an email the city has been "slow to provide testing and semi-permanent testing partners to the general public." A frequent critic of Mayor Lori Lightfoot, he called on the city to do more "robust" outreach in the area.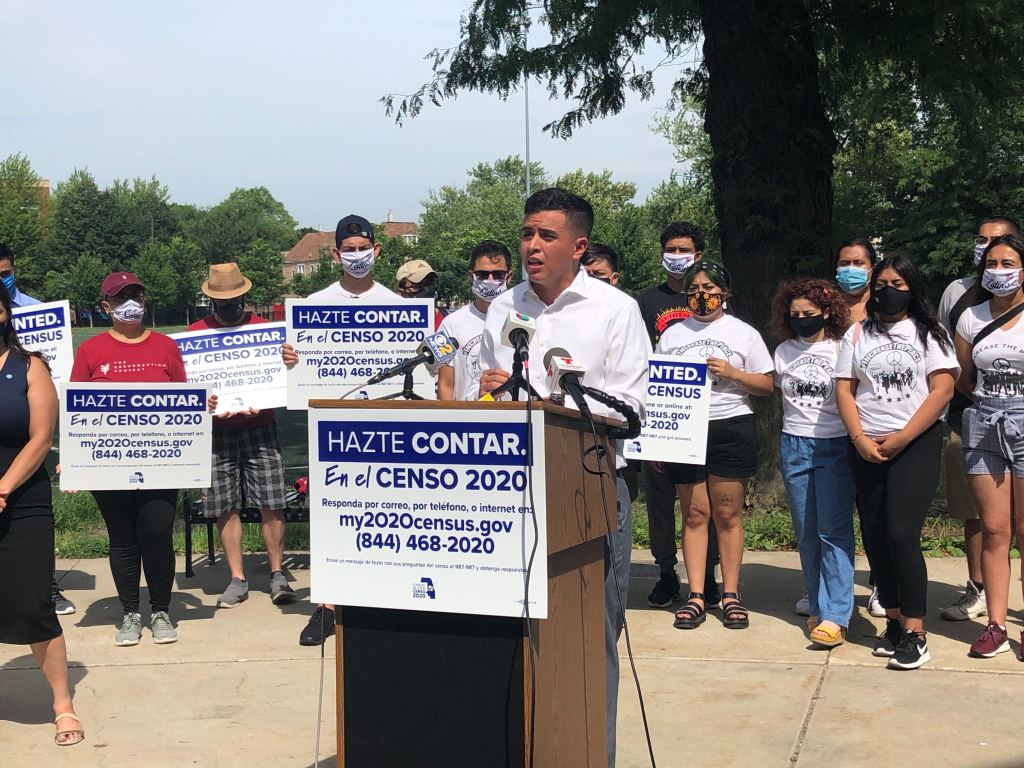 'The Luxury Of Working From Home'
In early September, Arwady said the Southwest Side had seen concerning numbers of coronavirus cases in part because it had a larger portion of residents who are essential workers and who are more likely to live in multi-generational housing with more people.
Santos said essential workers in Gage Park and surrounding communities of color are still bearing the brunt of the pandemic. 
Last week, Santos' group worked to get groceries and connect a Gage Park family with resources after the father tested positive for coronavirus. The father, who is undocumented and who works at a Hyde Park restaurant, would only travel to and from work, Santos said.
The Gage Park Latinx Council has raised money for out-of-work undocumented families affected by coronavirus since March.
Local community groups are filling a void not being met by City Hall, Santos said.
"Our community has been affected majorly by this virus and we have not seen an influx of resources to the community, even though we've known that we have some of the highest numbers in the city for quite some time now," Santos said.
Lopez said people in other parts of the city who are flouting coronavirus guidelines are jeopardizing their own health and the health of essential workers, who traveling across the city to work and are bringing the virus back to their homes and communities. 
"These communities are made of people [who do] not have the luxury of working from home," Lopez said. "Many work in the bars, restaurants, where so many more privileged consumers have taken safety precautions for granted."
State Rep. Aaron Ortiz, who represents the area and was born and raised in Gage Park, said many Southwest Side residents are frontline workers who don't have the "option or luxury" to work from home.
Many of the area's residents are undocumented and uninsured, he said.
The city tests residents regardless of their residential or insurance status. But many folks are wary of accessing free testing sites because of their immigration status, Ortiz said.
Ortiz said there needs to be a more reliable, "consistent presence of testing" in the neighborhood.
If the area had a static site, "people will go," Ortiz said.
'A Bare Minimum' Response
Officials warned of a possible spike this fall for months, but some area leaders say the city did not do enough to prepare communities like Brighton Park and Gage Park with more testing and resources.
"There hasn't been a robust response from the city," Brosnan said. "It's been the bare minimum. There needs to be much more done. …
"The reality is that it should have [been] predicted that there was going to be a big spike in Chicago and in these communities because of all of the factors that we saw play out in the springtime. There should not be a two-day wait time at the city [testing] sites because they should have ramped up testing by now."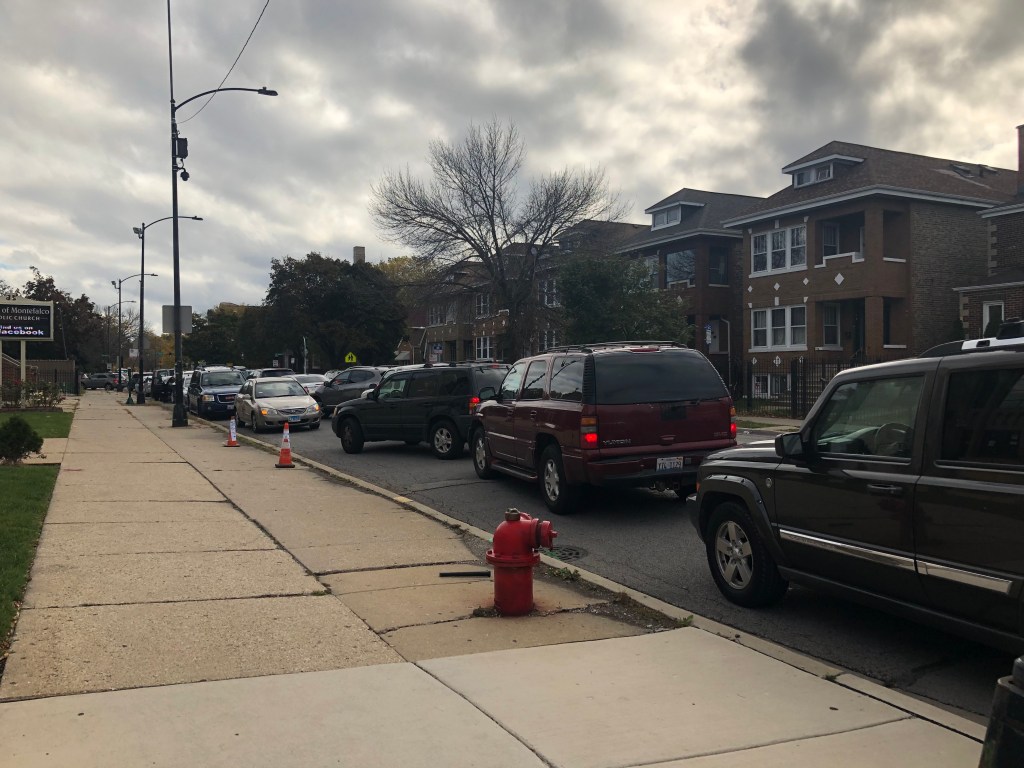 The council's leaders have been heavily focused on getting cash assistance and other resources to workers who have been laid off or those who are out of work.
Because of the industries many residents work in, they aren't eligible for unemployment or paid sick leave, so they continue to put themselves at risk, Brosnan said.
Local groups have worked to fill the void for struggling families.
The Gage Park Latinx Council set up mutual aid and weekly food drives, but the need has been much greater than members can meet.
The Brighton Park Neighborhood Council has helped about 600 families with mutual aid or connected them to other funding sources, said Maribel Martinez, the group's economic development manager.
The group will soon participate in an state initiative to pay up to $5,000 in rent or mortgages for families who have fallen behind, Brosnan said.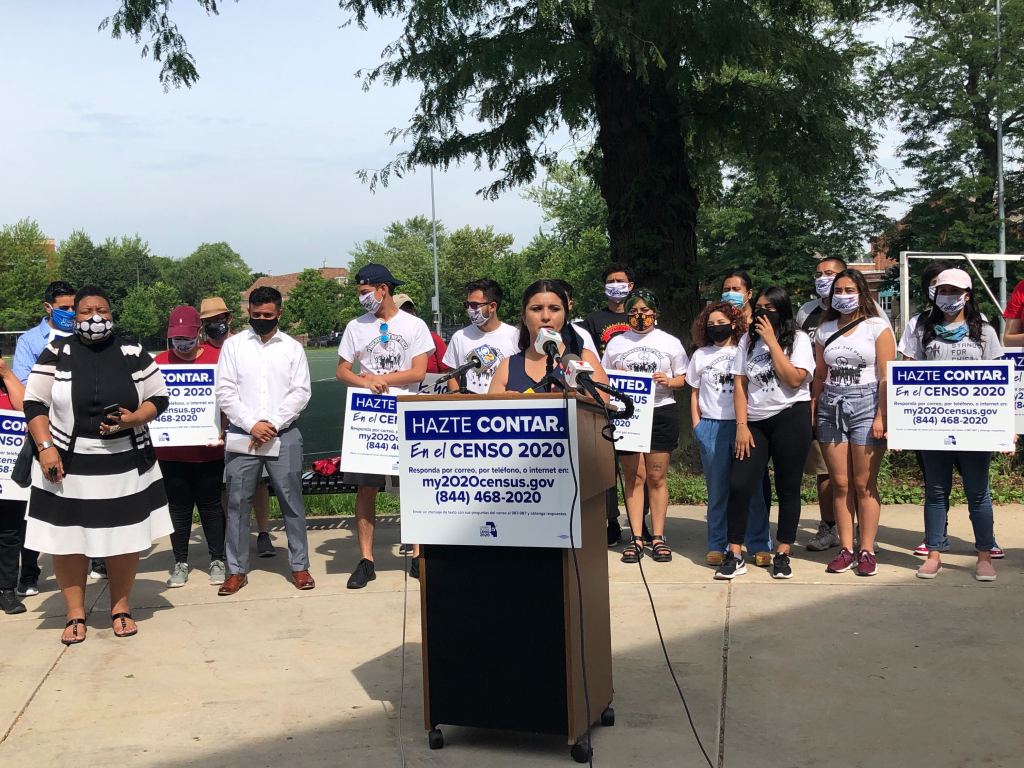 The need for more assistance is a sobering reality, Cook County Commissioner Alma Anaya said.
Over the past several months, Anaya and other officials have held giveaways of food and personal protective equipment. Anaya said she's seen people wait up to two hours before distribution events in Gage Park and surrounding communities. 
"What this is telling me is that there is not enough infrastructure or support systems" in the community to meet the needs of residents, Anaya said. 
RELATED: Gage Park Group Raising Relief Funds For Undocumented Families On The Southwest Side
Santos said he's frustrated at the lack of effort made to address basic needs in Black and Brown communities.
"It's seven months later and still nothing has been done to increase access to resources in our community," Santos said.
"There hasn't been an abundance of testing sites. There hasn't been a food pantry established by the city. There hasn't been any kind of rent relief. We haven't seen the things we've been asking for … in order for our communities to be able survive this pandemic."
Block Club Chicago's coronavirus coverage is free for all readers. Block Club is an independent, 501(c)(3), journalist-run newsroom.
Subscribe to Block Club Chicago. Every dime we make funds reporting from Chicago's neighborhoods.
Already subscribe? Click here to support Block Club with a tax-deductible donation.