KENWOOD — Elected officials and residents celebrated the pending completion of renovations to Drexel Boulevard at a groundbreaking ceremony Thursday afternoon.
The $4 million project to bring concrete pathways, accessible crosswalk ramps, irrigation systems and plant life to the historic boulevard will be complete by spring.
The final phase will bring improvements to the stretch from 47th Street to Hyde Park Boulevard. Renovations from Oakwood Boulevard to 47th Street began in 2018 and wrapped up earlier this year.
Pathways along the final stretch will "hopefully" be completed in a few weeks, and plantings of trees and flowers will occur in the spring, said Ald. Sophia King (4th).
King and representatives of the Chicago Department of Transportation attended Thursday's groundbreaking at the intersection of Hyde Park and Drexel boulevards. Unseasonably warm weather and fall colors highlighted Drexel's beauty.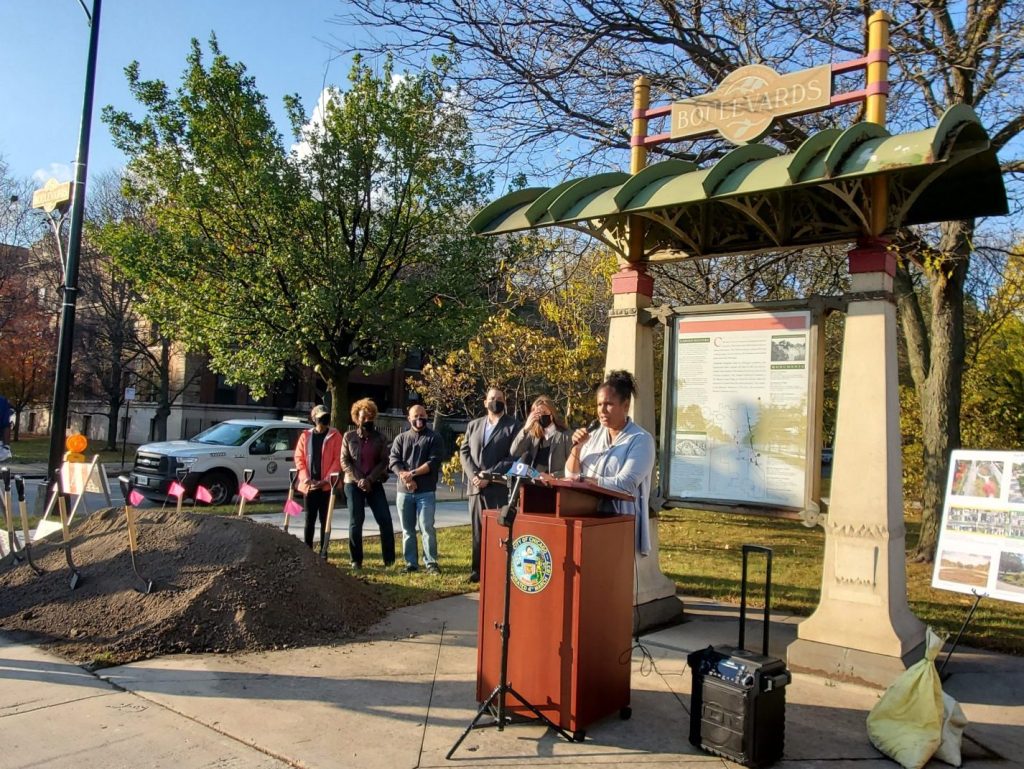 The renovations, ongoing since 2018, have used city funds cobbled together from various sources over the years, like tax increment financing and bond funds, a CDOT spokesperson said.
King, who said she regularly runs along the boulevard, praised transportation Commissioner Gia Biagi for finding the funds to support the final phase.
"This has been a community effort, something that we all have to be proud of," King said. "I couldn't have dreamed it more perfectly, as I see all of you who are using the boulevard on your bikes, walking your dogs — it's bringing so much vibrancy. I hope to get even more as we finish all of the sidewalks here."
Representatives of King's 4th Ward advisory councils were on hand, voicing support for the renovations and sharing their connections to the boulevard.
The improvements will encourage more people to use Drexel for exercise and recreation, said Lenise Arnold, block club committee chair for the Grand Boulevard council.
"The neighborhood is growing back, so you need to have a park that is accessible for people to do what they need to do," Arnold said. "This is the vital point of our community, connecting Bronzeville to Kenwood and Hyde Park."
Arnold's love for the boulevard runs deep. Since childhood, she's called apartments along Drexel home and used the median as a play area, barbecue spot and gathering space.
Her phone background is a photo taken at the 140-year-old Francis Drexel Fountain, visible from the boulevard's southern endpoint.
"I keep this picture, because my son is no longer with me; he passed away," Arnold said. "This is one of my favorite pictures — my daughter and my son, sitting on that fountain."
Drexel is "one of the most walkable, most beautiful parts of this community," Kenwood council Chair Marcellus Moore said. He and his family used the boulevard to exercise and get fresh air all summer, and he said the accessibility improvements will allow more residents to do the same.
"I think it's absolutely critical to have accessibility for everybody," Moore said.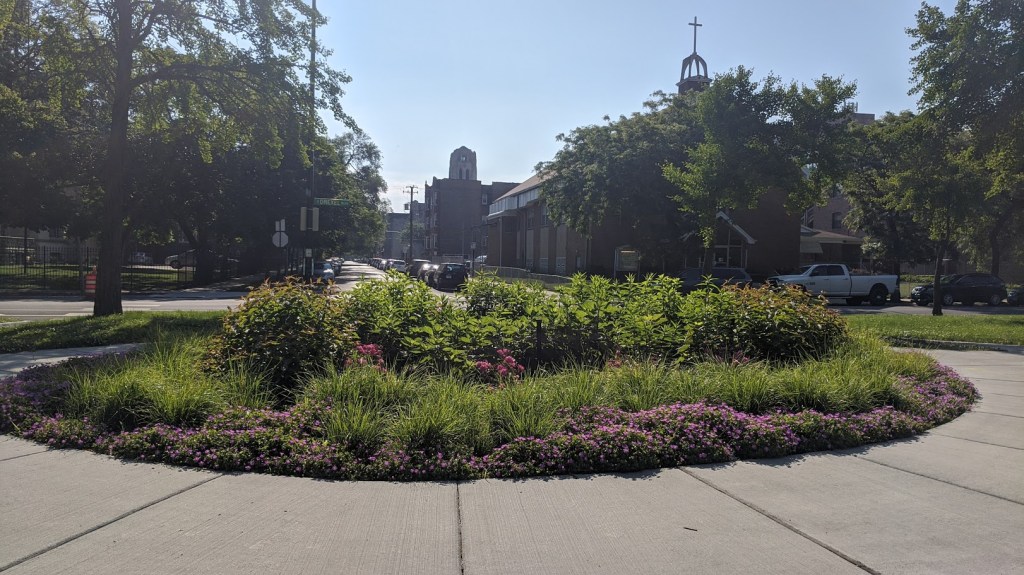 Moore would like to see the shared street program implemented along Drexel become "a long-term thing," he said in his remarks at the ceremony. The boulevard was closed to through traffic this summer, allowing more space for cyclists and pedestrians.
The shared streets program recently ended, and car traffic freely flowed along Drexel during the ceremony.
King and a CDOT spokesperson said they'll explore bringing Drexel's shared street back next year, though the walkways and bike lanes will serve the same purpose through the fall and winter.
Residents are also interested in temporarily closing down Drexel for festivals or events honoring the boulevard's jazz legacy — such as the Sutherland Apartments at 4659 S. Drexel Blvd. — when coronavirus restrictions are lifted, King said.
"I think the beauty of the boulevard is it's almost like a shared street anyway, because there's not a lot of vehicular traffic that goes down it," she said.
Subscribe to Block Club Chicago. Every dime we make funds reporting from Chicago's neighborhoods.
Already subscribe? Click here to support Block Club with a tax-deductible donation.