ENGLEWOOD — LaSonja Washington has received so many items during her donation drive to support her neighbors in need, she had to rent a storage unit — her home just didn't have enough space to handle it all.
"I moved my car out of my garage so I'd be able to store all this stuff," she said. "I take any and everything."
Washington will set up shop noon–3 p.m. Saturday at 63rd Street and Marshfield Avenue, giving away anything she's received so far.
That includes clothes, jewelry, games, cold-weather gear and more. Also available will be free personal protective equipment and 250 boxes of food with meat, eggs and cheese, she said.
Another 250 food boxes will be given away at 11 a.m. Wednesday, Oct. 28, at the intersection of 71st Street and Damen Avenue.
Washington, founder of the nonprofit House of Many Blessings, will also accept donations that can be given away Saturday or at future distributions. This weekend will be her second giveaway following one last month; she plans to continue holding monthly distributions.
"What we really need is hand sanitizer, masks" and other protective equipment, Washington said. "We want to let [neighbors] know that COVID is really real."
The donation drive and giveaways are part of Washington's effort to raise awareness and funds for her main mission: opening a 24-hour shelter for anyone facing homelessness.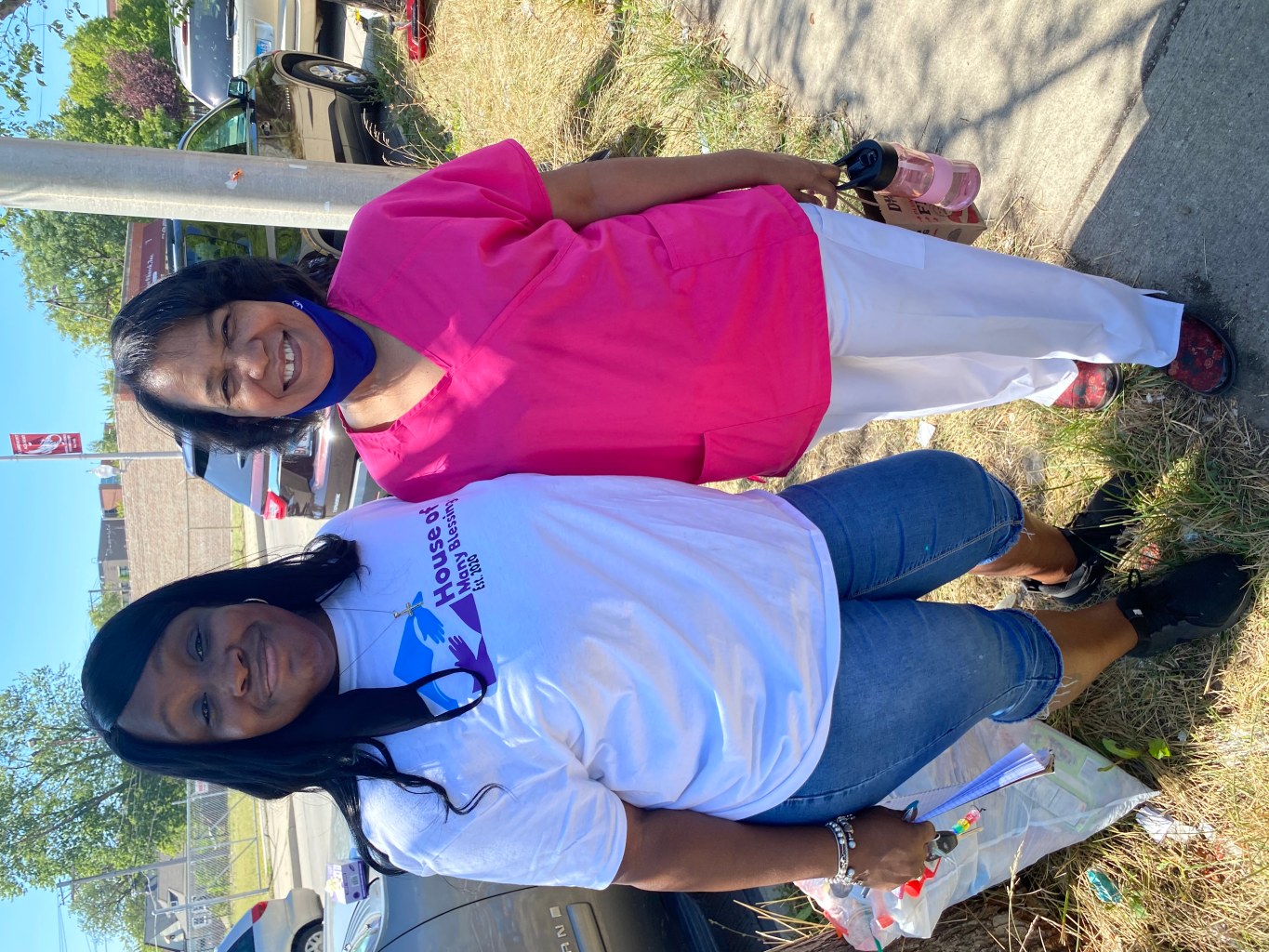 Washington, a day care provider born and raised in Englewood, said a shelter that's always open to all is needed in the neighborhood.
She started the process of establishing her nonprofit and researching nearby properties for sale when two friends had to split their family just to find shelter, after the pandemic devastated the family's finances.
"They're a husband and wife with two children. They lost jobs, rent and things fell behind, and they had to move out," Washington said. "They had to go to separate shelters" — the father to a men-only shelter, and the rest of the family to a shelter for women and children.
House of Many Blessings would allow families to remain together, as well as offer space to individuals, single parents, people facing domestic violence or anyone else who needs space to live.
"I don't want it to be a certain label on the shelter," she said. "The mission is to help whoever is in need."
Keeping the shelter open around the clock is equally important as making it accessible to all, she said, citing a friend's daughter who was killed in an incident of domestic violence.
The woman wasn't able to find any open shelters near her home when she fled. Having a 24-hour shelter nearby "would've saved her life," Washington said.
To open the shelter, Washington will need to raise money — and a lot of it. Her "heart and mind" were set on repurposing the former St. Benedict the African school at 7033 S. Honore St. for the shelter, until the asking price was far higher than she could afford.
But Washington is overjoyed at the community's response to her efforts. Public Storage employees have even pitched in, donating clothes after Washington told them why she was renting a storage unit.
She hopes neighbors will continue to give, especially now that she's opened a PayPal account for the nonprofit to receive donations. Their support makes the effort of storing so much stuff worth it, she said — even if she has to park her car outside for a while.
Getting the shelter up and running is "really a passion to my heart," Washington said. "We're getting the information and what we stand for out there by doing the community giveaways. I'm keeping the faith that we will get there."
Those interested in volunteering or arranging donations can call Washington at 773-398-4822 or email her at homb2021@gmail.com. You can donate money to the House of Many Blessings through PayPal here.
Do stories like this matter to you? Subscribe to Block Club Chicago.  Every dime we make funds reporting from Chicago's neighborhoods.
Already subscribe? Click here to support Block Club with a tax-deductible donation.