WICKER PARK — A man accused of robbing a 7-Eleven repeatedly over the past two weeks was arrested Tuesday after police said he punched and kicked a 40-year-old Chicago Park District staffer in Wicker Park.
David Williams, 32, was arrested 11:15 a.m. Tuesday on charges of battery and violating his bail bond, police said. He was also cited with a city ordinance violation for public urination.
The alleged attack occurred just one hour after Williams allegedly stole from a 7-Eleven, 1508 N. Damen Ave., for what store owner Harish Doshi said was the seventh time in 11 days.
During that theft, Williams told Doshi, "You bitch, I'm going to kill you," Doshi said. Williams then kicked in the cashiers' plexiglass barrier, the store's security camera footage shows.
That theft was the second time Williams had threatened to kill Doshi and the first time he had actually become violent, Doshi said.
RELATED: Wicker Park 7-Eleven Workers Terrified Of Serial Shoplifter, But 'No One's Helping' Despite 5 Police Reports, Violent Threats
Police arrested Williams twice Oct. 9 after the first allegations he stole from the store, but he was released.
Tuesday's arrest in the park brought some relief to Doshi, but he thinks more could have been done to prevent the alleged attack.
"If this man is behind bars, it would be a relief," Doshi said. "I feel like police was not paying attention to this guy until the Park District called and had him arrested."
The escalation of violence during Williams' thefts — coupled with the recent killing of Wicker Park Walgreens employee Olga Calderon — had left the store's cashiers on edge.
"I'm so nervous," said Janice Sanchez, a mother of two. "You don't know what anybody can be capable of. A lot of us have children at home. … We call the cops, and they don't do anything."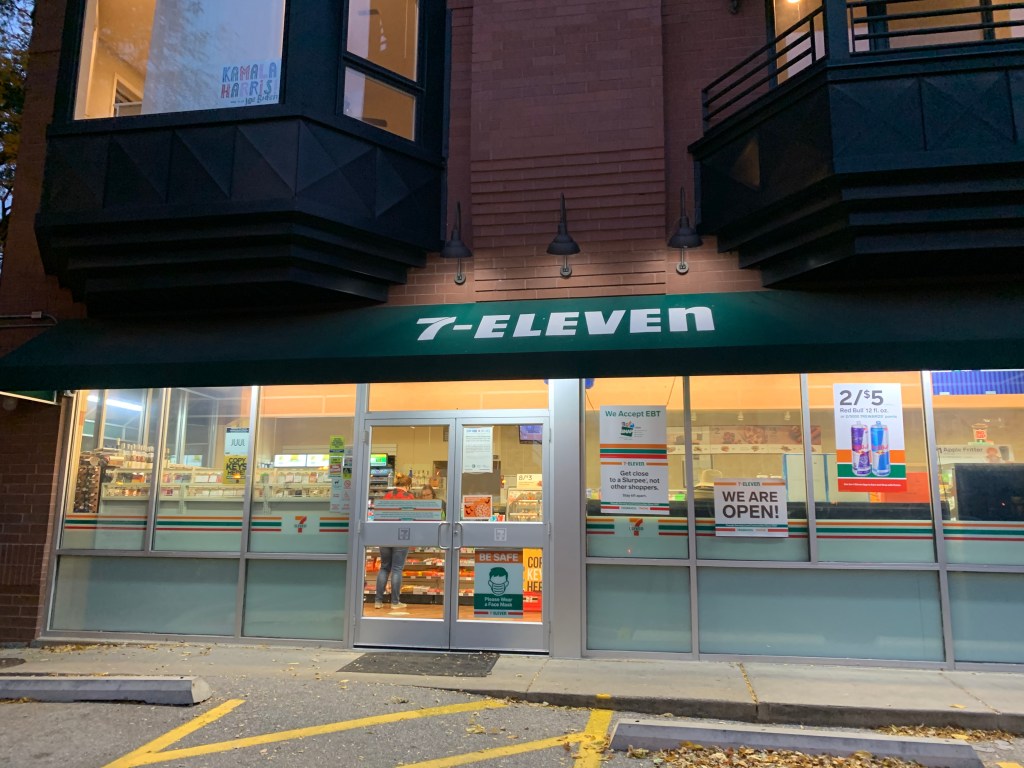 Doshi, who has owned the 7-Eleven at 1508 N. Damen Ave. since 2015, said shoplifting has increased significantly during the pandemic, and most acutely in the past few weeks. 
Williams first allegedly stole from the store about 8:15 a.m. Oct. 9. He allegedly stole at least four bottles of wine totaling roughly $100. He was arrested by police and released with a ticket, records show. 
Police arrested Williams a second time the same day after he went to the store, was drunk, belligerent and stole multiple wine bottles, Doshi said. He was released from a police station via a $1,500 cashless, records show. 
An I-bond, or "individual bond," is also known as a personal recognizance bond. It orders a person to return for a court date, but, unlike other bonds, does not require any cash to be held as collateral.
Williams' court hearing is set for 2:30 p.m. Nov. 2.
Since being released the second time, Williams returned to steal from the store 5 p.m. Oct. 10, 3:50 p.m. Oct. 11 and 10:15 a.m. Tuesday, according to police reports. Police reports were not filed for an additional two thefts, Doshi said.
After one theft, Doshi said he tried chasing Williams out of the store. Williams turned to Doshi and screamed, "I'm going to smack you. I'm going to kill you," the store owner said. 
While workers and police have blamed the State's Attorney's Office for releasing serial offenders, police actually made the decision to release Williams on cashless bond, records show.
The decision to release Williams on an I-Bond was in line with policy set by the State's Attorney's Office, Sgt. Rocco Alioto said by email.
"In each instance, the amount of the goods taken did not meet the statutory minimum amount that is needed to seek a felony upgrade," Alioto said. "The Chicago Police Department takes the safety and security of its residents and business owners seriously."
When State's Attorney Kim Foxx took office in 2016, someone would need to steal more than $300 in merchandise to be charged with a felony. Foxx changed the policy to raise the threshold to $1,000, a move that allowed prosecutors to focus on the "drivers of violence" rather than nonviolent offenses, spokeswoman Tandra Simonton said by email.
"We continue to prosecute certain retail theft cases as misdemeanors with the option to prosecute these cases as felonies if facts of the case call for it," she said. 
In this case, the State's Attorney's Office was never contacted by police to consider felony charges, which are reviewed on a case-by-case basis.
Since 2000, dozens of states have made the decision to raise their retail theft felony thresholds. Doing so helps policymakers prioritize prison space for more serious offenses and steers people away from the consequences of a felony conviction, according to the Pew Research Center.
Doshi said Williams never steals more than a $100 worth of wine at at time. But after what happened to Calderon at the nearby Walgreens, cashier Carmen Cruz said she worried the criminal justice system was cutting Williams too much slack. 
In the case of the killing at Walgreens, detectives believe Sincere Williams — the man charged with killing Calderon — robbed the the store twice the week before the slaying. 
RELATED: Fiancé Of Olga Calderon, Slain Wicker Park Walgreens Worker, Speaks Out: 'This Event Has Shattered Our Families'
"You don't know who's capable of doing what anymore," she said. "What about the safety of the people who have to live with it, and deal with it?" 
Subscribe to Block Club Chicago. Every dime we make funds reporting from Chicago's neighborhoods.
Already subscribe? Click here to support Block Club with a tax-deductible donation.