WEST HUMBOLDT PARK — A training center for jobs in the manufacturing sector has opened on the West Side, bringing expanded opportunities for residents to enter high-wage careers close to home.
The Chicago West Side Training Center was opened by the Jane Addams Resource Corporation after the manufacturing workforce development organization's previous West Side location was shut down last year.
Reopening a training facility on the West Side is an affirmation of the corporation's long-term support for the revitalization of Austin in alignment with the neighborhood's Quality-of-Life Plan, said corporation President Regan Brewer-Johnson.
"We're really intentional about providing the tools that you need in order to build wealth. Just getting a $20-an-hour job out the gate does not necessarily lift you from a lower socio-economic status to a middle class," Brewer-Johnson said.
The center is at the facility of Freedman Seating Company, 4545 W. Augusta Blvd.
It made sense for the organization to expand its partnership on the West Side since about a quarter of participants in the workforce development programs at its Ravenswood headquarters came from the West Side, Brewer-Johnson said. About one in four Austin residents are unemployed, the organization estimates, and Brewer-Johnson hopes having a local presence will make high-paying careers more accessible to West Siders.
"The West Side has a lot of manufacturing companies. And so we're able to recruit people from the West Side, train them on the West Side and put them in jobs on the West Side," Brewer-Johnson said.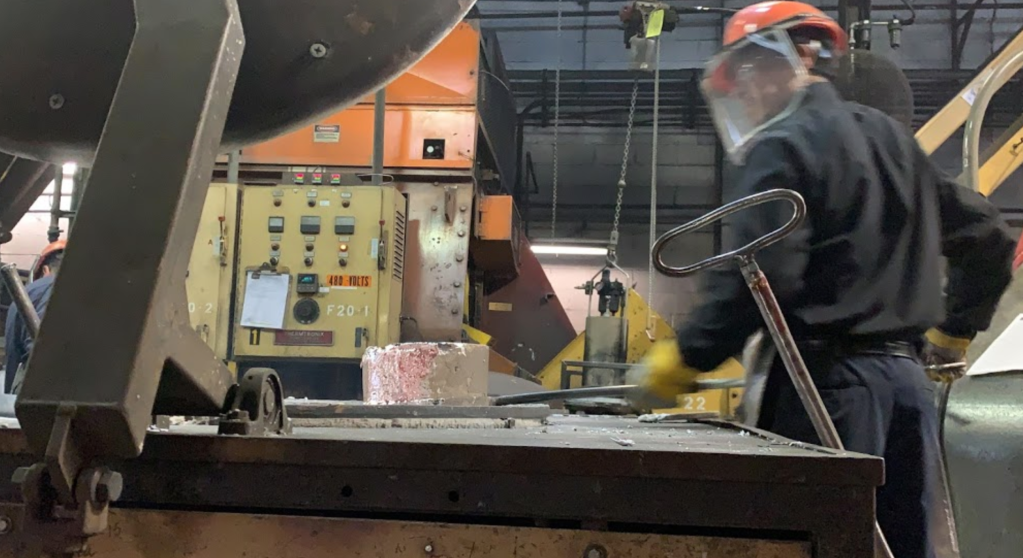 Adonis Summerville is an Austin resident who took a 20-week program with Jane Addams Resource Corporation in 2011, before the organization had a center on the West Side. He became interested after talking to a friend on the bus about what kinds of opportunities he had.
"He asked me what was I doing my life. It was kind of at that moment where it hit: I'm not really doing anything," Summerville said.
Summerville applied for JARC's Careers in Manufacturing Program and within weeks was in a metalworking skills training class. It took about an hour and a half to get to the North Side for the classes, he said, but he knew he didn't want to pass up the opportunity.
"After the first few days, it just clicked for me, and I never looked back," Summerville said. "It's opened up so many doors for me, from teaching at a college to probably being able to work at any machine shop that I could choose."
During the program, Summerville learned to make manufacturing blueprints and use Computer Numerical Control Programming to build machine parts. He used the skills he learned to work in manufacturing at John Crane. He also started teaching metalworking at Wilbur Wright College.
Now that Jane Addams Resource Corporation has opened the Chicago West Side Training Center, he will be a senior metalworking skills instructor for programs serving his own community.
The West Side training center will make it easier for others in the neighborhood to improve their career prospects and build wealth, Summerville said.
"I don't have to go to it. They brought it to me. They're giving me another resource to propel myself to the next level," he said.
Summerville hopes giving residents more local options to improve their careers will have a powerful impact on improving conditions in Austin and other resourced-starved neighborhoods on the West Side.
"Having something right there in the neighborhood is trying to show that we want to improve our neighborhoods," he said. "You gotta put resources in your area to improve your area."
Jane Addams Resource Corporation is a key partner with Austin Coming Together for implementing the Austin Quality-of-Life Plan by improving career opportunities in the neighborhood. The organization will eventually be an anchor at the workforce development and training center being planned at the closed Emmet Elementary School, 5500 W. Madison St.
The redevelopment of Emmet Elementary School is a focal point of the Austin Quality-of-Life Plan that will transform the school into a community center that offers career development programs, vocational training, entrepreneurship resources and apprenticeships for high-demand fields like health care and manufacturing.
The corporation had previously contracted with Chicago Public Schools to run programs at Austin College and Career Academy. But the school district canceled the contract in 2019 after disagreements emerged around the CPS background check policy, which would exclude those with a criminal record from doing programs at the school.
Providing opportunities for people with barriers to employment, including past convictions, is core to the organization's mission. JARC's leadership penned an open letter to Mayor Lori Lightfoot about the canceled contract, describing it as a matter of racial equity since a blanket exclusion of people with prior convictions would disproportionately impact Black people and West Side residents, many of whom have been involved in the justice system.
"As we all celebrate the new marijuana entrepreneurs, generations of Black and Latinx residents have had their lives and their life chances ruined. Where is the racial equity in that?" the letter said.
But the new West Side home for the training center has presented new opportunities to expand its programs, Brewer-Johnson said. The Freedman Seating Company facility, where the training center is, will be able to add two programs in 3D printing and mechanical assembly.
"There can be this aspect of hopelessness because of the disinvestment, because of the lack of economic development, because of the lack of jobs," Brewer-Johnson said. "We didn't want to be one more broken promise for the West Side, one more entity that came in … and then left."
Pascal Sabino is a Report for America corps member covering Austin, North Lawndale and Garfield Park for Block Club Chicago.
Block Club Chicago's coronavirus coverage is free for all readers. Block Club is an independent, 501(c)(3), journalist-run newsroom.
Subscribe to Block Club Chicago. Every dime we make funds reporting from Chicago's neighborhoods.
Already subscribe? Click here to support Block Club with a tax-deductible donation.