SOUTH SHORE — After giving away groceries to 1,000 South Shore families this summer, organizers of the Feeding South Shore food distribution program are bringing it back for the fall and winter, tripling the program's size and expanding its coverage area.
Rebranded as Feeding Chicago Families to reflect its larger mission, the program will provide poultry, produce, snacks and other staples primarily to the families of South Side school children through Dec. 18, the last school day of 2020.
Every Friday, 50 families at each of the following schools will receive free food bags:
O'Keeffe School of Excellence, 6940 S. Merrill Ave. in South Shore.
St. Philip Neri Catholic School, 2110 E. 72nd St. in South Shore.
Ninos Heroes Elementary, 8344 S. Commercial Ave. in South Chicago.
Bret Harte Elementary, 1556 E. 56th St. in Hyde Park.
Jackie Robinson Elementary, 4225 S. Lake Park Ave. in Oakland.
Fifty families each at a South Shore rescue shelter and La Rabida Children's Hospital will also receive weekly groceries. The La Rabida distribution includes non-perishables and a $25 gift card to Local Market, due to the lack of refrigeration available on site.
In total, 3,200 bags of food, prepared at South Shore's Local Market and valued at $50 each, will be given away through the end of the year.
The program is intended to supplement the work of the schools' existing meal programs and other local food banks, organizer Amena Karim said.
"Even if [families] are going to the schools for milk and cereal and sandwiches, we're providing supplemental food that is healthy, robust and gets them through a full week of groceries," she said.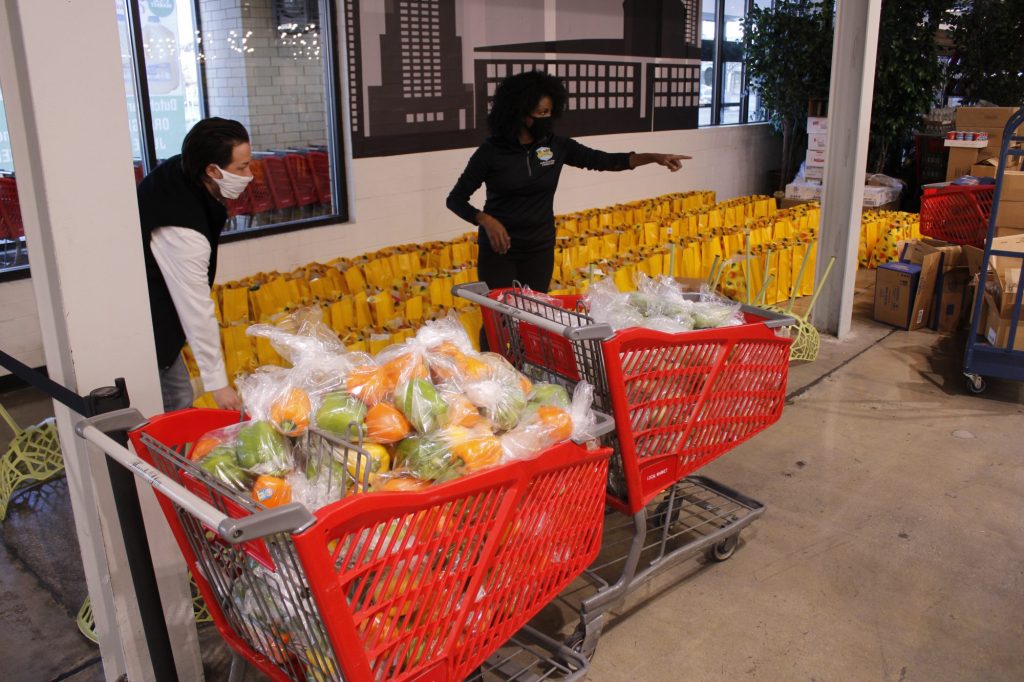 Food distributions like Feeding South Shore and CPS's Grab and Go meal program have "really become helpful" for parents trying to make ends meet through the coronavirus pandemic, said South Chicago resident Regina Rebeles. Her 10-year-old daughter, Jaelyn, has been a patient at La Rabida since she was 2 weeks old.
When Feeding South Shore ended in June, neighbors constantly asked whether it would be brought back, Karim said.
Organizers revived it after receiving enough funds to run the program through the end of the year — mostly from an anonymous donor, with the remaining 15 percent from the Northern Lights Direct marketing agency.
Karim praised Local Market's ownership and management for being a "corporate citizen" and continuing to respond to local needs by participating in the food distributions.
Store employees help fill the bags and load up the delivery trucks for this effort, just as they did in the summer.
"It was such a success on the first go-round that we decided, with the support of the neighborhood, to expand the program," Local Market manager Eddie Roque said. "It's helping a lot of people in need, especially with so many people losing their jobs because of coronavirus."
This summer's giveaways were also instrumental in convincing Instacart to offer service out of Local Market after holding out for months, Karim said. Residents will remember "the good things that were done during the pandemic, and they remember not having a store for six years."
The program may continue beyond 2020 with additional donations, Karim said. Those interested in donating to Feeding Chicago Families may email her at amenakarim932@gmail.com.
Block Club Chicago's coronavirus coverage is free for all readers. Block Club is an independent, 501(c)(3), journalist-run newsroom.
Subscribe to Block Club Chicago. Every dime we make funds reporting from Chicago's neighborhoods.
Already subscribe? Click here to support Block Club with a tax-deductible donation.