PILSEN — For more than 30 years, Isabel Hernandez's immaculate side-yard garden has been a fixture in Pilsen, bringing joy to neighbors passing by.
Ahead of Día de los Muertos, she's transformed her garden into an elaborate display with an 11-foot ofrenda in hopes she will inspire younger generations to keep Mexican traditions alive as the neighborhood changes.
Setting up decorations at her garden on 19th Street between Throop and Loomis, Hernandez said even children in Mexico are gravitating toward celebrating Halloween and are "forgetting Día de Muertos." She moved to Pilsen, a historic port of entry for Mexican immigrants, from Juarez, Mexico in the '80s.
"It's part of our culture that we don't want to lose … . We always want to keep our culture and pass it on to the next generations," she said.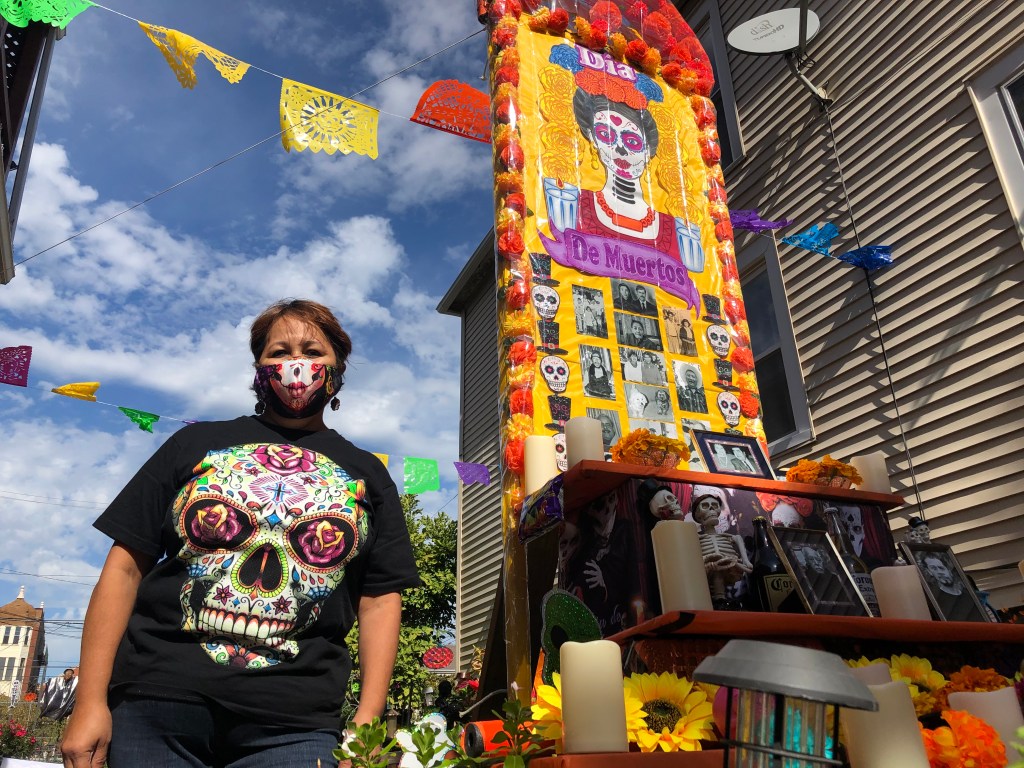 Día de los Muertos is a tradition celebrated Oct. 31-Nov. 2 across Mexico and the United States to remember loved ones who have passed away. The days coincide with the Catholic holidays All Saints' Day and All Souls' Day, but the holiday was born from ancient Aztec traditions.
The tradition is observed in various ways. Some set up traditional ofrendas, or altars, with candles, photos and momentos of loved ones lost, while others gather at a loved one's grave to decorate their tombstone. 
Hernandez made the plastic marigolds for her towering alter by hand.
An illustration of La Catrina, one of Día de los Muertos' most recognizable figures, watches over loved ones below, Hernandez's father, grandparents, aunts, uncles and pets who have all passed on, remembered in black-and-white photos.
Loved ones "may have passed 20 or 30 years [ago], but they are still in our hearts. We never forget them. They are part of your life," she said.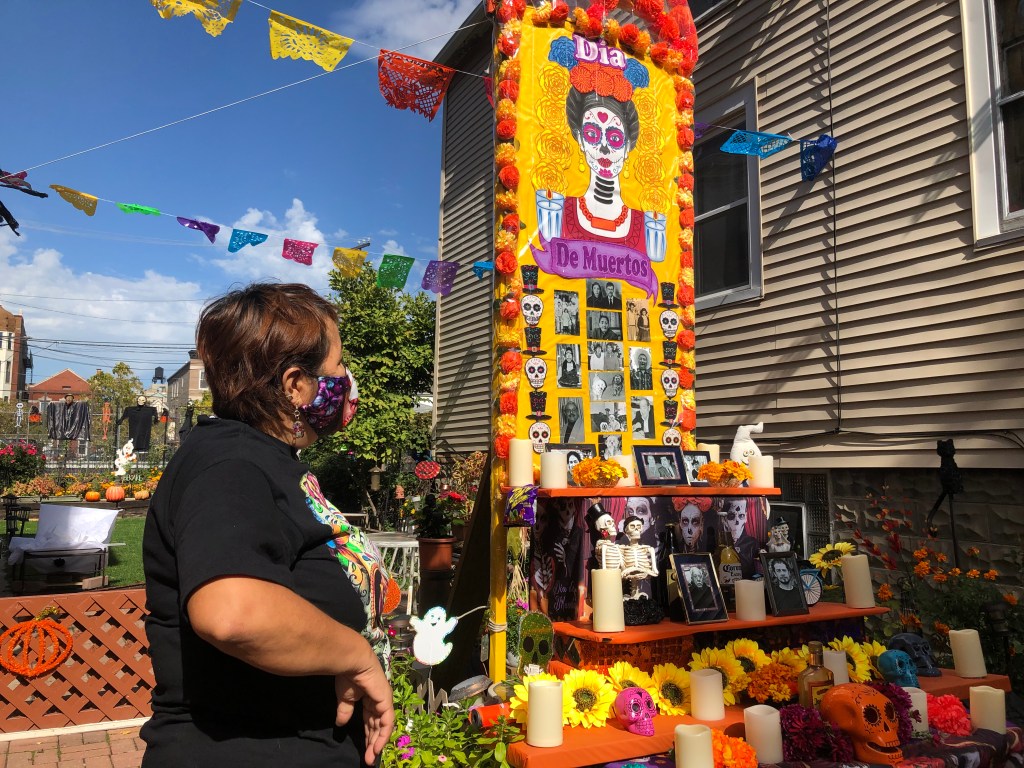 Three rows of hanging papel picado — vibrantly colored paper flags cut with a variety of patterns — criss-cross the garden above the altar. Below the altar sits a three-tier shrine with more framed photos of family, neighbors and friends that have passed on, candles, marigolds and mementos — all expressions of their personal lives, Hernandez said.
"I think it's beautiful when you remember your family and friends, and you make the altar for them," Herdnandez said. "You might have the photos out on the wall [the rest of the year]. But [Día de los Muertos is] a special time to pray for them and put out candles."
Hernandez spent 10 days building the altar and decorating the garden with banners of La Catrina and El Catrin, jack-o'-lanterns and masks.
She will set up a smaller altar in her home, too.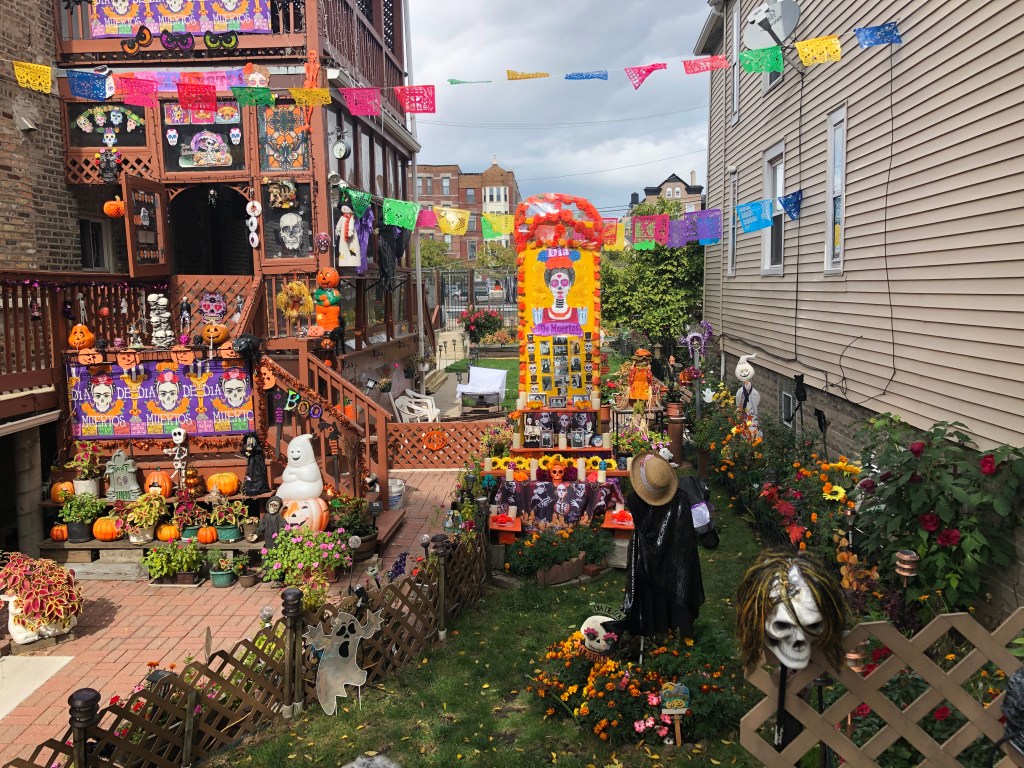 Bringing her garden to life each spring with her mother, Maria Guerrero, and decorating it for Día de los Muertos and Christmas are ways Hernandez copes with chronic pain. 
Marigolds are a fixture in her garden because of their significant connection to Dia de los Muertos  — the bright yellow petals symbolize the sun and are laid to decorate home altars for the holiday.
"Every year, people ask if they can have some marigolds for their altars," she said. "I always tell them, of course."
RELATED: Pilsen Resident's Gorgeous Garden Is 30 Years In The Making, Thrives On Water And Love
As Hernandez talks about her decorations, people passing by stop to take photos of her altar. She's happy to see neighbors smile at the effort. 
Along with paying tribute to Hernandez's loved ones, the ofrenda and decorations are a way to give back and inspire others from the neighborhood, she said.
"It's not just for me and my mom to enjoy it, but also for all the people in the neighborhood," Hernandez said. "I hope somebody sees it and they try to make an altar, as well.
"You don't have to do it [to this degree], but maybe something small to remember your family."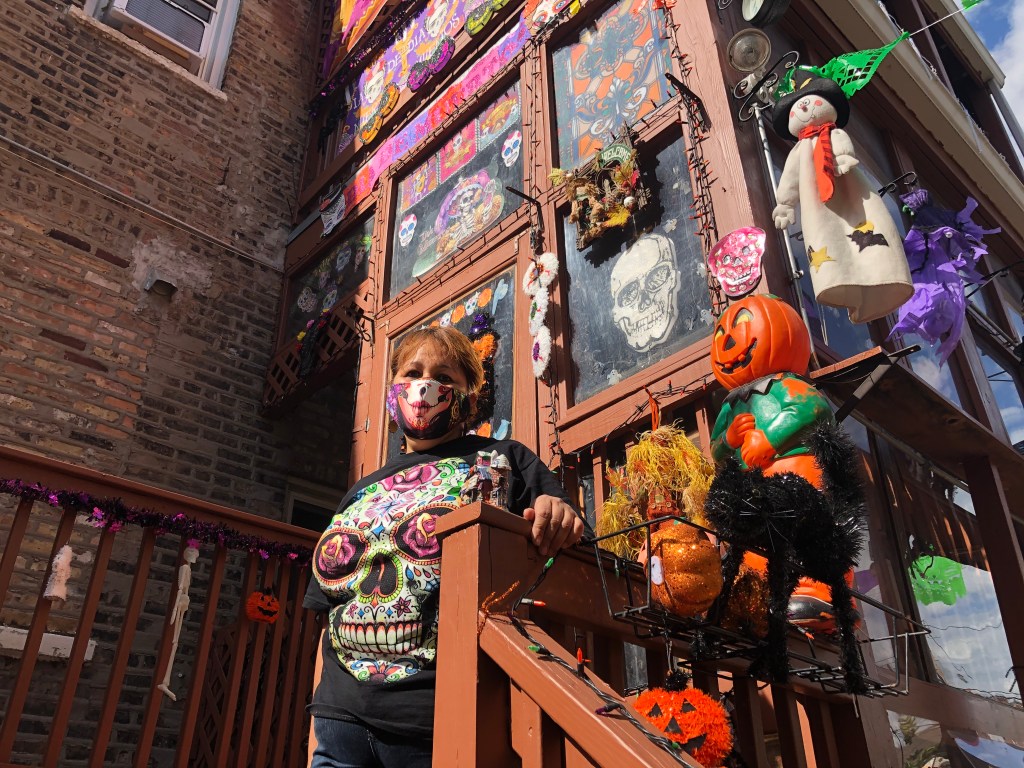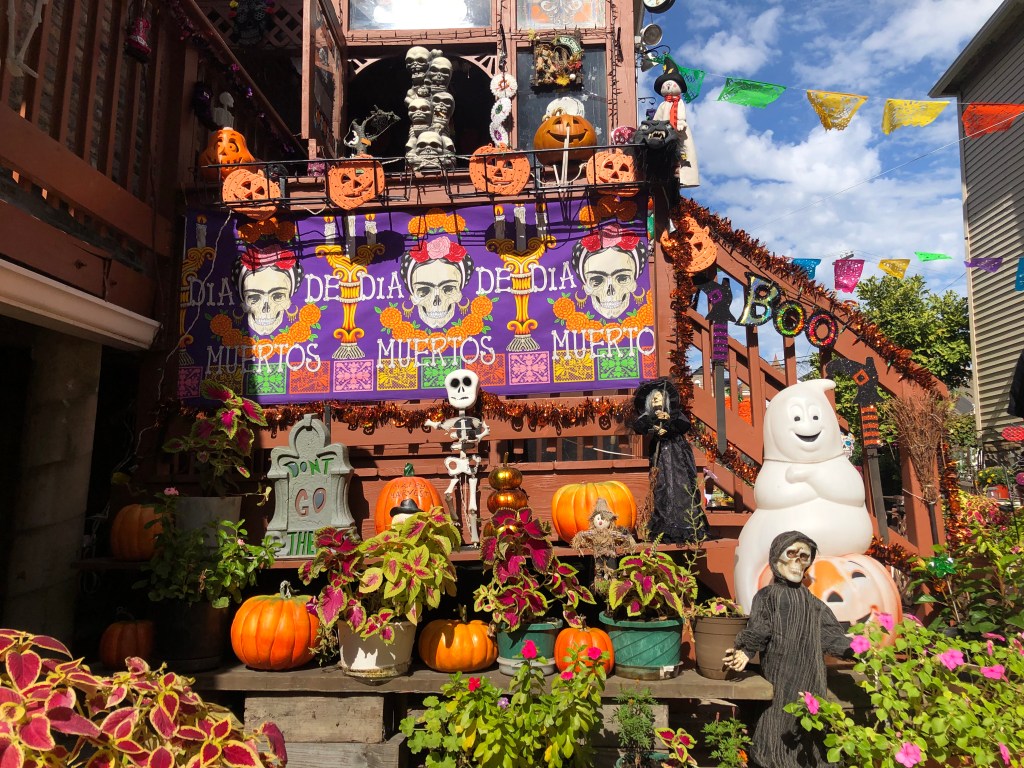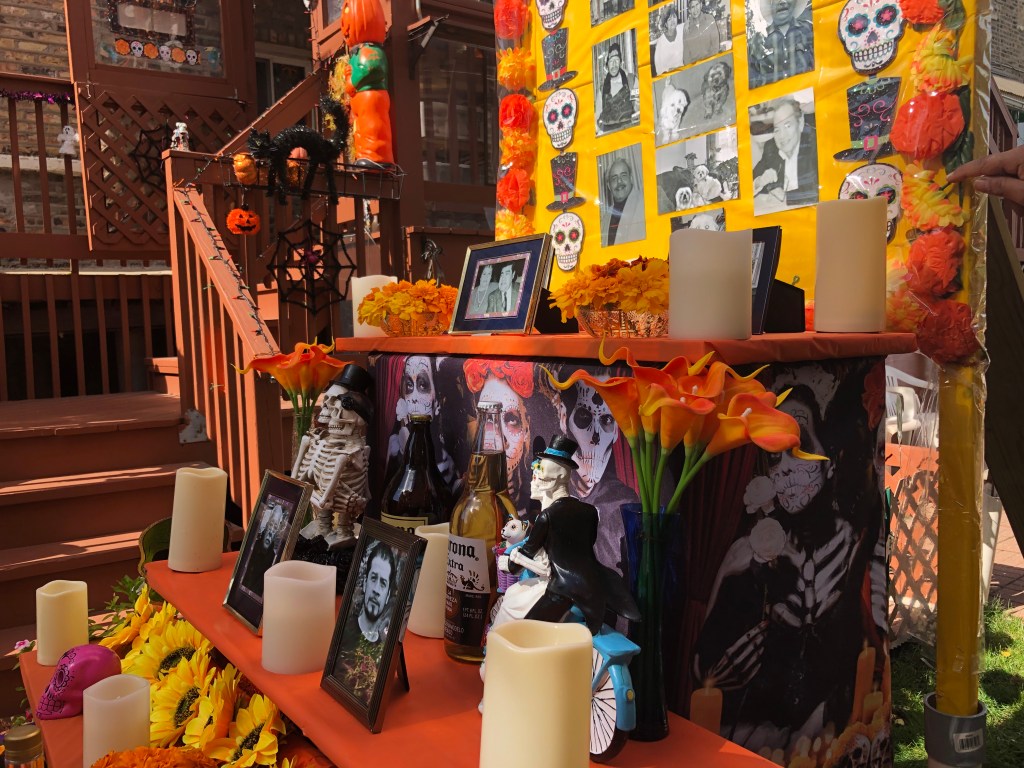 Subscribe to Block Club Chicago. Every dime we make funds reporting from Chicago's neighborhoods.
Already subscribe? Click here to support Block Club with a tax-deductible donation.