ILLINOIS BEACH STATE PARK — "There's one rule with hawkwatching: Never leave the hawkwatch," Vic Berardi says.
Every year since 1999, from Aug. 25 through Nov. 25, a group of volunteers led by Berardi and his friends, Janice and Paul Sweet, station themselves on a hilltop in Illinois Beach State Park in north suburban Zion to count the hawks.
Their hawkwatch is attracting people from all over the Chicago area, including Chicagoans looking to get outside amid the coronavirus pandemic.
The Chicago Audubon Society ranks Illinois Beach State Park as the top birding spot in the state. In the city, the Montrose Beach Bird Sanctuary and Jackson Park's Wooded Island get top marks.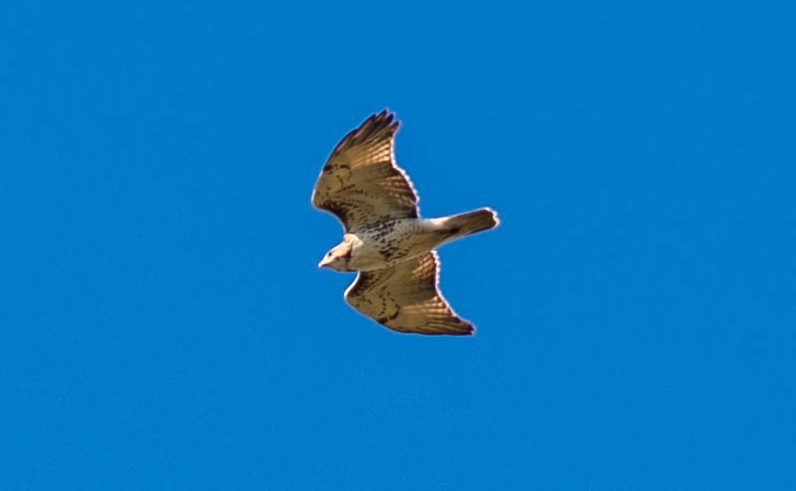 Soaring hawks aren't the only attraction for Berardi's group. They spot tundra swans, shorebirds, gulls, eagles, vultures, herons, monarch butterflies, dragonflies and more.
But hawks are what keep everyone coming out.
"It's the mystery," Berardi said. "You never know what you're gonna see. You might see nothing for some time, but then all the sudden a bird shows up."
Fall is a season of migration. Along with geese, monarch butterflies, and dragonflies, raptors migrate en masse from their summer nesting grounds in Canada to warmer hunting climates as far south as South America.
And they migrate in large numbers. Although it's not unheard of to spend a whole day watching without counting a single raptor, looking to the skies with a pair of binoculars on a clear day with west-blowing winds might result in sighting hundreds of hawks. Multiple days of west winds can push large groups of raptors, called kettles, along the shore of Lake Michigan.
 "We have a rule for good days and bad days," Berardi said. "Good days you hear Sheridan Road. Bad days you hear the lake. Sheridan Road means a west wind. Lake is an east wind."
The biggest kettle recorded at Illinois Beach State Park had more than 600 hawks. 
Jorge Ramirez happened to be there that day.
"I saw 600-something hawks in the sky," he said. "You looked up and the sky was full of them. You could just look and there was one there and there and there. High, low, all around." 
In a kettle, broad-winged hawks swirl in a tornado-like cloud, getting lift on thermal drafts rising from the Earth as the sun warms the ground. Then they'll stream across the sky in a line. 
On a recent Tuesday at the beach, the wind was coming from the west and clouds slowly rolled in to help break up the blue sky. As the sun became obscured, the temperature dropped.
"Now it's starting to feel like a hawkwatching day. Cold. Chill in the air. You need hawks to take your mind off the cold. Funny how it starts to feel warm when you see them," Berardi said.
"Merlin in the gap!" Janice Sweet called out after spotting a merlin.
Berardi hurried to look. "Too late," Janice said.
"Merlin should not be a two-syllable word," Berardi said. "By the time someone says it, it's usually gone."
Sighting the hawks and identifying them is a team effort. One person spots a hawk and calls out its location using the uniquely named trees on the horizon of the open prairie: "to the right of the gap," "to the left of shaggy," or "above ping pong." Everyone else quickly looks with their binoculars.
The hawks are far out and high in the sky; often, you can't see them with your naked eye, so all the watchers work together to identify the sighted raptors.
Paul Sweet, Janice's son, teaches biology at College of Lake County. Paul keeps track of the count and inputs the data they collect every day into hawkcount.org. They collect additional weather data, and Paul plugs all of it into his own regression models to try to learn how weather affects hawk populations.
"Hawks are at the top of the food chain," Janice Sweet said. If anything happens with populations among their prey lower in the food chain, it will be noticed most easily among the hawks. That is one of the ways hawkwatching data can be useful, she said.
Counting hawks is also just easier because they're bigger and easier to see than things like dragonflies or butterflies.
"They're just magnificent," Janice said.
Hawkwatch at Illinois Beach State Park meets daily at the pavilion in the north section of the park Aug. 25-Nov. 25. Right now, they have full-time coverage, which means they're there eight hours weekdays.
Berardi updates their Facebook page with photos and weather predictions for anyone interested in coming.
Anywhere with an open sky is a good place to look up for hawks. Organized hawkwatches take place in Greene Valley, Fort Sheridan and Illinois Beach State Park.