LOGAN SQUARE — It has been a really hard year.
In March, we thought we'd be back to our "normal" lives well before the summer. But as November draws near, temperatures drop and coronavirus cases climb across the country, the things Chicagoans typically rely on for winter comfort seem out of reach.
Rates of depression have tripled since the pandemic began, and people are feeling more isolated than ever.
Last week, we asked our readers to share the ways they're cheering up themselves and their families during this difficult time. In true Chicago fashion, many of their ideas involved food (you're my kind of people). Also: fresh air and continued contact with loved ones through Zoom, phone calls and safe "pod" hangouts.
If you or someone you know is struggling with depression, find free mental health services here or call the NAMI Chicago helpline at 833-626-4244.
Thanks to all of the readers who took the time to share your experiences with us! If you want to get in on the fun, sign up for our free morning newsletter here.
Responses have been edited for clarity and length.
Take A Tour Of Chicago's Parks
"My family tries to explore a new Chicago park every weekend to keep up our spirits. There are really beautiful parks all over the city, especially along the river. We would have never ventured to many of these parks if COVID hadn't canceled our kids' weekend activities and forced us to play more outdoors. We have been to Calumet City park, Ping Tom Park, Humboldt Park and many North Side parks along the river." – Robin Drake, Bucktown
Taste Of Chicago To Go
"My 12-year-old twins and I have been taking 'car tours' of the city. We pick different neighborhoods and just drive around.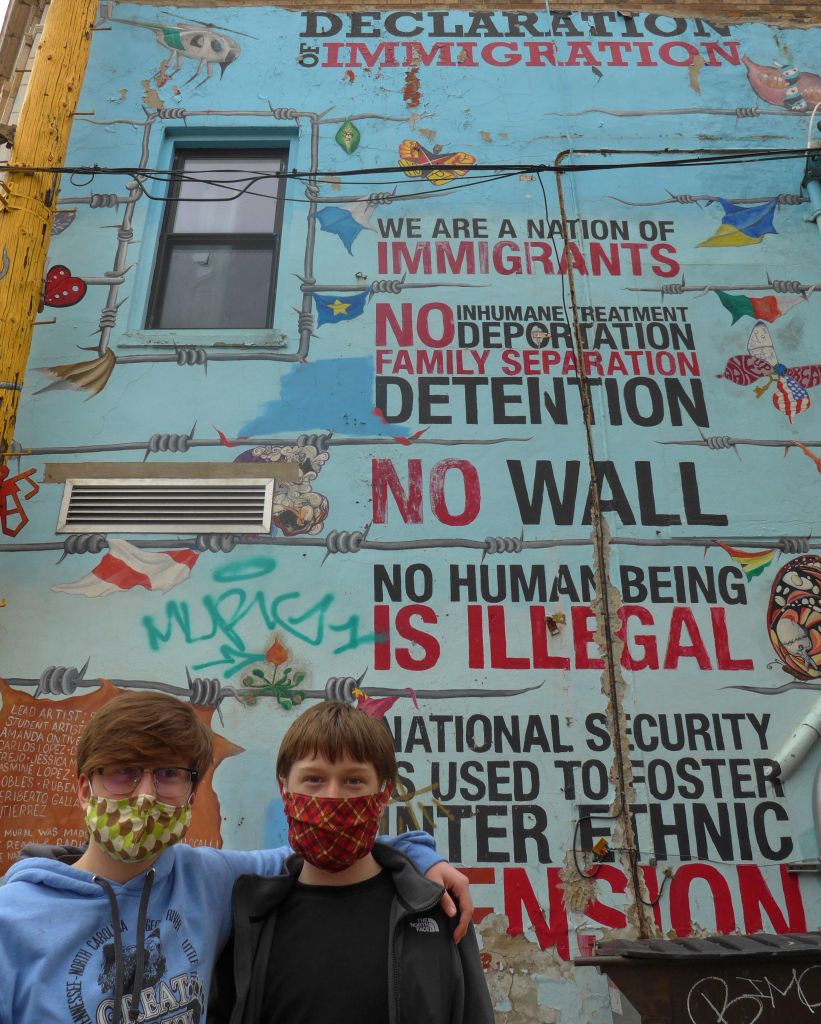 "We are continually surprised by how big the city is, the awesome neighborhood architecture, the ugliness of gentrification-shoeboxes [developments] and the wonderful communities of people and cultures.
"We love to get takeout, too: jerk chicken in Hyde Park, seafood casserole in Chinatown, street tacos in Little Village. The food usually never makes it home — we just eat it in the car." – Leslie Ramyk, West Ridge
Don't Abandon Self-Care
"In honor of Mental Health Awareness week …, I was diagnosed with clinical depression years ago and fight that battle to some degree daily, even with a standard medication that works very well.
"Depression naturally ebbs and flows … but has kicked into overdrive this year due to the current state of politics, civil unrest and the COVID-19 pandemic experience!
"Been really stressed with work and family during this time, so to fight off anxiety-triggered depression:
I watch a few 30-minute stand-up comedy specials before starting my workday or listen to a stand-up comedy podcast while working late at night on projects.
I walk several times a week wearing a step pedometer — never getting hung up on the distance walked, length of time walked or how many times a week. Just happy to track that I'm getting outside and moving. The number of steps is a nice note to put on the calendar to reflect on as an accomplishment.
I've also had regular Zoom calls with family and friends where we designate a certain fun theme and then dress accordingly — funny hats one time, glasses another.
"Main thing is to be your own advocate. Monitor your health and don't isolate yourself from others." – Teri, Uptown
Be A Good Roommate
"I am trying to be a better roommate. I'm offering to cook Thanksgiving dinner for us because we may not be able to get home this year. I'm also trying to do yardwork to keep the backyard clean.
"I'm planning on volunteering in some way, after helping Pitch in for the Parks … .
"I'm also back in therapy, and buying food from farmers markets."– Johnny, Roscoe Village
A Spooky Pod Slumber Party (With Edibles)
"My sister and I have been beating depression by having 'witchy weed parties.'
"We have been diving deep into the spooky season by planning horror movie slumber parties while testing out a new edibles from the local dispensary.
"We have decorated with supplies from the dollar store and make creepy appetizers while trying a different edible. We will sometimes up the fun by casting midnight spells for protection against COVID. It's a fun break from the usual cocktails and costs about the same as buying a nice bottle of wine. Best of all, it's legal and a great way to pass the time." – Moira Born, West Ridge
Rotating Dinner Menu, Getting Dressed No Matter What
"I live in Lincoln Park. With two boys home, I spiced up our normal dinner routine by creating a calendar and letting each person in the house take a turn to pick dinner. Now that my older son is back at college, I get through the days of online school by giving myself daily meditation and yoga. It is also important to me to get dressed every day, including shoes, clothing and makeup, even if I'm not leaving the house." – Bonnie, Lincoln Park
Cook For Friends
"To keep up our family's spirits, we have been cooking for friends and sharing our culinary experiments. So far we have made big batches of ribs, banana bread and apple sauce and then we drop off portions to our friends with a note." – Catherine, North Park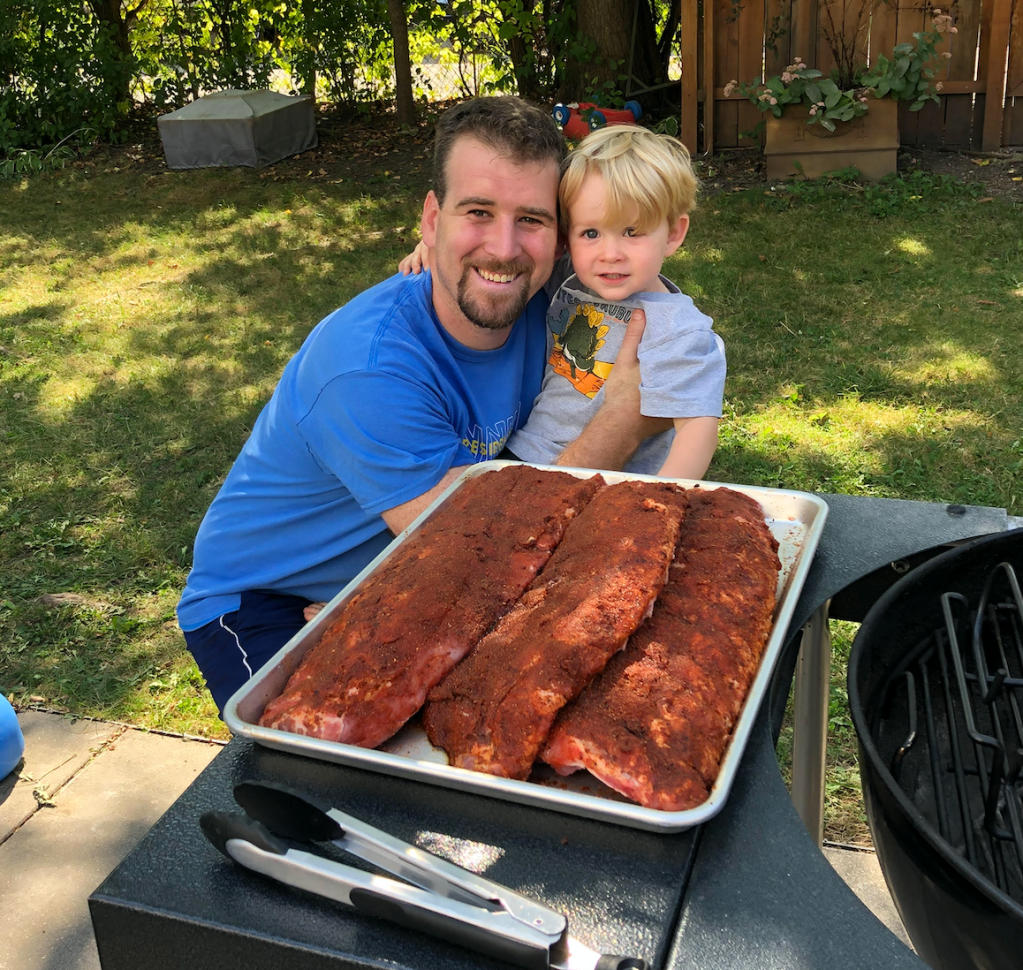 Cooking Classes With Your COVID Pod
"In order to improve spirits, I scheduled a monthly cooking class with a small group of friends to stay connected and well fed. We are each taking turns showcasing family recipes such as pozole and egg rolls. I'm hopeful it will help the monotony of meal planning and encourage some fun story sharing!" – Emily, Andersonville
Take It One Day At A Time, Enjoy The Small Things
"Take it day by day. Thinking about a whole winter indoors can be overwhelming, but living in the today has helped me. Who knows where we'll be in February! Maybe things will be better, maybe worse, but if I can just focus on today and not thinking months ahead, I feel better and don't go down what can be a dark hole. 
"Creating small new routines and having a small treat to look forward to at the end of the week helps me get through the slow days. I'll buy a fancy coffee creamer I only have on the weekends, and that's a small thing that perks up those days. Lighting a candle at night or playing a board game with my husband are all small things that make me look forward to each day. And things I normally wouldn't get to do if it was our 'regular' hectic schedules." – Ashley, Old Town
When In Doubt, Call Your Mom (Or Grandma!)
"FaceTime with my grandchildren makes me smile — especially playing peekaboo with my 5-month-old granddaughter, whom I haven't yet been able to meet." – Mary Anne, Lincoln Park
Do you have COVID-friendly winter plans or tips for combatting depression you'd like to share with our readers? Email me at jen@blockclubchi.org.
Subscribe to Block Club Chicago. Every dime we make funds reporting from Chicago's neighborhoods.
Already subscribe? Click here to support Block Club with a tax-deductible donation.