UPTOWN — A new analysis has determined a co-op grocery store can operate successfully in Uptown's historic Gerber Building, reinvigorating a years-long project that had hit speed bumps.
But running a co-op at the site will require changes to organizers' plan, including creating entrances in the facade of a historic building and seeking concessions from the co-op's landlord, according to a new feasibility study.
Chicago Market, the Uptown co-op, has worked for two years to open in the Gerber Building, the CTA-owned former station house at 4620 N. Broadway.
Chicago Market's board voted in February to pull out of its lease with the CTA, saying the Gerber Building — with its elongated, triangular design — posed too many logistical challenges. The transit agency then said it would work with the co-op group to seek a compromise.
While negotiating with the CTA, Chicago Market commissioned a feasibility study from North Dakota-based Firebrand Cooperative for the business plan. Firebrand's conclusions show a co-op can work at the site, but only with new operations plans, a renegotiated lease and hefty fundraising goals, according to the study and Chicago Market officials.
"The big thing is, it can work for us, operationally, in that space," said Grant Kessler, Chicago Market board president. "We're excited. It moves us forward."
RELATED: Uptown Co-Op Is Having Second Thoughts About Moving Into Gerber Building
The Gerber Building's location, next to the new Red Line station at Wilson Avenue and Broadway, is a strength of the project, according to the study.
Chicago Market would be one of only a few co-ops countrywide in such a high-density area, according to the study. A similarly sized co-op in Seattle's Capitol Hill area — which has lower density than Uptown — brings in $25 million annually in sales.
Previous feasibility studies did not consider such high revenues and instead modeled Chicago Market on mid-density markets, according to the study.
"There is no other location in the wider trade area that will match this site in potential sales volume," the study concluded.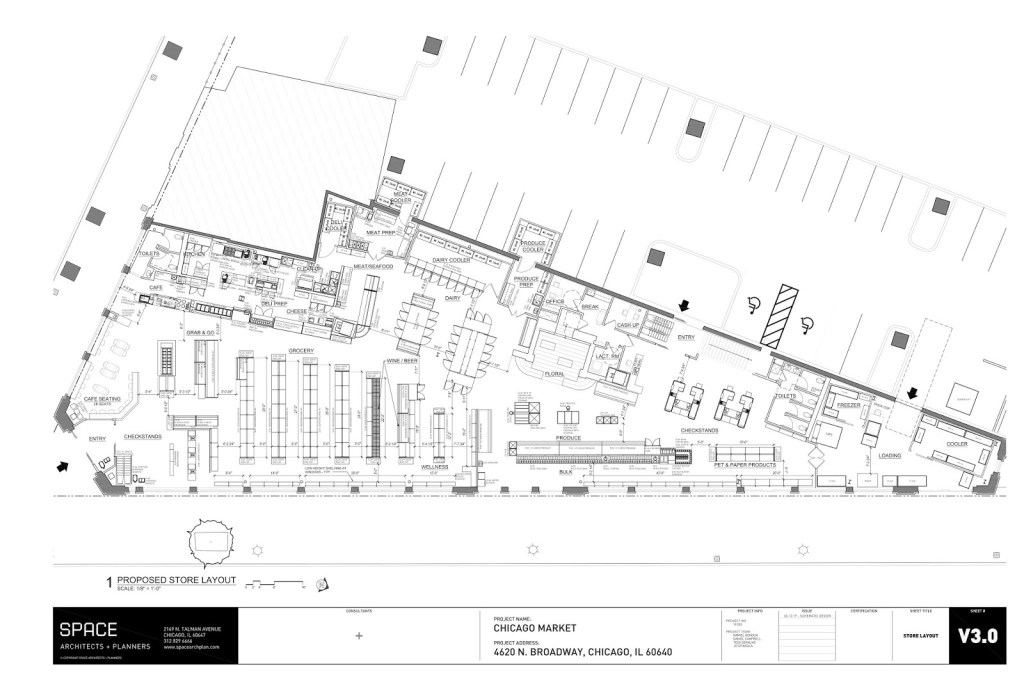 One of the major logistical issues with the first plan was requiring two entrances: one at the corner of Wilson and Broadway and one off of the building's parking lot.
Having two entrances would require two check-out counters. It also would complicate store flow and security operations. Firebrand's solution is to move the main entrance off the corner of Wilson and Broadway to the center point of the building's Broadway facade.
Doing so would require alterations to a historically significant, Jazz Age-era building. It would also render inoperable the existing entrance, which is a prominent design feature of the rehabbed building.
Chicago Market is working with the CTA on the building issues, Kessler said.
To fund the project, Firebrand said Chicago Market needs to raise an additional $1.4 million. It also needs to sign up 3,500 members.
Currently, Chicago Market has raised more than $600,000 and has more than 1,800 members, Kessler said.
Chicago Market also is applying for tax increment financing. It will launch a capital campaign and seek out grants, he said.
The project has a goal of being open by April 2022, Kessler said.
Kessler said the redesign and fundraising goals are achievable and point to a promising future for Chicago Market.
"We feel great about it from the financial and operations side," he said. "With the caveat that we're still working out some things with the CTA."
Subscribe to Block Club Chicago. Every dime we make funds reporting from Chicago's neighborhoods.
Already subscribe? Click here to support Block Club with a tax-deductible donation.