LINCOLN PARK — Lincoln Park is seeing another uptick in confirmed coronavirus cases, and young adults continue to drive the rise.
This is the second time in recent months health officials have pointed to younger people — those aged 18-39 — as being the driver of coronavirus surges in the North Side neighborhood.
Over the summer, city leaders said Lincoln Park was having a coronavirus surge as young adults socialized, packed bars and didn't wear masks. The area seemed to make progress after that and new cases fell.
But Ald. Michele Smith (43rd) said the neighborhood is again "going backwards."
The 60614 ZIP code, which encompasses Lincoln Park, saw 101 confirmed cases last week, an increase of 34 percent from the week before, according to city health department data. And about 8.15 percent of people in the ZIP code who were tested were positive last week; the week before, just 6.27 percent tested positive.
"Our cases have gone up in an alarming fashion, and my observation in the neighborhood is that many people have decided to go back to life as usual, and they're not wearing masks," Smith said.
Lincoln Park is home to DePaul University. While most in-person classes are on hold and dorm access is strictly limited, some students have returned to the area.
Dr. Allison Arwady, commissioner of the Chicago Department of Public Health, said many of the Near North area's new cases are among people 18-39 years old and they were more likely than other sick Chicagoans to report being exposed to the virus by friends or coworkers.
"I can tell you that, that Near North hot spot did have a lot of younger people … whereas that was less true in" hot spots on the Northwest and Southwest sides, Arwady said during a Monday news conference.
Only 12 percent of people with a new case of COVID-19 in the Near North area reported recent contact with a family member with coronavirus, whereas 30 percent said they had contact with a friend with coronavirus, Arwady said.
More broadly, 75 percent of newly sick people in the area said they were likely exposed to the virus by someone outside their household, Arwady said.
In contrast, in hot spots on the city's Northwest and Southwest sides, nearly 75 percent of people testing positive for coronavirus said they were likely exposed to the virus by someone inside their households, Arwady said.
"The more entrenched hot spots on the Northwest and Southwest [sides] have more essential workers and are areas with more crowded housing and more people generally living together," Arwady said. "These are the kinds of structural factors that can make it harder to control COVID in parts of the city where we've more consistently seen it."
Arwady said the Near North Side outbreak was possibly exacerbated by travel: One-third of the area's newly sick people had recently traveled outside the state, compared to about 5-6 percent of people in the Northwest and Southwest hot spots.
Smith said neighbors have complained to her office about people coming back from states on Chicago's growing quarantine list without isolating at home for two weeks.
"There's just a lot of non-compliance," Smith said.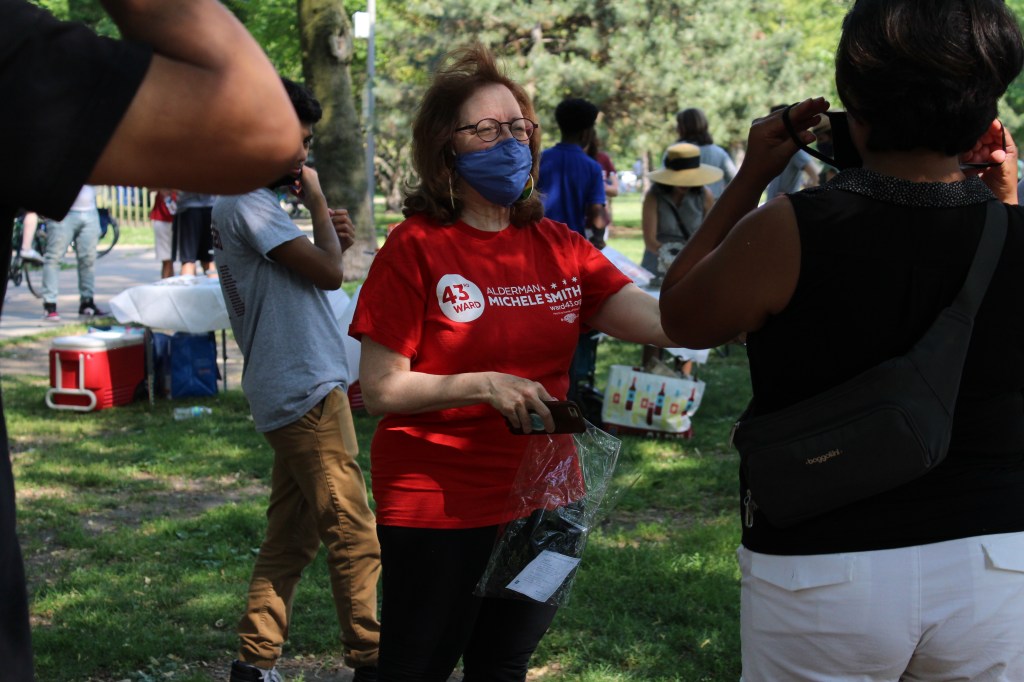 Smith previously blamed young people not wearing masks for the neighborhoods problems over the summer. She said that continues to be a problem.
Experts at the Centers For Disease Control and Prevention say wearing a mask or face covering is one of the most effective methods of preventing coronavirus spread.
Smith said she has seen sports games, yoga classes and other activities staged outdoors, but without masks and physical distancing between people.
That's why Smith introduced an ordinance last week that would give the city a month to create a plan to enforce mask-wearing in Chicago.
Mask mandates have been implemented across California in cities like Beverly Hills, Santa Monica and West Hollywood, where people can be fined as much as $300 for a violation.
When asked how the mandate would be enforced — especially since so many Chicago Police officers still refuse to wear masks — Smith said mask-wearing would be part of their command orders.
"There is no way out of this unless everyone wears a mask," Smith said. "And unless the city gets serious about it by ticketing people for not wearing masks — like we would for driving without a seatbelt — I see no path out of this."
Jake Wittich is a Report for America corps member covering Lakeview, Lincoln Park and LGBTQ communities across the city for Block Club Chicago.
Subscribe to Block Club Chicago. Every dime we make funds reporting from Chicago's neighborhoods.
Already subscribe? Click here to support Block Club with a tax-deductible donation.