ENGLEWOOD — A group of Englewood artists are creating a mural to honor the neighborhood — and they are signing up local residents for their ideas and to bring it to life on Halloween.
The Englewood Arts Collective, a team of professional artists from the community, was commissioned by the city to beautify the walls and bridge spanning the Englewood Line's Halsted viaduct at 5800 S. Halsted St.
The project is part of Mayor Lori Lightfoot's INVEST South/West initiative. One of the targeted areas in the city program is the 63rd and Halsted commercial district. The mural along the viaduct is intended to be a gateway to the district, city officials said.
The art collective — led by Janell Nelson, Sterling "Pugs Atomz" Price, Tonika Johnson, Joe "Cujodah" Nelson and David "Rob Smooth" Robinson — plans for the mural to be a paint-by-numbers project designed by artists and painted by community volunteers.
The group has launched a survey for neighbors to pick which words they want to appear on the mural, which will be painted on Halloween. The choices are "Strength, Peace and Growth," or "Vibrant, Proud and Strong."
Janell Nelson said the opportunity to work with her longtime friends while giving back to the community that raised them is something she will cherish forever.
"When we formed the collective three years ago, it was guerrilla-style. We were all working artists with our own companies and projects, so initially the collective was more of a directory for people to find us," Janell Nelson said.
But the current political landscape — locally and nationally — galvanized the crew.
"I'm excited that we have the opportunity to do this," said Joe "Cujodah" Nelson, who has known the others since they were all "weird high school art kids."
"This event is nice because it gives people an excuse to come out and socialize in a safe way," he said. "And it's nice that we have so many different elements at the event that people can connect with."
The viaduct also holds special meaning for the collective: Years ago, member Just Flo, along with Teens Reimagining Art, Community and Environment, worked on a now-removed mural in the same space, enlisting kids from the area to help.
Some of those kids are returning to help with the current project, Janell Nelson said.
"It's our way of honoring and building on their work," she said.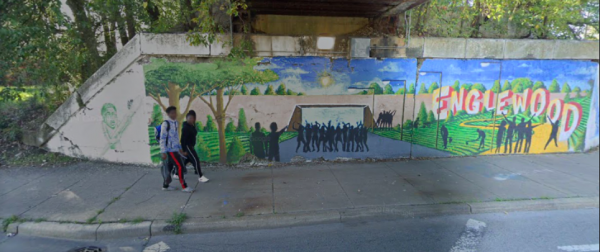 The city will provide $65,000 for the artists, materials, site preparation and insurance, according to the project description.
The collective has partnered with other organizations — including the Resident Association of Greater Englewood (R.A.G.E.), Brown Books and Paintbrushes and Made In Englewood — to spread the word and get the community involved.
Seventy-five volunteers already signed on to help.
"R.A.G.E., being the force that they are, have been using street teams to pass out flyers, they've been going door to door giving mini info sessions, and posting up every Thursday at our free market," Janell Nelson said. "It's been exciting to see actual Englewood-connected people sign up.
More people are invited to join. Folks can go to OurEnglewoodMural.com to vote for words they want in the art installation. The words with the most votes will be painted onto the mural with the help of volunteers during a community celebration beginning 1 p.m. Oct. 31.
"Englewood is filled with people who care, who are boots on the ground, doing the work. For every article on violence, there's a story not being told about individuals who are giving and supporting," Janelle Nelson said.
"We're just amplifying the energy that's always been present."
Do stories like this matter to you? Subscribe to Block Club Chicago.  Every dime we make funds reporting from Chicago's neighborhoods.
Already subscribe? Click here to support Block Club with a tax-deductible donation.