LOGAN SQUARE — After a grueling seven months, the owner of Giant has turned to a new venture to keep his acclaimed restaurant alive.
Jason Vincent has launched a yellow-and-gray Giant food truck, which will hit the streets this weekend. The first stop is Big Marsh Park on the Far South Side.
The truck, serving everything from pizza-by-the-slice to falafel sandwiches, is Vincent's last-ditch effort to save Giant, 3209 W. Armitage Ave., and its sister restaurant, Chef's Special Cocktail Bar, 2165 N. Western Ave. Both are struggling to stay afloat during the coronavirus pandemic and the city's restrictions on dining.
Giant has slogged through with carryout and patio service, but neither is bringing in enough revenue to keep the restaurant open long-term, Vincent said. With cold weather on the horizon and no relief in sight, Vincent said he had come up with his own plan or risk permanent closure.
"We're as full as we can be, doing everything we can, and we're still hemorrhaging money," he said. "There's no upside other than figuring out how to sell more food."
Beginning Saturday, the Giant truck will travel to neighborhoods across Chicago during lunchtime Wednesday through Sunday, weather permitting. It will also be available to rent for dinner for private catering events with the option to serve cocktails and dishes from Chef's Special Cocktail Bar.
On the menu this weekend is pizza, falafel sandwiches on roti bread, chicken noodle soup, sour cream old- fashioned donuts and vanilla cajeta ice cream bars from Pretty Cool Ice Cream.
One of Vincent's sous chefs, Michael Gaia, has been hard at work coming up with the pizza recipe under the name Za Papa. Gaia's pies are square-cut, thick and topped with fresh ingredients.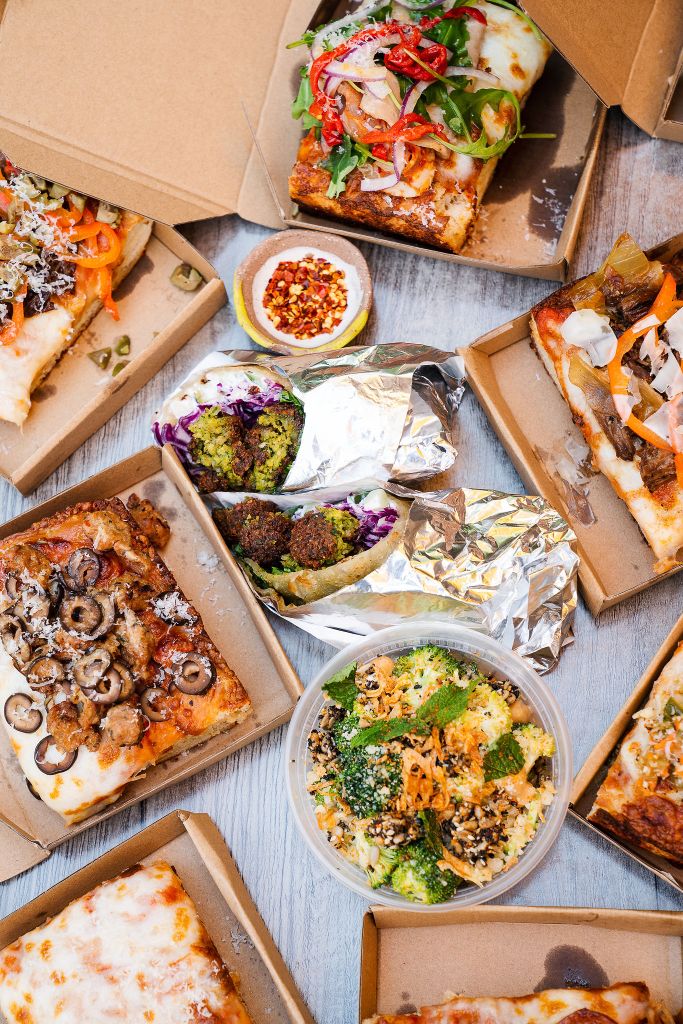 The food truck's menu is an extension of Giant, which has made a name for itself in the foodie world since opening in 2016.
Before the pandemic, Giant was a huge success. The 40-seat restaurant was frequently packed and received high-profile accolades. In 2017, the Logan Square restaurant was named one of the country's best new restaurants by Bon Appetit.
Vincent said the restaurant was so prosperous early on that he was able to pay back his investors two years early.
Now Giant, like countless restaurants across the city, is battling to stay open and keep its staff employed.
"If we did go dark for the winter, all of our employees are laid off … again," Vincent said.
But Chef's Special Cocktail Bar, Vincent's American-Chinese restaurant, is in an even more precarious position.
It opened just two months before the shutdown and is $1 million dollars "in the hole," Vincent said.
"We're not getting any more loans. We've been denied for every single one of them. For that place, it's definitely far more dire," he said.
Vincent said since announcing the move on social media, he's been inundated with emails from people inquiring about hiring the truck for catering events.
But even if the food truck works for him, it doesn't change that the restaurant industry, as a whole, is suffering greatly.
"People get a false sense of perceived security from these regulations getting lifted. They're like, 'OK, they'll get through it.' Some people have it in their heads that if a restaurant closes, then another one will open. That's great for the neighborhood or that's great for them, but so much for the person who worked there or the person who spent 30-40 years working for this," he said.
"To see the rug get pulled out from under you — it makes me very angry to be honest."
Subscribe to Block Club Chicago. Every dime we make funds reporting from Chicago's neighborhoods.
Already subscribe? Click here to support Block Club with a tax-deductible donation.