BUCKTOWN — When City Council approved plans for the controversial Lincoln Yards mega-development last year, developer Sterling Bay promised a series of public projects — including a new bridge in a congested area along the Chicago River and the highly anticipated extension of the Bloomingdale Trail.
On Monday, Sterling Bay unveiled plans for the trail extension and the Dominick Bridge and Dominick Street extension.
Here's a breakdown of what the work will look like:
Dominick Street will be extended by nearly 1 mile from Webster Avenue to North Avenue. Intersection and traffic signal improvements will be added.
The Dominick Street Bridge will allow drivers, cyclists and pedestrians to cross the Chicago River. The bridge, 80 feet in width, will include two 10-foot pedestrian sidewalks, two 12-foot driving lanes and one 10-foot bike path.
The Bloomingdale Trail, part of The 606 park system which currently ends at Walsh Park in Bucktown, will extend eastward underneath the Kennedy Expressway before curving in a northeast direction until it crosses the Chicago River and hits the Lincoln Yards riverwalk.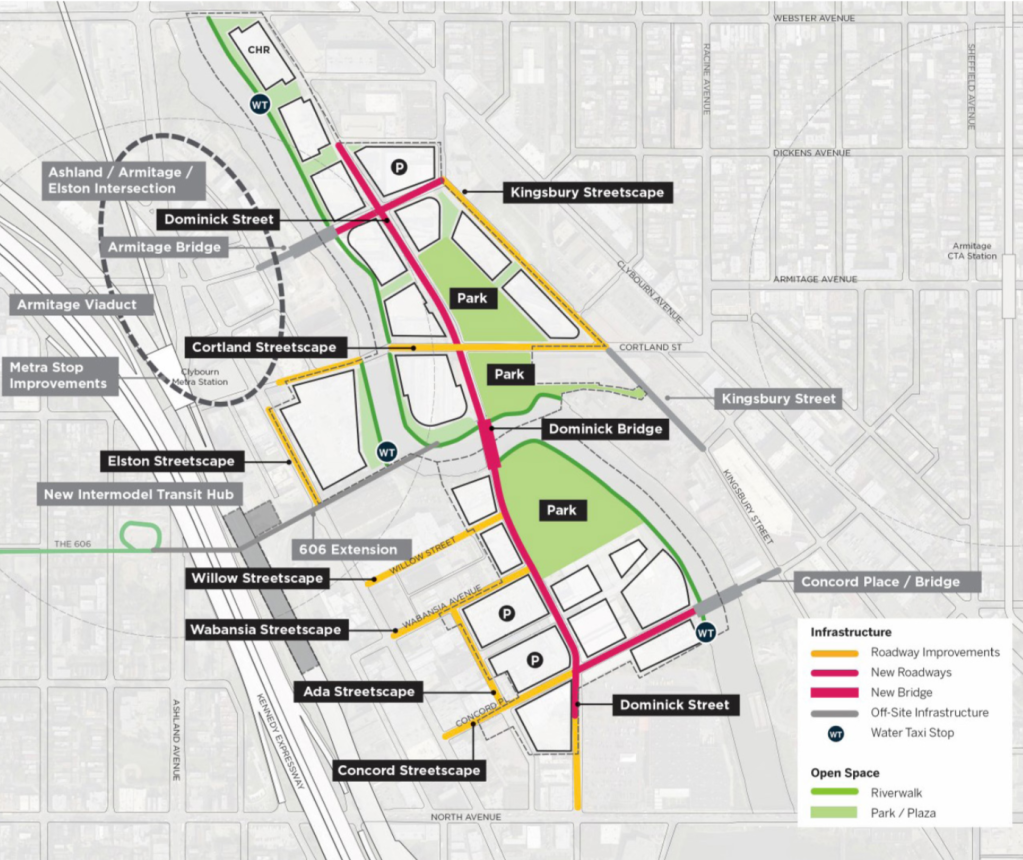 The projects will cost a collective $35 million. Work is expected to begin mid-2021 and will take two years to complete.
Sterling Bay said it hired Latino-owned and Boston-based Rosales + Partners to work on the bridge. The firm's portfolio includes the Leonard P. Zakim Bunker Hill Bridge in Boston, the Puente Centenario bridge over the Panama Canal and the Woodrow Wilson Bridge over the Potomac River in Washington, D.C.
The bridge work will create more than 100 local jobs, Sterling Bay spokeswoman Julie Goudie said in an email.
About Lincoln Yards
Lincoln Yards is a $6 billion project from Sterling Bay that aims to turn 55 acres along the Chicago River into a new neighborhood with housing and retail.
Neighboring residents, business owners and activists fought the project over the course of months of hotly contested debates. But in April 2019, City Council voted to approve $1.6 billion in subsidies for Lincoln Yards and The 78, a separate development. Lincoln Yards received $1.3 billion.
The Lincoln Yards TIF district, named the Cortland and Chicago River TIF, will generate at least $900 million to cover the cost of infrastructure projects to pave the way for Lincoln Yards to be built. Public funds will be reimbursed to Sterling Bay only after the projects are completed — and only if they meet city standards.
These projects include:
New bridges over the Chicago River
A new Metra station
An extension of the Bloomingdale Trail (The '606' park system)
Water taxis
Dedicated bicycle lanes
A potential light-rail transit way and extension of the city's street grid.
Read the redevelopment agreement — a document that outlines rules and requirements for Sterling Bay's use of the TIF funds — here:
RELATED STORIES: 
Lincoln Yards Megadevelopment To Break Ground In Early 2021 With Life Sciences Building
Chicago Getting New Drive-In Movie Theater At Lincoln Yards, With Programming From The Davis Theater, Facets
City Only Expected 50, But Hundreds Apply For 14 Spots On Lincoln Yards Neighbors Group
Potential Buyers Of Stanley's Market Thought Sterling Bay Was Coming, But No Sale Has Happened, Realtor Says
Lincoln Yards Developer Sterling Bay Will Unveil 'Fleet Fields' Soccer Fields This Weekend (PHOTOS)
What Are These Soccer Fields Popping Up At Lincoln Yards? Ald. Hopkins Announces Fleet Fields
$1.6 Billion In Tax Subsidies For Lincoln Yards, The 78 Delayed, But Both Could Be Approved Wednesday
As Newly Elected Aldermen Protest Outside, City Council Approves $1.6 Billion Lincoln Yards, The 78 Projects
Lincoln Yards, The 78 Tax Approved By Key Committee Ahead Of Rahm's Last City Council Meeting
Lincoln Yards Plan Will Move Forward After Sterling Bay Agrees To More Affordable Housing On Site
Sterling Bay Commits To Building School, Library Or 'Shared Space' As Part of Lincoln Yards
Subscribe to Block Club Chicago. Every dime we make funds reporting from Chicago's neighborhoods.
Already subscribe? Click here to support Block Club with a tax-deductible donation.