LOGAN SQUARE — A new Logan Square art exhibit tackling national politics almost didn't see the light of day.
Artist John Yaou said seven Chicago galleries he approached about showing his work turned him down. Yaou's paintings depict political figures and conflicts alongside American flags, some tattered and burnt.
"A few of the galleries I approached were honest, said they stayed away from political work, that it wasn't good for their branding," Yaou said. "They didn't want the blowback from what this could possibly represent. Some didn't understand the concept behind it, thought it was a little too shocking for their space."
"Tired of hearing no," Yaou planned on putting away the paintings and moving on to another project. Then the founders of Blnk Haus gallery in Logan Square offered to put them on exhibit.
Yaou's solo exhibit, "This Is America," launched Friday at Blnk Haus, 3206 W. Armitage Ave., and will remain up through the end of October. An artist talk is planned for 8-10 p.m. Oct. 23.
The exhibit is a collection of six acrylic and oil diptychs made over the course of 13 months.
Rachel Lechocki, one of the founders of Blnk Haus, said they "weren't afraid" of Yaou's work and what it represents, and they don't shy away from controversial art.
"This is one of the ones we knew we'd be doing no matter what," Lechocki said.
Each diptych depicts two figures at odds with one another. Among them are President Donald Trump and Rep. Alexandria Ocasio-Cortez; an immigrant child and a U.S. Immigration and Customs Enforcement officer; Gavin McInnes, founder of the white supremacist group the Proud Boys, and a Black man with tape on his mouth that says, "Black lives matter."
All of the paintings are gray and white with one pop of color. Yaou said the lack of color is a nod to people "stuck in the middle." Yaou himself is half-Greek and half-Middle Eastern.
"Not Black enough to be accepted by our Black family and not white enough to be accepted by our white family — it's kinda like how this country is at this moment in time. We've set a line in the sand. If you're not with us, you're against us," Yaou said.
"If we really took a hard look at this position you'd realize that's not the way to go about things."
While the exhibit can be "shocking and a bit triggering," Yaou said he hopes it sparks honest conversations about American political figures and what they represent. He typically paints portraits of people with abstract elements, and he said this is the first time he's felt compelled to tackle politics in his art.
"If there's something about the state of our country that bothers you, this is the perfect space to come and have that conversation," he said. "If you don't understand why you should vote, come see this series and understand where we are going and where we can potentially go because of this election."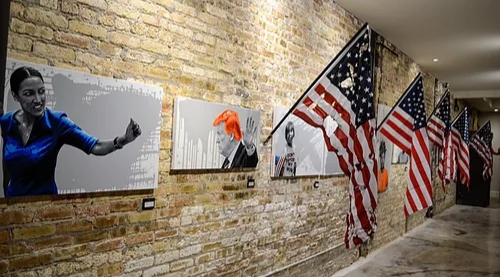 Yaou has been making art professionally for about a decade. The West Town and Humboldt Park native fell in love with graffiti art in his teens but held a number of jobs, including state police officer, before making the switch to being an artist full-time.
Yaou's exhibit is the second in-person show for Blnk Haus since the Logan Square gallery reopened after the statewide coronavirus shutdown. The first was a series of pop art-inspired portraits made in the midst of the pandemic.
Like art galleries across the city, Blnk Haus has struggled to stay afloat amid the pandemic.
All of its in-person exhibits and events had to be canceled for more than two months. During that time, Lechocki and her partner, Andrew Rehs, focused on putting on virtual shows and getting their online store running. They founded the gallery in 2016.
"For a long time, it was genuinely scary," Lechocki said. "A ton of people felt like we really didn't know if we could look that far ahead. For the first time in our few years of existence, we weren't sure if we could or if we'd be able to."
With coronavirus restrictions relaxed, Blnk Haus has reopened for small shows — no more than eight to 10 people inside at a time.
Lechocki said they're thrilled Yaou's work is in the spotlight this month.
"We like to say we're all-inclusive. … We do think the topic should be talked about," she said.
Subscribe to Block Club Chicago. Every dime we make funds reporting from Chicago's neighborhoods.
Already subscribe? Click here to support Block Club with a tax-deductible donation.