EAST GARFIELD PARK — The opening show at a new Black-owned art gallery imagines the West Side's future as a creative hub.
The Art West gallery, 750 S. California Ave., is a culmination of years of art crawls and events organized by West Side artists who wanted to create space for creativity to blossom in Garfield Park.
The opening show at Art West featured the work of one of the founders, Alexie Young. Young's collection, "Belizian Roots, Westside Raised," is an exploration of the artist's intersecting identities. Young's work invokes Afro-Caribbean aesthetics, using turquoise and gold to forge a connection between her experience as a first-generation Black American in Chicago and the lives of her ancestors in Belize.
While Young's artwork looks into the past, it also incorporates elements of science fiction to imagine the future of Black folks on the West Side. Many pieces are inspired by novelist Octavia Butler, whose Afrofuturist stories bring Black perspectives on science and technology into plots about the environment, revolutionary moments, aliens and the apocalypse.
"We want to continue to think about ourselves in an empowered way and embody a sense of strength as we are transforming what we see around us," Young said.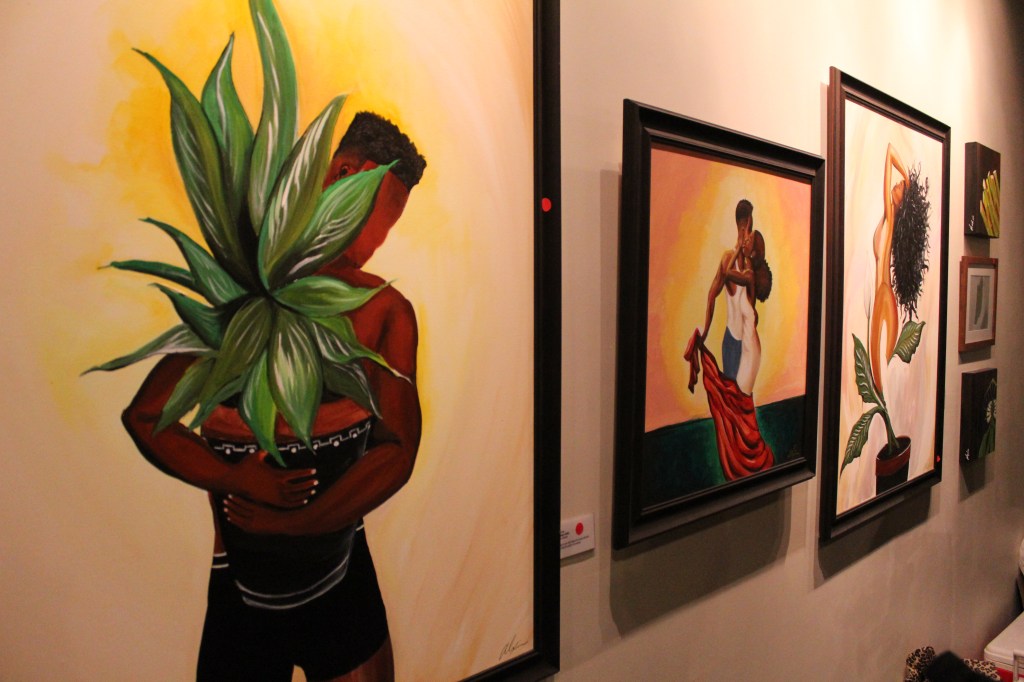 The worlds shown in Young's paintings are true to the vision of West Side that Art West seeks to create. Many of the pieces show a thriving West Side revitalized by the community members themselves. One painting shows a woman taking the form of a phoenix rising from the ashes, safeguarding the neighborhood from the gentrification local families fear will soon displace longtime residents, Young said.
Photographer Jay Simon, who helped curate the show, said Young's use of her ancestral roots to envision a better future is "very timely," given the many transformations happening in response to the pandemic and the fight for racial equity.
"I personally get strength from my elders and ancestors to move things forward and move the culture forward," Simon said.
At its core, the Art West gallery is an attempt to build a future for the West Side where residents don't have to leave their own neighborhoods and travel across town to experience the arts, Young said. The gallery aims to expand opportunities for local artists and entrepreneurs to showcase their talents.
"We don't complain about what we don't see. We create the amenities that we don't see," Young said. "We're creating the experience that we want to have, and we're trying to do that on the West Side rather than taking our dollars and our energy out of the community."
Having a local and Black-owned art venue will be a tremendous resource to the neighborhood, Simon said. Art West will begin to fill the gap in creative opportunities for people on the West Side, he said.
"I felt like for years, the West Side, was like a stepchild — nobody cared about us, it felt like nothing was here," Simon said. "I just hope that the community and the culture receives this as a place that we take on as our own."
At the Art West opening, Lawndale resident Azadi Williams said the art venue "brings a richness to the community that people wouldn't get otherwise."
Having an abundance of art in the area is especially beneficial for young people so they can see possibilities for themselves in creative fields, said Williams, who is also the principal at North Lawndale College Prep.
"The more that we have artistic people living, thriving, growing, pouring back into the community … that exposure for our young people, they need to be able to see art and understand it and interact with it, and know that they, too, are creative," she said.
Art West is raising funds to further expand art opportunities for the West Side. You can donate here.
Pascal Sabino is a Report for America corps member covering Austin, North Lawndale and Garfield Park for Block Club Chicago.
Block Club Chicago's coronavirus coverage is free for all readers. Block Club is an independent, 501(c)(3), journalist-run newsroom.
Subscribe to Block Club Chicago. Every dime we make funds reporting from Chicago's neighborhoods.
Already subscribe? Click here to support Block Club with a tax-deductible donation.