AUBURN GRESHAM — Kendall Griffin loves coffee. And he loves coffee shops. Unfortunately, finding one near or around his Auburn Gresham neighborhood was impossible, so he decided to open his own.
But Afro Joe's, 8344 S. Halsted Ave., isn't just a coffee shop. It's his gift to the city that raised him, and a legacy for his children to inherit.
"I was tired of going to the North Side or Hyde Park to find a coffee shop," said Griffin. "And why not Auburn Gresham? Every community deserves to have a coffee shop in walking distance."
Griffin said the reception so far has been overwhelming, with neighbors stopping at the shop to congratulate him and his wife, Aisha, and offer their support — including Ald. Howard Brookins (21st).
"He's been really helpful getting us through the process. When we ran into some permit issues, we went and sat down with him for an hour, and we're able to clear up a lot of it up," said Griffin.
And the name, "Afro Joe's?"
"'Afro' because we're Black. 'Joe's' like, 'a cup of Joe,'" chuckled Griffin. "Just simple branding."
The buildout of the cafe, housed on one side of an old garage, took 90 days to complete. Griffin's sister, who owns the building, has plans to move her dental office next door.
The idea is to serve great-tasting coffee without the pretension. While big coffee chains use "over-roasted" beans in their cups of Joe, Afro Joe's sells a lighter roast, said Griffin, which is evident by mouth feel.
"You're tasting the different notes in the coffee, you're tasting the chocolate and the caramel, you're really experiencing the coffee bean and all the flavors in it," added Griffin, a market manager for Genesis Motor.
Customers can also expect to learn a little history when they pick up a bag of beans, like the DuSable decaf, which includes a brief bio of Chicago Founder Jean Baptiste Point DuSable.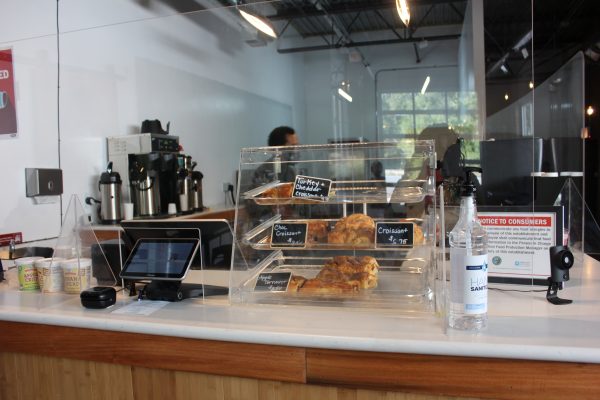 While the official grand opening is still two weeks away, customers can stop by to enjoy coffee, pastries and breakfast sandwiches. And, a full lunch menu is in the works with neighborhood themed fare: the Auburn Gres-Ham Panini, the South Side Short Rib Grilled Cheese and the Chatham Cheese — a cheddar cheese sandwich on Texas toast.
And then there are the wraps: the Roseland, a vegetarian wrap with mozzarella and roasted tomatoes; the Beverly chicken wrap; and the Out West wrap — a nod to the West Side, the place he called home before his family moved to Beverly over 30 years ago.
"People can expect fantastic pastries, and they can expect sandwiches with natural ingredients. 'Whole foods,' I like to say. We didn't want to do processed foods," said Griffin.
Afro Joe's is open from 8 a.m. to 3 p.m., Monday through Friday.
Do stories like this matter to you? Subscribe to Block Club Chicago.  Every dime we make funds reporting from Chicago's neighborhoods.
Already subscribe? Click here to support Block Club with a tax-deductible donation.