AVONDALE — Multiple people were injured and had their belongings destroyed during a Monday fire at an encampment for people experiencing homelessness in Avondale.
It's at least the second time encampments in the area have been damaged by fire in recent months. The Fire Department did not say Monday's blaze was intentional, but a man who lives at the encampment said he saw two men start the fire.
Carlos Rivera, who lives at the encampment at Belmont and Kedzie avenues, was starting his day when he saw two strangers coming in and out of the encampment. He said it looked like they were dropping off equipment, but then they set fire to two tents and ran off.
The fire, which Rivera said started about 10 a.m., destroyed all of Rivera's belongings, including his cellphone and wallet. As he tried to put it out, he burned his hand, he said.
"I think this is a hate crime," Rivera said.
Rivera, who has lived at the encampment for about a year, said he never saw the two men before but believes they were eyeing the area Sunday. 
"From what I hear, someone said these guys were parked here yesterday for a while, sitting there doing nothing, just sitting there in this truck. And today this happens," he said.
The fire also destroyed the tent that belonged to Janine Perez and her husband, who have lived in the encampment for two years. Perez said she lost nearly everything in the fire, but she managed to get her purse, a cart full of clothes and her cat, Smoky, out of the tent before watching it burn to the ground.
Perez called the fire a serious crime and said she cannot understand why someone would burn another person's belongings.
Perez said she had just gotten a job at a nursing home and needed to fill out paperwork to complete the onboarding process while she waited for the results of her coronavirus test. But that was lost, too.
"I lost everything," Perez said. "I saved my wheelchair and my husband's bike."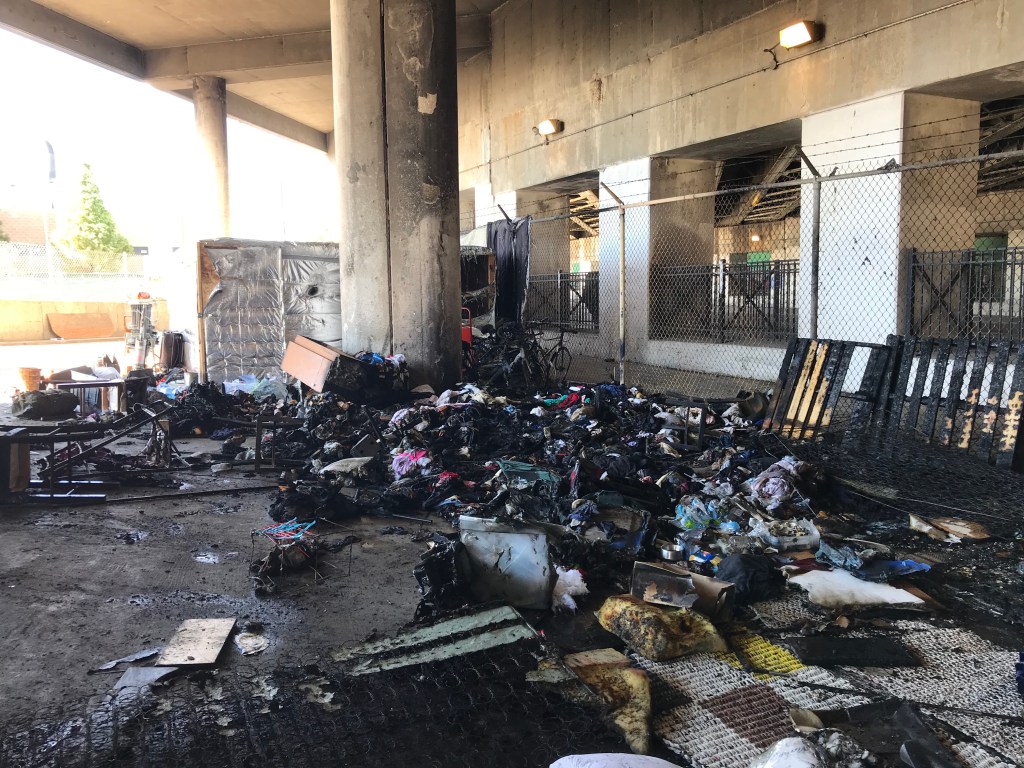 She said the Fire Department arrived but they were too late to save her tent.
Fire Department spokesman Larry Langford said the department has no evidence an accelerant was involved in the fire in the encampment. He said crews extinguished the fire about 10:20 a.m. and treated three people for minor, non-life-threatening injuries. 
"We found the fire was caused by open flame ignition and no indication of any accelerant," Langford said. "A lot of smoke was created by a mattress. It was a very smoky fire."
He said the department does not know whether the fire was started maliciously.
In July, a similar fire occurred at a homeless encampment across the street, along with two others at neighboring encampments.
There were reports Monday of another blaze at the California and Diversey encampment, but Ald. Carlos Ramirez-Rosa (35th) said that area appeared to be untouched. 
Ramirez-Rosa said he spoke to the Fire Department commissioner, who said his investigation team said the fire was caused by a propane accident that led to an explosion. 
But residents at the encampment say it was arson and this event makes them feel unsafe and unwelcome. 
"Whether it was an incident of arson or a propane accident, I think this underscores the need for the city of Chicago to find dedicated revenue to build housing to house our unhoused neighbors," Ramirez-Rosa said. 
Neighbors and homeless advocacy organizations such as The Night Ministry and the Chicago Coalition for the Homeless were quick to offer support, donating blankets, toiletries and tents. But residents said they will need more to replace their belongings. 
Avondale Mutual Aid is raising money for the affected individuals. 
Perez said she needs clothes and jackets sized extra large for her and her husband, as well as gloves, masks, bus passes and dry food for the cats. She also would like books.
Rivera and Perez said they need blankets and mattresses for sleep, as well as winter clothes. 
Perez said she hates asking for money but would appreciate a financial donation. Water and Gatorade are also welcomed, especially since the residents used their drinking water to try to put out the fire.
Ali Simmons, a street outreach caseworker with the Chicago Coalition for the Homeless, arrived on the scene around 12:30 p.m. to check on residents and connect them to services such as legal aid and employment assistance.
But better housing is needed to help those experiencing homelessness, Simmons said, and the fire is an example of that. 
"Ultimately we want people to know this type of stuff is going on and that's why there is an importance for affordable housing," Simmons said. "You can't protect people out here. The only way we can stop this from happening is by putting people in their own places." 
Ramirez-Rosa said adequate housing can provide better safety. In the meantime, he said his office plans to drop off fire extinguishers at the encampment and the community is ready to help the residents. He said his office has received calls, emails and texts all day, all asking the same question.
 "We have a community that's organized and supports one another," he said. "It has been good to see on social media, calls to the office, emails, saying, 'How can we be helpful?'"
Subscribe to Block Club Chicago. Every dime we make funds reporting from Chicago's neighborhoods.
Already subscribe? Click here to support Block Club with a tax-deductible donation.