ROGERS PARK — The city-owned lot at Howard Street and Ashland Avenue has been eyed for some lofty development plans — from a high density apartment building, to a theater, to a combination LGBT-friendly senior living center and artist work/live space.
Those proposals have come and gone. But a new initiative is letting neighbors lead the charge on improving the prime Rogers Park property.
Ald. Maria Hadden (49th) has teamed with the Metropolitan Planning Council for a community led "corridor development initiative" for the one-acre lot.
The idea is for neighbors to come up with a plan for the lot, which then will be released as a request for proposals for developers or community groups to fulfill.
A community meeting Thursday kicked off the community development process. Members of the Metropolitan Planning Council led neighbors in a brain-storming session on goals for the property and needs of the area.
For years, developers have come to neighbors with ideas for the property, allowing residents to only react to the proposal. The new initiative is seeking to flip the script on how private community development takes place in Chicago, Hadden said.
"This is an area where we have a real opportunity," she said. "We want to hear what the neighborhood wants."
The property at the southeast corner of Howard and Ashland was a brown site in the early 1990s before being bought by the city in 2012.
Shortly after that, the Peterson Garden took over the site, but the community garden was originally meant as a placeholder until the city found a developer to build a high-density mixed-use building on the lot. A request for proposal from developers in 2014 didn't generate many serious offers, officials said.
Since becoming alderman in 2019, Hadden's office has fielded three development proposals for the site.
That includes the LGBT senior housing and artist live/work space building, which was the subject of a community meeting late last year. When the project did not receive tax credits, it stalled.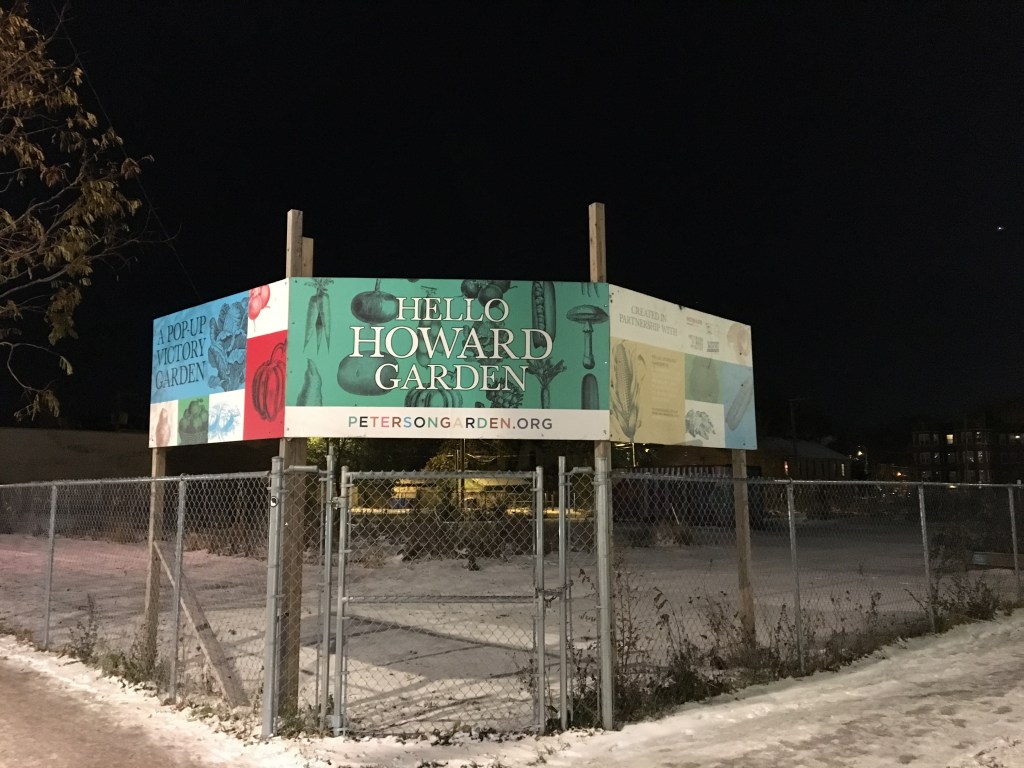 The football field-sized lot is in a prime Howard Street location a block from the Red Line station and across the street from Willye B. White Park.
It is zoned for mid-density and would allow for residential uses above a commercial ground floor, city officials said. Its location near the Red Line makes it a candidate for transit-oriented development, which allows for greater density and fewer required parking spots.
As the community development process continues, there will be design workshops held virtually and in-person, where neighbors can help envision what the property could accommodate or look like.
Residents can even request at-home kits to use Lego-like pieces to visually conceptualize design elements for the land.
Neighbors at Thursday's meeting said they liked the idea of keeping the property a community space.
"I just see the space being so important in the community for bringing people together," one neighbor said. "These benefits are hard to count in terms of economics, but we need to think about how much those are worth."
Another popular idea was affordable housing. Another neighbor, who works with the Peterson community garden, said an affordable housing development with a child care component could be a big benefit to working families in the area.
"This space is such an opportunity to really think outside the box," she said. "There are so many opportunities with this space."
The next community meeting on the initiaitve will be held Thursday. For the full list of community events on the development program, click here.
Subscribe to Block Club Chicago. Every dime we make funds reporting from Chicago's neighborhoods.
Already subscribe? Click here to support Block Club with a tax-deductible donation.