ALBANY PARK —  As social uprisings against racial injustice swept the country this year, much of the national conversation urged people to find their own ways to help dismantle systemic racism.
So Maria Burnham, co-founder of Ghostlight Theater in Albany Park, realized she had a decision to make.
Burnham, a white woman, stepped aside from her other role as the company's co-artistic director this summer to open up a leadership position for a person of color. Kayla V. White, a Black queer woman, has taken over the position and is helping the four-year-old storefront theatre company elevate the voices of Black, Latino, Queer and women creatives — both past and present — in an arts world dominated by straight white men.
White is working alongside Miona Lee in shaping the company's repertoire in preparation for its 2020-21 season.
"That was a big part of taking on this new role, for both Maria and me," White said. "One of the things I focus on as a theater person is inclusion and making sure spaces are safe for people. Making sure people feel their voices are heard." 
Ghostlight launched in early 2016 when group of Chicago storefront theatre veterans, including Burnham, wanted to perform shows challenging the status quo through timeless stories and immersive environments while also having fun. 
The current theater's home base is in Albany Park but they often perform in unconventional settings such as the mansion in Berger Park, where the audience followed the performers from room to room.
White joined Ghostlight as an actress in 2019. She's previously worked at Strawdog Theatre Company, Clock Productions and Hairpin Arts.
"As a performer, Kayla has a passion and energy about her that makes you want to watch. The more I have gotten to know her, I've learned that she brings the same drive and passion to everything she does," Lee said.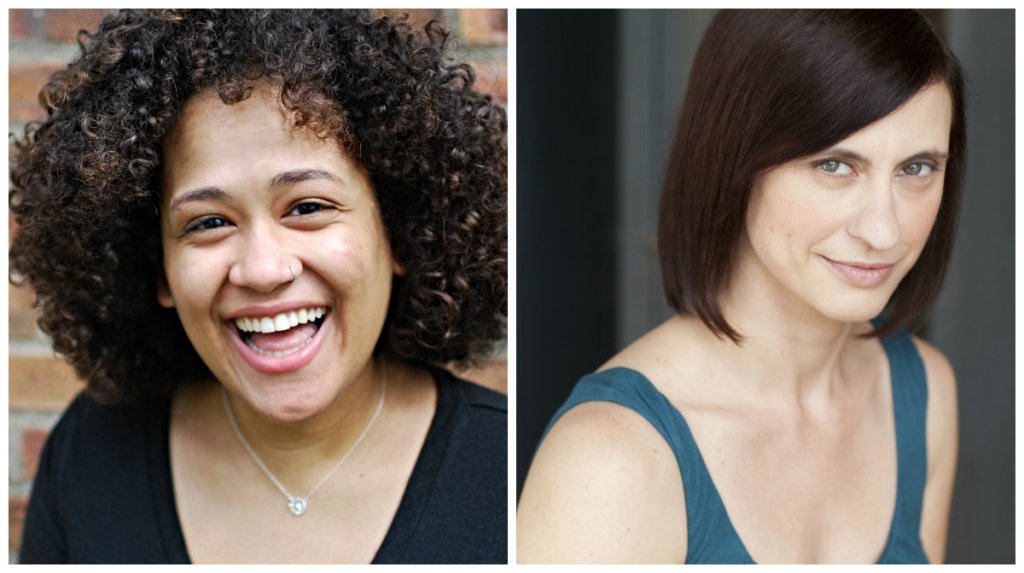 When Burnham decided to step down, White reached out to ask if there were opportunities to amplify the work of a more diverse group of creatives.
Burnham responded almost immediately, saying Ghostlight's leadership already has been discussing that and wanted her input on the upcoming season.
"This is a conversation I'm having with a lot of my theater people," White said. "How in the theater world the voices that are the most listened to tend to be straight white male voices.
"It was really exciting because not everyone is open to hearing feedback or hearing how we can do better."
Since White had already worked with Ghostlight, Burnham said it made sense for her to take on the new leadership role.
"I gave up my position because we had all white management and we needed to make some real changes," Burnham said. "Our first goal was to try and promote from within our company, which we were able to do with Kayla because she was interested in doing this. And she's a great person to be taking over right now."
The arts world, like many industries, has struggled to enact meaningful systemic change to empower disenfranchised voices. Representation often is lacking in performance roles and in behind-the-scenes leadership directing productions that more broadly reflect the world we live in, Burnham said. 
"The community Ghostlight serves in Chicago is not all white people that are straight and middle class and affluent. That's not what the entire city is," Burnham said.
"We and a lot of other storefront theaters in Chicago have tried to make real efforts to expand our audiences and bring in other artistic voices since the Black Lives Matter movement started. Not just performers, but tackling the current management structures in our industry, too."
This year Ghostlight postponed or canceled many of its productions because of the ongoing coronavirus. As the ensemble plans its new season, it's yet to be seen if they'll shift to virtual performances or some type of outdoor setting.
White has experience with online-only shows and will help organize shows in that format if live, in-person performances still aren't feasible next year.
Some of the upcoming season's performances will feature works by up-and-coming Chicago playwrights of color who will see their work performed for the first time, White said.
"I'm really excited about centering newer Black and Brown playwrights, particularly Chicago-based ones, for the upcoming season and helping them shape their piece and create something new," White said. "That's so exciting to me."
White said the company also will have a reading series highlighting "lost plays" from female writers of color, with an emphasis on works from Black women.
"A lot of people tend to do the same shows. Chicago does mix it up but often it's a retelling the same types of stories," White said. "So this series will have a special emphasis on people of color to go back and explore a lot of different plays that are available to us. They exist, but people just aren't really using them."
Subscribe to Block Club Chicago. Every dime we make funds reporting from Chicago's neighborhoods.
Already subscribe? Click here to support Block Club with a tax-deductible donation.