CHICAGO — Mayor Lori Lightfoot is easing coronavirus restrictions on bars, restaurants, salons and fitness centers, saying the city has made sufficient progress in fighting the pandemic.
Bars can reopen for indoor service starting Thursday, the mayor announced Monday. Restaurants can allow up to 40 percent capacity, up from 25 percent. Both can serve customers until 1 a.m.
City leaders said Monday the city is making enough progress to contain the spread of coronavirus to allow for looser restrictions on dining out and in-person activities. But the pandemic is still ongoing and Chicagoans still must stick to the same safety precautions to keep themselves and neighbors safe from the disease, leaders say.
"Today's new guidelines are the result of the hard work and hard choices you, our residents, our workers and our businesses have made to keep our entire city safe," Lightfoot said at a press conference Monday.
"They mean that we as a city are making slow and steady progress in our recovery efforts. But what these new guidelines do not mean is that we are out of the throes of this disease. Not so. Unfortunately we're seeing states nearby and across the country open up entirely as if COVID-19 has suddenly disappeared. It has not. We continue to see new cases every single day. We continue to see new hospitalizations every single day."
Starting Thursday at 5 a.m., the new restrictions will be as follows:
• Restaurants, health and fitness centers, personal services, non-essential retail can operate at 40 percent indoor capacity, up from 25 percent. These establishments, restaurants and venues still are limited to 50 total customers within one room or space. The limit of no more than six people at a table also remains in place.
• Breweries, taverns, bars and other establishments that serve alcohol without a food license may reopen with indoor seating, at 25 percent capacity or 50 people, whichever is fewer. Service must be capped at two hours per party. Patrons must be seated when eating, drinking or order. Patrons also cannot walk up to the bar to order.
• Bars, restaurants and other establishments that serve alcohol will now be able to sell alcohol for on-site or off- site consumption until 1:00 am and may remain open until 1:30 am. However, liquor stores, grocery stores and other establishments that sell alcohol to-go through a Packaged Goods license must continue to stop selling alcohol at 9:00 p.m. 
• Health and fitness classes and after-school programming may now allow 15 people in groups, up from 10.
• Facials, shaves and other personal services that require the removal of face coverings will be allowed.
More information about the reopening can be found here.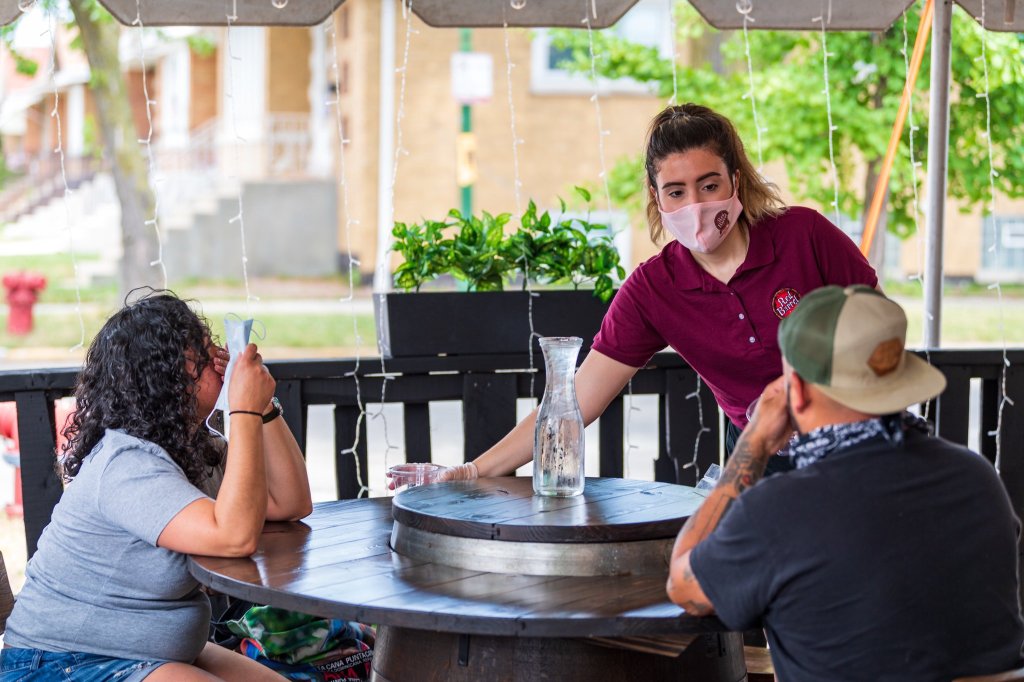 The city is recording around 300 new coronavirus cases daily, down from around 350 as recently as August, according to city leaders. The city was recording 1,000 cases a day at its peak.
Test positivity is around 4.5 percent and severe complications from infections are reduced.
To relax restrictions, Chicago had to keep the positivity rate under 5 percent for a sustained period of time, according to Dr. Allison Arwady, head of the Chicago Department of Public Health. The city has done so for the last two weeks, she said.
The pandemic continues to disproportionately affect Black and Latino residents, however.
Arwady said neighbors still must practice social distancing, wear masks, avoid large gatherings and maintain strict hygiene.
"Overall, we are heading in the right direction, and this affords us an opportunity to further re-open the city and to do so gradually and safely," Arwady said. "But I can't emphasize this enough: Chicagoans need to continue to follow the public health guidance – wearing masks, social distancing, frequent hand washing and staying home when sick – or we risk falling back and experiencing another rise in cases."   
Arwady said the Chicago Health Department is continuing to track the data and  if it "start[s] to show signs of concern. … we might have to go backwards."
"Now is the time to double down on the things you know work, not to relax," she said.
Lightfoot agreed, saying, "Many of you got the memo months ago and have done extraordinary and creative things to keep both your workers and members of the public safe, but we need to remain diligent and we need to step up and dig down a little bit deeper."
In order to help protect patrons and bar and restaurant staff, the city also is implementing these safety guidelines Thursday:
Diners must always wear face coverings while seated, except when actively eating or drinking. This protects employees that may interact closely with patrons.
Patrons at indoor bars, taverns and breweries must order from their seats – they cannot walk up to the bar to order.
Bars, taverns and breweries that are reopening indoors must partner with a food establishment so food is available to patrons at all times (e.g., making menus available and allowing delivery, allowing patrons to order from third-party delivery services).
When taking reservations and seating walk-in customers, restaurants and bars should collect patrons' email addresses and/or phone numbers for possible contact tracing.
Personal services that require the removal of face coverings are recommended to be kept under 15 minutes, and the employee conducting the service must always wear a face covering.
All businesses should provide hand sanitizer at the door for patrons and employees.
Sam Toia, President and CEO of the Illinois Restaurant Association, praised the move, saying it is badly needed for struggling industry particularly as the weather makes outdoor dining less feasible.
"Increased capacity and longer hours will mean more jobs, greater opportunity for revenue, and a path towards stability for our restaurants," Toia said. "We are committed to continuing to prioritize the health and safety of our workers and patrons as we take this essential next step in our economic recovery."
Lightfoot said the city is able to make this move in part because the local business community has abided by the evolving restrictions.
"Over the past six months, we have asked so much of our business community. But each time, our businesses have stepped up to the plate," Lightfoot said.
"Thanks to this cooperation, we have met this challenging moment with grace, commitment and resilience, and the sacrifices made by our businesses, workers and residents have saved countless lives. This next step in our reopening is good news for business owners as well as the communities they serve and the thousands of residents that work for them."
The expanding indoor dining comes too late to save the bars and restaurants that have closed during the pandemic. The owner of the most recent restaurant lost this year, Twisted Tapas in Rogers Park, isn't convinced bumping interior capacity up to 40 percent will help.
Bob Parilla, who closed his restaurant on Pratt Boulevard for good on Sunday after seven years, said a lack of outdoor seating cost him, but so did customers' reluctance to eat inside.
"If we were able to fill 25 percent a night twice a week, we'd survive," he said. "It's the perception of people. They're scared to come in. I don't blame them."
Block Club Chicago's coronavirus coverage is free for all readers. Block Club is an independent, 501(c)(3), journalist-run newsroom.
Subscribe to Block Club Chicago. Every dime we make funds reporting from Chicago's neighborhoods.
Already subscribe? Click here to support Block Club with a tax-deductible donation.