LAKEVIEW — In the end, the old tavern threw itself a wake, complete with bagpipes.
Southport Lanes, the storied bar, bowling alley and billiards hall in Lakeview, closed its doors Sunday evening after 98 years.
But it was not without a final goodbye from neighbors and longtime current and former employees, with one former worker flying in from Austin, Texas to pay her respects.
Owner Steve Soble announced earlier this month the bar was closing because of the coronavirus pandemic, which has devastated bars, restaurants and other businesses with months of closure and capacity limits. At Southport Lanes, sales had been down 75 percent from last year and its bowling alley still hasn't been able to reopen.
RELATED: Historic Southport Lanes Is Closing For Good After 98 Years Because Of Coronavirus
On Sunday, Soble said he's been touched by the response to the announcement, with regulars and former employees reaching out to share a memory or stopping by for a final drink.
"I was really shocked at how many people and how many stories have been written about this and the outpouring of support from the neighborhood and from old customers," he said.
"So it's been really, really strange, really bittersweet. … I don't know that it will really hit me until tomorrow."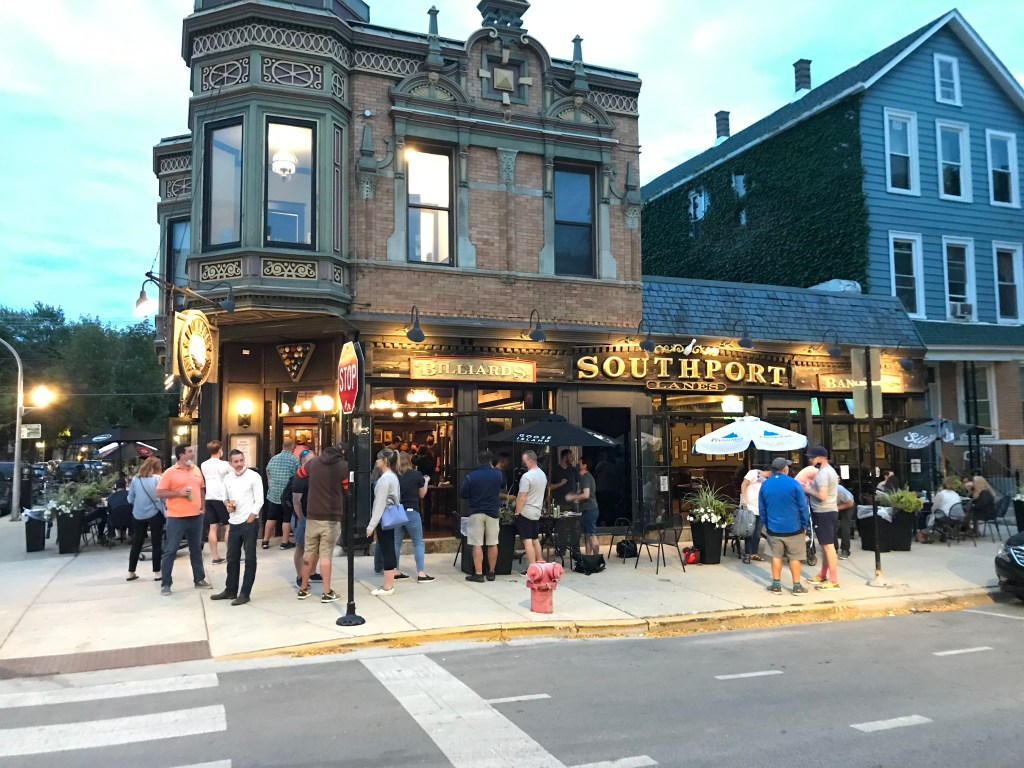 Morgan Jackson, who worked as a bartender and manager for nearly a decade, booked a flight from Austin, Texas when she learned the bar was closing.
"It's a place you owe it to to come back and say goodbye," she said.
She's spent the last few days reminiscing through "a lot of tears" with old coworkers she described as family.
"It's incredible the impact this place has had on people," she said. "It wasn't something that I was ever going to miss."
John Barrett was a regular before he was hired as a bartender, joking on Sunday that the manager simply hired his best customer. He stayed on for another 16 years.
"We're all really good friends that met here, and we're going to continue to be really good friends. This place was a great catalyst for that," he said.
Many of those who gathered Sunday evening recounted achieving their highest bowling score at the four lanes tucked into the back of the bar — with the help of pinsetters who would knock down a pin or ten depending on the size of the tip that accompanied a gutter ball.
That was the case for Scott and Allison Perlmutter, who have deep ties to the tavern.
"It's been like a second home to us for the last decade and for her family, fifty to sixty years," Scott Perlmutter said.
Allison Perlmutter's family owned the bar before Soble and the couple had their wedding rehearsal dinner there. Her mother's aunt and uncle, Leo and Ella Beitz, sold the bar to Soble in 1991.
"My mom used to set the bowling pins up and would cut up the vegetables for the wedding receptions that would happen in the backroom," she said. On Sunday she bought extra french fries to put in the freezer and save for her mom, who "loves them."
Others left with permanent mementos, as framed photos disappeared throughout the evening and bowling pins were taken to be autographed by a patron's favorite bar staff.
The fate of the ornate mural hanging behind the bar hasn't been decided, Soble said, although other photos and knicknacks have been claimed by his daughter.
A handful of prospective buyers have reached out about buying the bar, but talks haven't advanced past kicking the tires, Soble said. He'll continue to own the building and hopes someone younger will lease the bar space to breathe "fresh air" into it when the financial difficulties of the pandemic subside.
"We're not going to tear the building down, I can tell you that," he said.
Shortly before 10 p.m. the Shannon Rovers, a traditional Irish band, gathered outside in the rain before marching through the doors to draw tears from some who remained, glasses raised, with a rendition of "Amazing Grace."
Sam Stathos, who lives nearby and had a few drinks Sunday before bringing home his kids' favorite corndogs for dinner, said the corner bar in the changing neighborhood will be missed.
"You need these cornerstones for a community," he said.