CHICAGO — My Block My Hood My City raised more than $45,000 for local organizations Saturday as part of the group's rally to support Breonna Taylor and speak out about the injustices Black women and girls routinely face.
Hundreds of Chicagoans gathered for the Say Her Name rally in Daley Plaza in honor of Taylor and Black victims of police violence.
Taylor, 26, was fatally shot by Louisville, Kentucky police in March during a botched raid at her apartment. For months, her family, residents, activists, athletes and celebrities pushed for the three officers involved to be charged with murder.
But last week, prosecutors announced only one officer was being charged for wanton endangerment for recklessly firing shots into neighboring apartments.
Speakers at the event blasted the decision, noting none of the officers face criminal prosecution specifically for causing Taylor's death, which prompted demonstrations in Louisville and throughout the country.
But community leaders also wanted people to take that frustration and anger and turn it into support for organizations led by and serving Black women and girls.
"Some people are going to use this event as a reason to loot and breakdown some of the communities… and then some people are going to use this event as a way to raise money for Black women serving [organizations] and register people to vote," said Jahmal Cole, founder and executive director of My Block My Hood My City.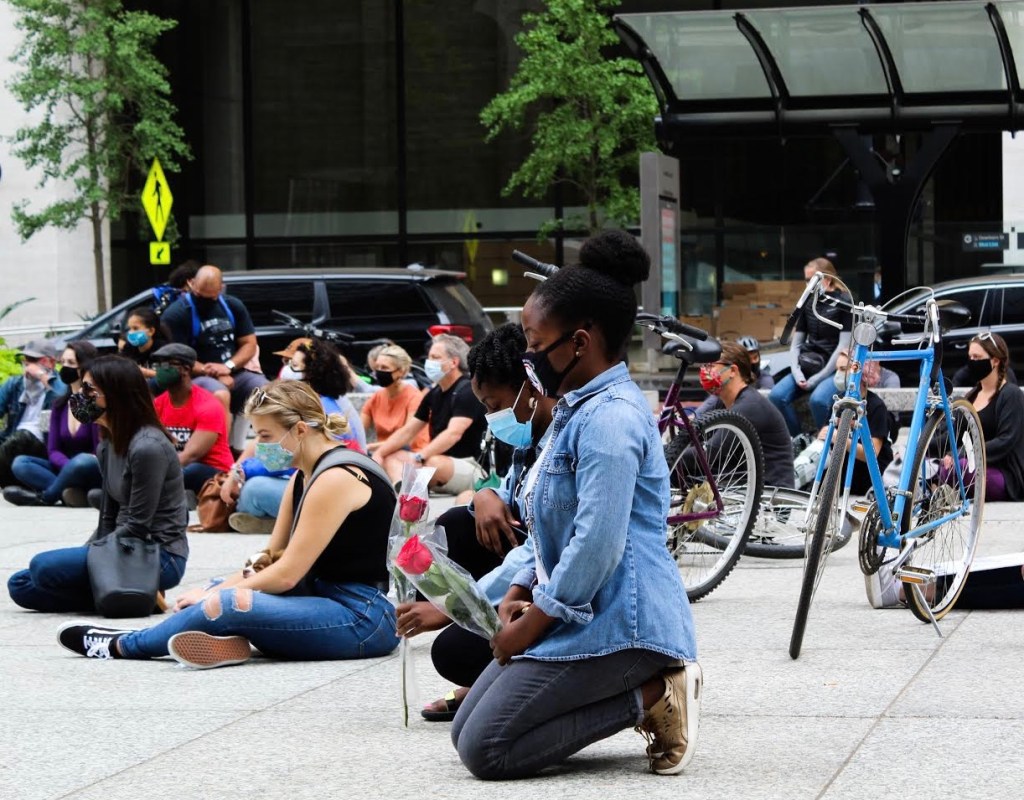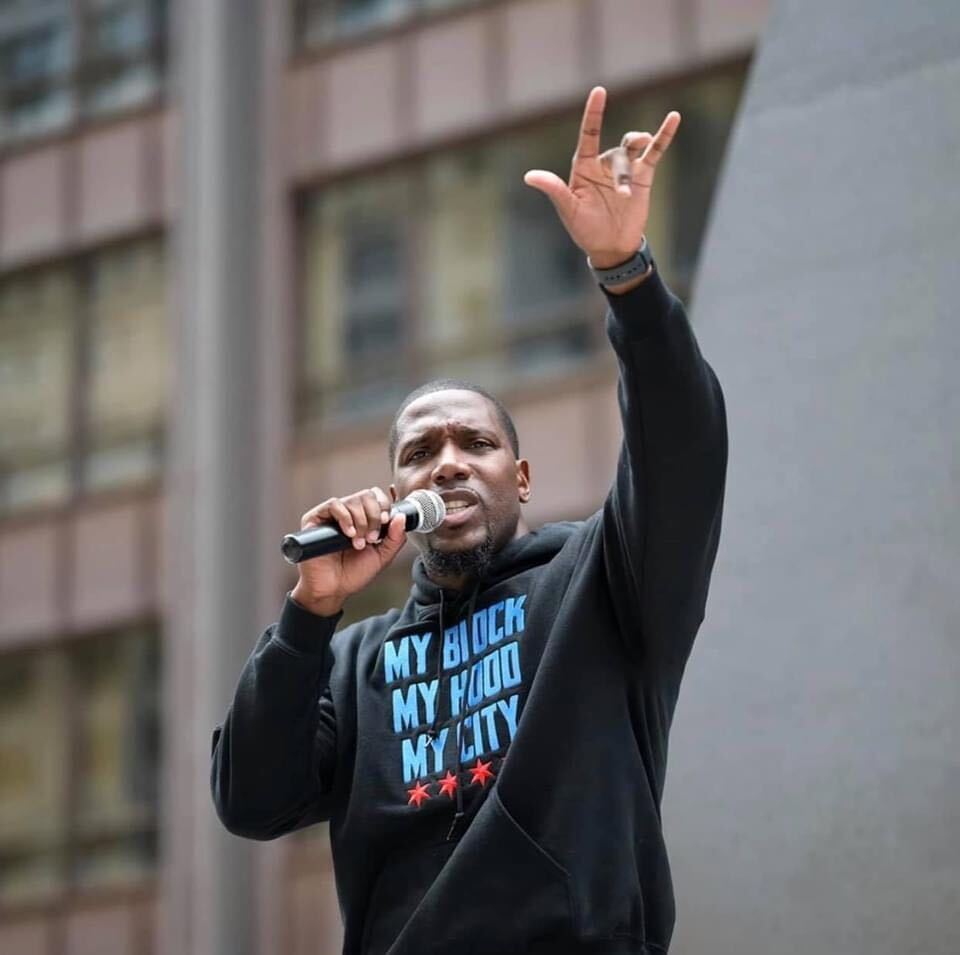 The money the organization collected through the Black Women-Led Organization Fund online will be dispersed within the next two weeks, according to Ernesto Gonzalez, the community organizer for the One Block at a Time program.
Jamila Trimuel, founder of Ladies of Virtue, said Black women-led organizations often receive less funding and do not have the same resources and opportunities as organizations led by white men and women.
Her organization launched in 2011 and helps empower Black girls ages 9 to 18 who live in underserved communities.
"We, as Black women, are tired of being disrespected and neglected and unprotected, and it's time for our voices to be heard, and it's time for our elected officials and the people at large to listen to us and act on what we request," Trimuel said.
Trimuel said she will never stop speaking out against the mistreatment of Black women. People need to begin using the platform they have to make a difference, she said.
"I'm not going to stop talking about it because I feel like people are starting to listen now more than ever."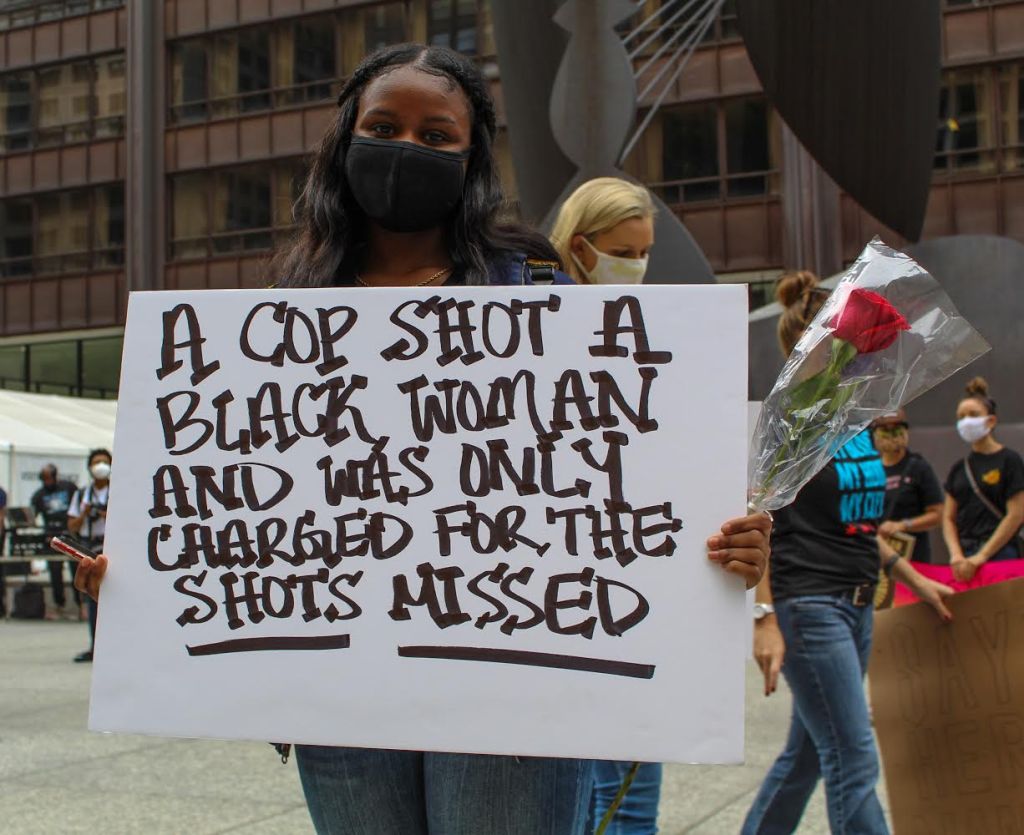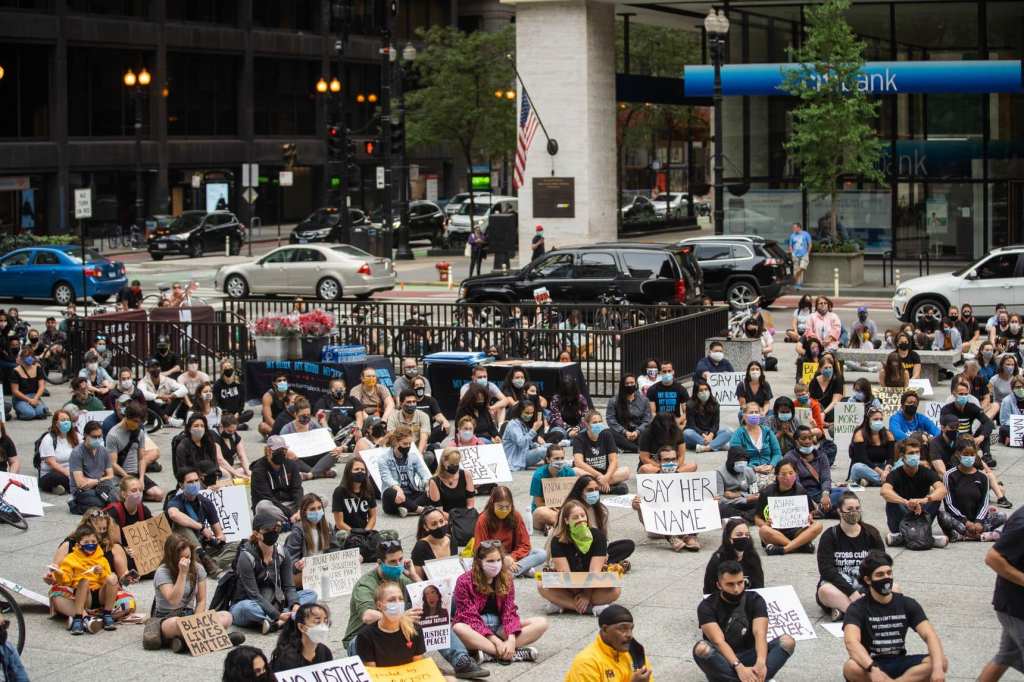 Black women received red roses during the event and the crowd paused for a moment of silence and sit-in in honor of Black victims of police violence.
Monette Mclin, of Rogers Park, said she came to the rally because her spirit needed motivation.
"She could have been me," Mclin said of Taylor. "You know, women of color, black, beige, brown skin… it's like your value goes down and your suspicion goes up. It's a shame that we're disrespected because we're the most relied upon in this country."
Niama Malachi, one of the speakers, urged women to be resilient, saying women often are teared down when they come into positions of power.
"[Black women] should be uplifted and celebrated for all of their contributions," Malachi said. As a Black woman, "There's always going to be a level of fear, but you have to ascend over that fear… in order for the work to be done, you have to ascend and come into your power as a Black woman."
Subscribe to Block Club Chicago. Every dime we make funds reporting from Chicago's neighborhoods.
Already subscribe? Click here to support Block Club with a tax-deductible donation.