HUMBOLDT PARK — The city removed colorful graffiti along Bloomingdale Avenue at the request of Ald. Roberto Maldonado (26th) after some neighbors complained about it.
Crews on Tuesday removed much of the graffiti adorning The 606's exterior wall at Kedzie Avenue.
Christine Carrino, spokeswoman for the city's Department of Cultural Affairs and Special Events, said Maldonado and local residents requested the graffiti be taken down because it was "uncommissioned" work.
Kathleen Oskandy, Maldonado's chief of staff, said the alderman received "several complaints" from neighbors about the graffiti, some by email and others by phone.
Oskandy shared one email from a concerned neighbor who said the graffiti was "simply tagging" and "not at all close to the quality of the public art along the Hubbard Street corridor."
"I am not happy to see the low quality and little oversight to this project," the neighbor wrote.
But not all neighbors agree the graffiti should've been removed and that it was "low quality."
Joan Hersh said commissioned or not, the graffiti brightened up the "blank, unattractive" wall. She said she doesn't understand why it had to be removed.
"These things were beautiful. It's not hurting anybody," said Hersh, who has lived in the area for about seven years.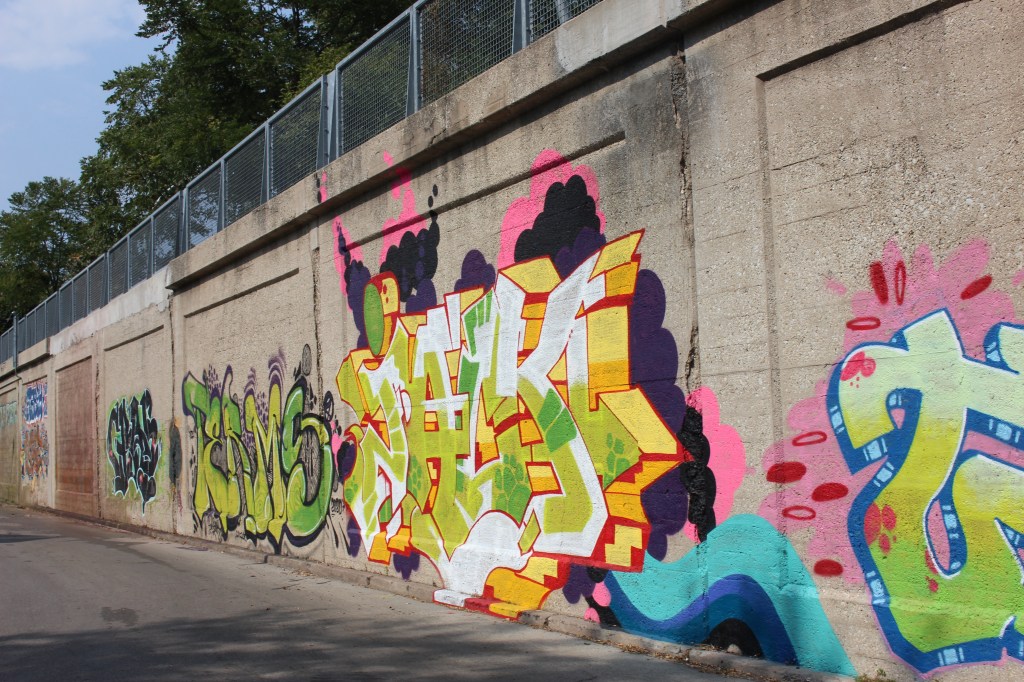 Hersh said the city, which faces a $2.1 billion budget shortfall, should be using its money more wisely.
"We have so many budget issues. To take these men and waste their time and make them remove it … it doesn't make any sense to me. I was really sad," she said.
The city regularly sends crews out to remove graffiti on buildings and garages. In some instances, the city has mistakenly removed murals treasured by residents.
In 2018, the city destroyed a large mural celebrating Puerto Rican culture at Pulaski Road and Bloomingdale Avenue, much to the disappointment of the artists and nearby residents.
Hersh said the graffiti didn't have gang signs or obscenities, a common reason neighbors complain. She said she watched an artist paint one of the panels some weeks ago.
"I certainly understand people objecting to it if it were part of a gang war, but I don't think it was," she said. "These all seemed to be really beautiful and interesting."
Subscribe to Block Club Chicago. Every dime we make funds reporting from Chicago's neighborhoods.
Already subscribe? Click here to support Block Club with a tax-deductible donation.