BRONZEVILLE — Chicagoans staged multiple demonstrations throughout the city Wednesday night, protesting the decision not to charge Louisville, Kentucky police officers with killing 26-year-old Breonna Taylor when they raided her apartment in March.
More than 200 people marched outside Chicago Police Department headquarters in Bronzeville, before starting a march down 35th Street and to Dunbar Park, chanting Taylor's name.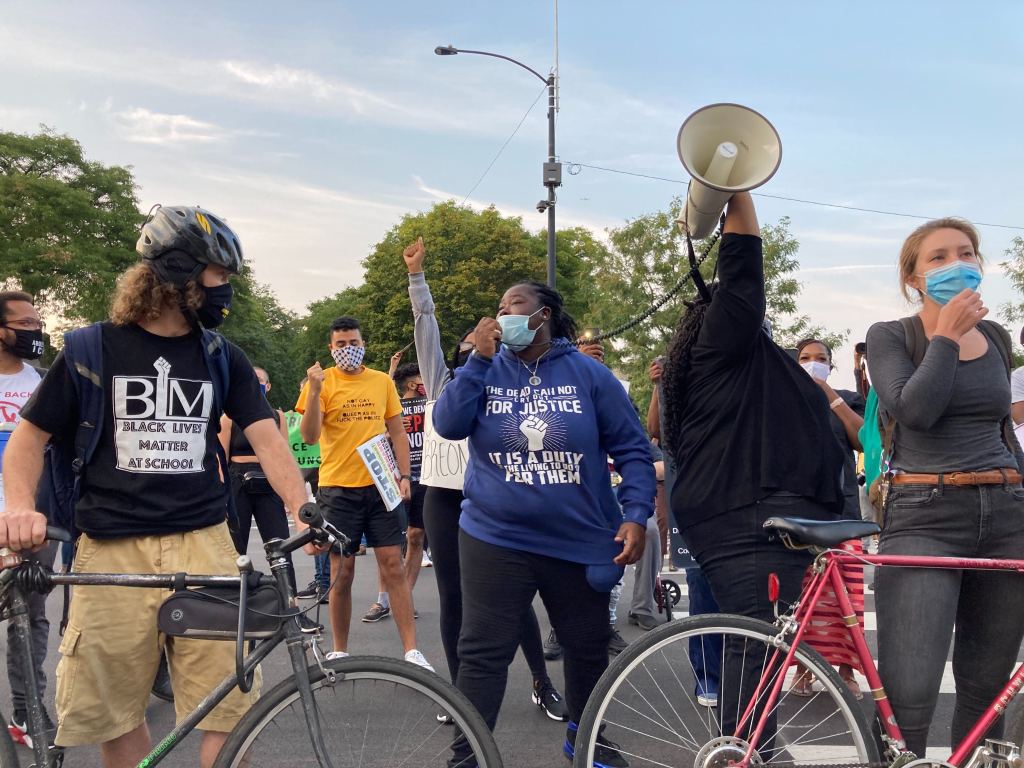 Rev. Michael Pfleger of St. Sabina Church led dozens of people in a march down Racine Avenue in Gresham, stopping at 79th Street to paint "Breonna" in fake blood in the intersection.
Activists also organized demonstrations near Palmer Square and Downtown.
It's become a familiar and painful ritual in Chicago and throughout the country. People have marched, chanted, gathered, grieved and demanded justice again and again for Black victims of police violence — for George Floyd. For Jacob Blake. For Daniel Prude. For Ahmaud Arbery.
"It's hard being out here again," Aislinn Pulley, an organizer with Black Lives Matter Chicago, told demonstrators in Bronzeville. "We've been out here so many times."
Taylor, 26, was shot and killed by police officers in the early morning hours of March 13 as police officers conducted a search warrant at her home.
Taylor's boyfriend, Kenneth Walker, said he fired at officers who burst into the apartment without announcing themselves, striking one officer in the leg. All three officers returned fire, striking Taylor six times and killing her, according to the Louisville Courier-Journal. The officers claim they announced themselves before entering.
For months, Taylor's family, Louisville residents, and organizers and celebrities throughout the country demanded the three officers face criminal charges for fatally shooting Taylor.
But it became clear in recent days no such charges would be forthcoming, particularly as Kentucky and Louisville leaders and police cancelled vacations for officers, activated the National Guard and placed the city in a state of emergency leading up to Wednesday announcement.
The city of Louisville also settled a wrongful death lawsuit with Taylor's family for $12 million earlier this month.
Kentucky Attorney General Daniel Cameron announced Wednesday that Det. Brett Hankinson was charged with three counts of wanton endangerment for recklessly shooting into neighboring apartments during the raid. Hankinson was fired from the department earlier in the year.
The other two officers, Jonathan Mattingly and Myles Cosgrove, were not charged.
"A property, a piece of wall that can be fixed, has more rights than a Black woman," said Nicl Jordan, of Woodlawn.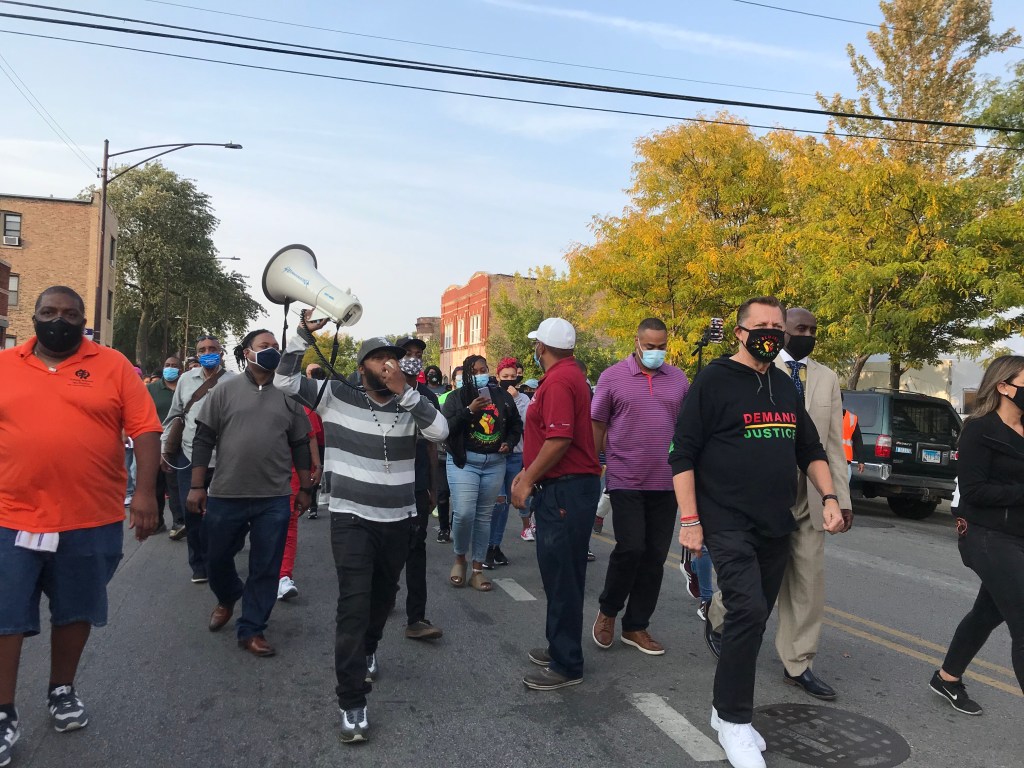 The grand jury ruled the officers were justified when they shot Taylor, Cameron said, meaning no officers will face criminal prosecution for killing her.
"This is how the system operates. It's not broken," Pulley said. "When we fight for Breonna Taylor, we fight to destroy the system and create a new one."
Earlier Wednesday, several elected officials criticized the Louisville decision with Gov. JB Pritzker calling it a "gross miscarriage of justice." Mayor Lori Lightfoot invited Chicagoans to join in a citywide moment of silence in Taylor's honor.
Protesters outside police headquarters at 35th and Michigan Avenue were met with city trucks that sectioned off access to the police building. Chicago Alliance Against Racist and Political Repression, Black Lives Matter Chicago and Southsiders Organized for Unity and Liberation spearheaded the demonstration.
Many in the crowd amplified demands to establish CPAC, or Civilian Police Accountability Council, to oversee police operations including officer discipline.
"How many Breonna Taylor's have happened in Chicago?" Jazmine Salas said. "Too many. This needs to end today."
As people marched, the CTA rerouted multiple bus lines and bypassed the 35th Street Green Line station, near where the protest took place.
After rallying outside police headquarters, the group of protesters marched to Dunbar Park, where they circled and took a knee in honor of Taylor.
Making an appearance at the park was the Dreadheaded Cowboy, who was charged this week with animal cruelty for riding his horse on the Dan Ryan Expressway, in protest of persistent violence against children in the city.
He posted bond earlier Wednesday and was released from custody.
"It's not about me," he said. "We need to stick together and support each other."
Before protesters marched from St. Sabina, Auburn Gresham resident Heather Wills stood on the church steps and said the Black community is "tired of not being surprised by when this happens."
"We are out here, once again, because we will not be silenced by a system that continues to say that the neighbor's walls are more important than a Black woman's life," Wills said. 
Despite her frustration, Willis said she felt hopeful standing on the "sacred block" near the church in solidarity with her neighbors.
"We feel hope just by being around one another," she said. "We feel hope by our history, we know that when we speak up our voices are heard. When we demand justice, our voices are heard."
As the group marched into the intersection at 79th and Racine and traffic began to back up, frustrated drivers honked their horns tried to navigate around the crowd.
Pfleger urged those in attendance to continue to disrupt daily life to demand accountability from government leaders.
"We are here because a travesty was done today in America, but not a new travesty," Pfleger told the crowd. "The same old thing happened over and over again. A message is sent again in America that Black and Brown lives mean nothing in America. March after march, protest after protest, and nothing changes."
"We are not going to accept this anymore. We need to interrupt government. We need to interrupt stores, we need to interrupt the CTA. We need to interrupt the El station…," he said, "we intend to continue to interrupt things in Chicago and we hope in this country."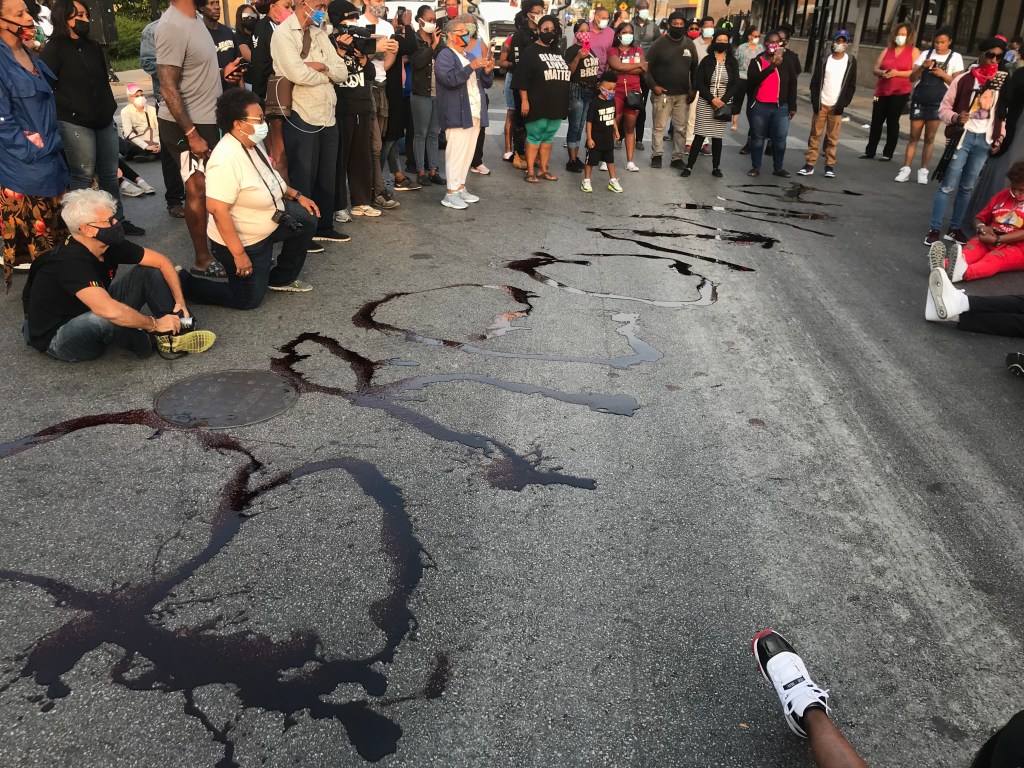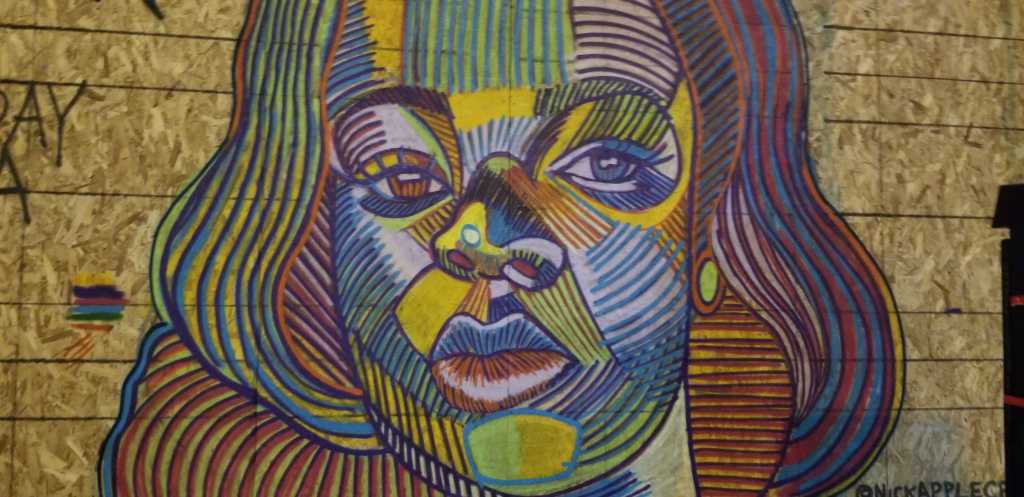 Subscribe to Block Club Chicago. Every dime we make funds reporting from Chicago's neighborhoods.
Already subscribe? Click here to support Block Club with a tax-deductible donation.