PILSEN — Altars that have stood at the entrance of the former St. Adalbert Roman Catholic Church for more than a year were vandalized this week in Pilsen.
Instead of neatly manicured altars with flowers and images of the Virgin of Guadalupe and St. Adalbert at the former church at 1650 W. 17th St., neighbors and former parishioners found the alters in disarray Tuesday morning.
Images of the religious figures were ripped from the walls, flowers and plants were strewn along the sidewalk and the Polish and Mexican flags were ripped from their post and left on the ground, Judy Vázquez said.
Vázquez, a Pilsen resident and former parishioner, was in "shock" to see the space in such "disarray," especially since people have prayed in front of the church at least twice a week since it was deconsecrated last year. 
The vandals also damaged three cars parked in front of the church, Vázquez said.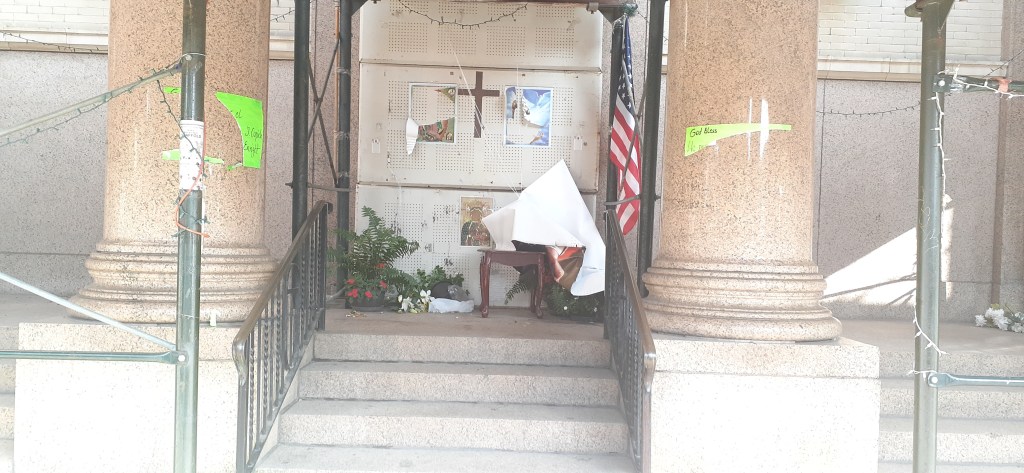 Vázquez called police, who told the group a formal report could not be made since the vandalism happened in a public place. The officer urged them to reach out to Ald. Byron Sigcho-Lopez (25th), she said.
RELATED: In Pilsen, Churches Are More Than Sunday Mass — And Their Closures Are 'Devastating'
Reached by phone Tuesday evening, Sigcho-Lopez said his office was looking into the vandalism. 
A spokesperson from the Archdiocese of Chicago said they had not been made aware of the incident.
Former parishioners have prayed at the steps of the church multiple times per week since it was closed in July 2019. The group, along with Sigcho-Lopez, has worked to preserve the church from becoming converted into condos like St. Ann, another church in Pilsen.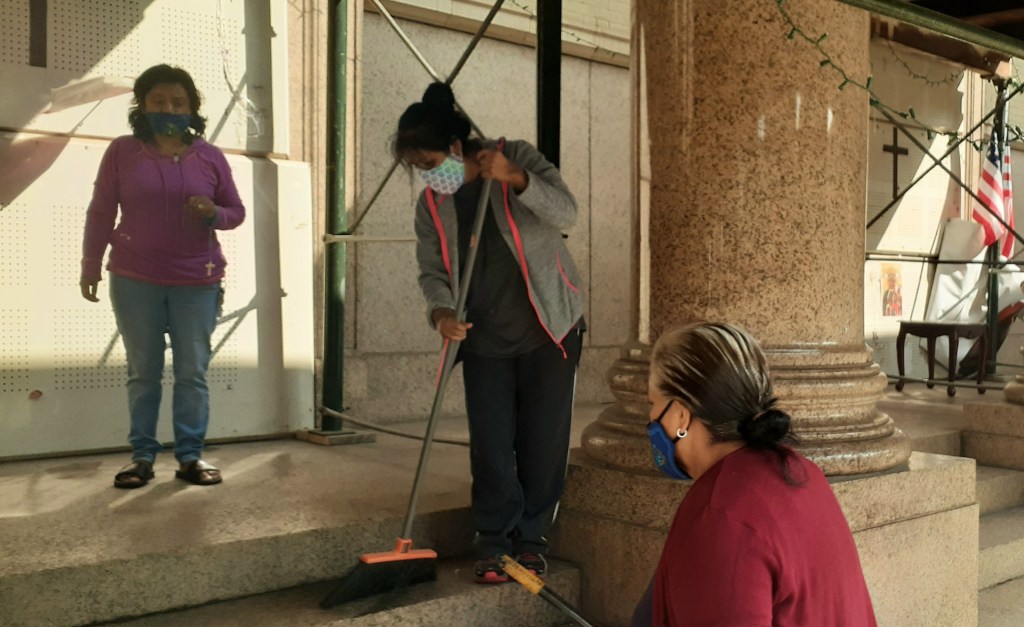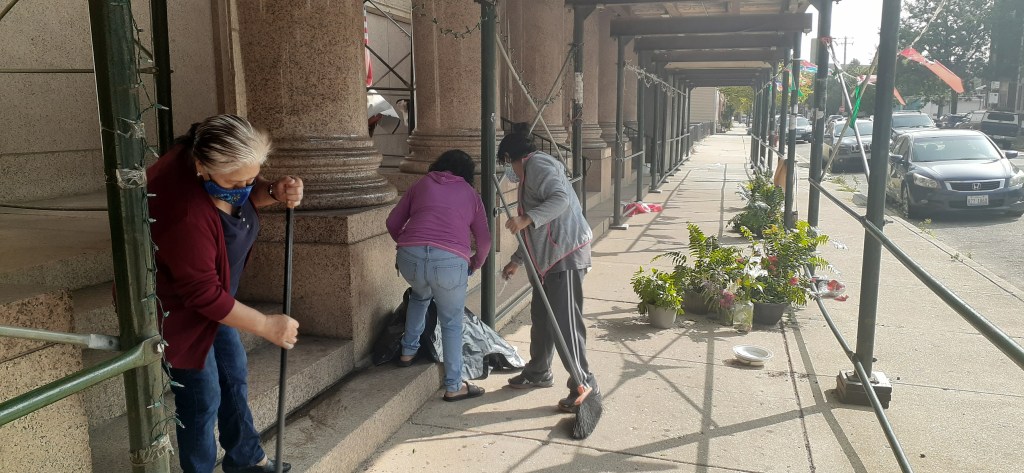 After the discovery, Vázquez and neighbors spent four hours cleaning up the debris and trying to fix one of the altars to prepare the space for an evening gathering.
Vázquez said the former church is still an important and symbolic place for many residents. 
"What we have here is so beautiful. We are bringing community together," she said.
That's why the destruction of the altars felt so personal to so many residents, she said, adding, "Where's the compassion, love and humanity?"
Julie Sawicki,  president of the Society of St. Adalbert, said the vandalism is "devastating."
"Whoever did this clearly doesn't understand what this church means to a lot of people," Sawicki said. "Even though we can't worship inside the church, we have prayer vigils outside the church.
"For us, this is all sacred. This is hurtful and painful to see."
Do stories like this matter to you? Subscribe to Block Club Chicago. Every dime we make funds reporting from Chicago's neighborhoods.
Already subscribe? Click here to support Block Club with a tax-deductible donation.
RELATED STORIES
Beloved Pilsen Church Parishioners Fought To Save Being Sold To Developer For $4 Million
After Last Mass At St. Adalbert Church In Pilsen, Local Alderman Moves To Get Control Over Future Plans For The Site
In Fight With Archdiocese, Alderman Moves To Rezone Closed Pilsen Church To Only Allow Parks Or Green Space To Replace It
In Pilsen, Churches Are More Than Sunday Mass — And Their Closures Are 'Devastating'
Could A Plan To Convert St. Adalbert Convent Into A B&B Save Pilsen Church?
Parishioners Mourn 'End Of An Era' As They Say Farewell To St. Ann Church In Pilsen
Historic Pilsen Church's Towers Are 'Perfect For Penthouse Units,' Real Estate Listing Says
Century-Old St. Adalbert Church Hosts 'Heartbreaking' Final Mass As Parishioners Vow To Keep Fighting To Save It
St. Adalbert Parishioners Want To Take Over Their Beloved Church: 'The War Has Not Been Won Or Lost Yet'
Century-Old St. Ann Church In Pilsen Sold, Developer Aims To Transform It Into Apartments Or Condos, Archdiocese Confirms
St. Adalbert Church Parishioners: We Won't Back Down, Despite Pending Sale
St. Adalbert's Parishioners: No Condos Here, Our Church Is 'Sacred Ground'