ALBANY PARK —  Shootings linked to gang feuds in Albany Park and Ravenswood Manor have alarmed neighbors in recent months. And just hours after venting to police and the area's alderman about the issue Tuesday night, yet another shooting wounded five people, including two teenagers.
Ald. Rossana Rodriguez (33rd) and Albany Park (17th) Police District Cmdr. Ronald A. Pontecore Jr. were grilled by neighbors during public safety meetings this week, where neighbors demanded to know what will be done to stop the violence.
Before the Tuesday night mass shooting, the district had recorded seven homicides and 44 shootings so far in 2020 — a big jump from the five homicides and 20 shootings the district recorded in all of 2019.
Neighbors complained about the violence in 2019 as well, but they said things just keep getting worse.
"At this point in time, right now, we're dealing with at least 10 different conflicts gang-wise, not only in our district, but in our neighboring districts as well," Pontecore said.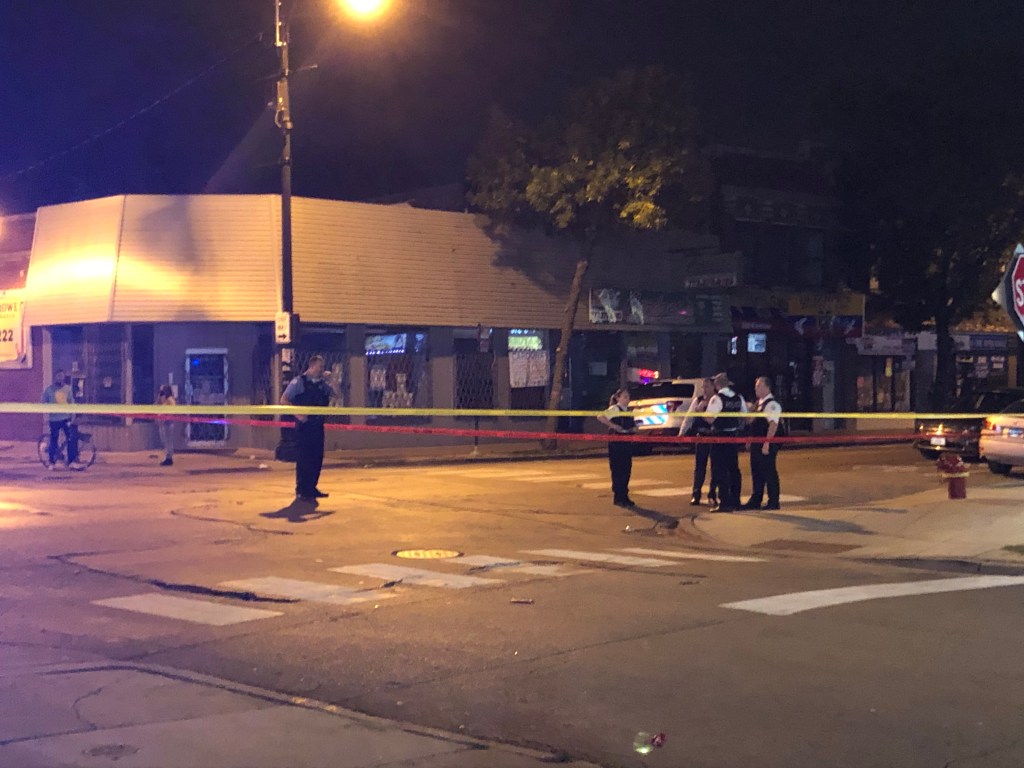 Neighbors submitted more than 150 questions during Tuesday's two-hour CAPS meeting. They repeatedly pressed police for answers about staffing and concrete plans to address the shootings primarily occurring in an area bound by Lawrence Avenue to the north, Pulaski Road to the west, the Chicago River to the east and Irving Park Road to the south.
Some residents asked if the community could fundraise to install more police cameras in the area. Others asked when two police cameras being purchased with ward money would be installed.
But police staffing remains a critical concern for many neighbors.
"Is there anything we can do to secure additional patrols in our neighborhoods near the 'hot zones?'" resident Jezieel Cortes asked. "Given that police know of where these certain individuals congregate, couldn't we have those areas more covered [by] officers in staggered rotations?"
Pontecore said he did not want to detail police strategy publicly.
"I'm getting inundated daily with questions about numbers and personnel and all that," Pontecore said. "But what folks need to realize is that number one, I'm not going to sit here and talk about numbers. I'm not going to sit here and give my game plan out over the internet. We're doing everything that we can and we ask for the neighborhoods' assistance in this process."
After residents complained last fall about gang-related shootings, the city assigned more officers to the district in January to pinpoint the gang conflict areas, increase patrols and continue video surveillance, according to department leaders.
Since then, however, neighbors and State Rep. Jamie Andrade accused the city of pulling those extra officers out of the district.
But police declined to answer questions about staffing, too. When one neighbor asked Tuesday if it was true officers were being redirected elsewhere, district police leaders said she would need to file a public records request for that information. Previously, a police spokesman told Block Club staffing is "sufficient" throughout the city, but gave no specifics. 
Pontecore said he was still waiting to hear "from the powers that be" about whether more outside tactical units would be brought in to help.
"It's unacceptable that we literally are in Déjà vu," Andrade said. "I feel the frustration my residents feel … I'm just disgusted on where we're at with staffing levels right now." 
In a different neighborhood meeting this week, Rodriguez said the 17th Police District was assigned tactical units, gang investigation teams and community safety teams to address the gang activity. 
She also said federal law enforcement resources are being used to address the current gang conflict, and the 17th and 14th police districts team up on joint missions that affect the area.
Rodriguez, who supports cutting funding to the police department and investing in science-based anti-violence measures, also said she's set to meet with Police Supt. David Brown this week to talk about resources to curb violence in her ward.
She said she's already spoken to Susan Lee, the city's deputy mayor for public safety, to ask the city to expand its $6 million in funding to street outreach programs to violence hotspots in Albany Park, Ravenswood Manor and Irving Park.
RELATED: Alderman Wants More Mental Health Workers, Not Police — But Neighbors Want More Cops After Shooting Spike
Both Rodriguez and Andrade have previously suggested the city expand the funding to help address the uptick in shootings in the short term.
"I know that there is a notion that a lot of this work is long term," Rodriguez said of alternative policing strategies. "But violence interruption work can actually can work in the short term as well [to address the shootings]. It depends on how many people and how many resources we put into it."
Even as neighbors and local leaders continue to search for solutions, the shootings continue.
In addition to the mass shooting on Lawrence Avenue, two other shootings on nearby Kedzie Avenue have been reported in the past week.
Just northwest of the area on Monday, Ernie Perez, 26, was fatally shot at 3605 W. Argyle St. 
Cody David lives down the street from the Irving Park Early Learning Center, 3023 W. Montrose Ave. Gunfire pierced the day care center's window Monday night when the business was closed. No one was injured.
That same day care was also vandalized with graffiti in November, which neighbors said was related to the ongoing gang activity in the area. 
David said he saw police saturate the area after the 7-Eleven at 2900 W. Montrose Ave. was robbed at gunpoint in January. But despite the ongoing gang activity, he sees far less police presence these days.
"The cops were heavy for a solid like two or three weeks around here," David said. "They would cruise through the neighborhood, I would see them all the time but then it kind of died out and I didn't see them too often anymore."
Subscribe to Block Club Chicago. Every dime we make funds reporting from Chicago's neighborhoods.
Already subscribe? Click here to support Block Club with a tax-deductible donation.