NEW CITY — Community leaders are calling on neighbors to come together to protect children after a shooting killed 8-year-old Dajore Wilson this weekend in Canaryville.
As rain began to fall Thursday evening, aldermen, faith leaders, community members and police officers gathered at Bishop Shepherd Little Memorial Center to denounce the gun violence that claimed the life of yet another child.
Ald. Patrick Thompson (11th) offered his condolences to the Wilson family and called DaJore's slaying a "terrible tragedy."
"Enough is enough," Thompson said. "We have seen this too many times. We have had over 175 children under the age of 16 that were shot this year. Enough is enough.
"We have to come together. … Let's continue to work together and love one another."
'We Are All Taking This Very Personally'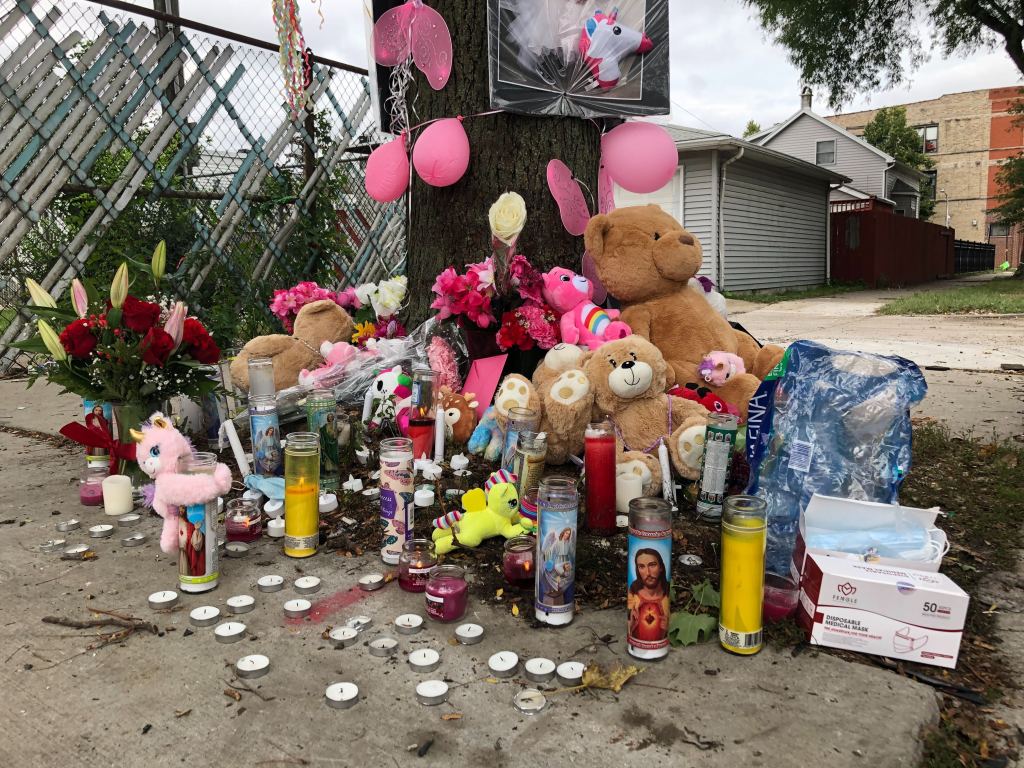 At 6 p.m. Monday, Dajore Wilson was in an SUV with her father, mother and a family friend, leaving her grandmother's house near the intersection of 47th and South Union Avenue, according to authorities and media reports.
Someone in another car fired multiple shots at the SUV, said Chief of Operations Brian McDermott. Dajore's father tried to drive off, but he hit another car and crashed into a tree.
The gunman's driver made a U-turn and sped away, heading south, McDermott said.
Dajore was taken to Comer Children's Hospital, where she was pronounced dead. Her father and friend were also shot. Her mother was injured from broken glass.
Neighbors rushed to help the family, Thompson said. He lauded Canaryville residents who "tried to do what they could to save the life of that child."
Ninth District Commander Don Jerome condemned the shooting death of yet another child.
"I was on the scene myself and we are all taking this very personally," Jerome said. "It's tough when it's a little girl like this."
Police and detectives are still gathering information from neighbors, he said.
"We really do need the community to help us get more information. They have stepped up and they will continue to do so," Jerome said. "We really appreciate it.
"With the communities help, we hope to bring the offender to swift justice."
'Our Goal Is To Keep Children Safe'
State Rep. Sonya Harper, who grew up on 53rd and Paulina streets, said she is tired of having to witness children dying.
"To Dajore Wilson, I am so sorry that our society cannot get it together in time for you to grow up," Harper said. "We have a shorter life expectancy simply because of the ZIP code we live in.
"If Black Lives Matter in the hands of police, surely Black lives matter in the hands of any other man, too."
Harper said it was time for protests to transform into policies and laws that benefit struggling families and neighborhoods.
Rev. Robert East, of Bishop Shepherd Little Memorial Center, said he was crushed by another tragic death of a child.
"Every child in this community and the city of Chicago belongs to all of us," East said. "When one child is hurt, it affects fathers and mothers throughout this city."
A parishioner of the church said the institution had long been a safe haven for children and community members in the neighborhood.
"Our goal is to keep children safe," she said. "Our children are our future, and we must protect them at all cost."
Maria Pike, whose son was fatally shot in 2012 in Logan Square, said there was "nothing more valuable than our children."
Pike said it is time to bring everyone to the table to address systemic inequalities impacting neighborhoods on the South and West sides. In the process, the community needs to rise up to support children of the city, she said.
"They are our hope for a better future," Pike said. "It breaks my heart. We really feel every death in this city, especially [the death of] children."
Subscribe to Block Club Chicago. Every dime we make funds reporting from Chicago's neighborhoods.
Already subscribe? Click here to support Block Club with a tax-deductible donation.