LINCOLN PARK — DePaul University's fall quarter got off to an unusually quiet start Wednesday as the campus reopened to a limited number of students, staff and faculty due to the coronavirus pandemic.
Normally, the first day of classes at the country's largest Catholic university is marked by a bustling campus of new and returning students, and a weeklong lineup of activities for classmates to get to know each other.
But this year — with most in-person classes on hold and dorm access strictly limited — DePaul's campus "feels like a ghost town," sophomore Samantha McKibben said.
"It doesn't feel like we're on the first day of school," said McKibben, who was attending soccer practice on campus Wednesday. "It's so empty and nothing's changed between yesterday and today."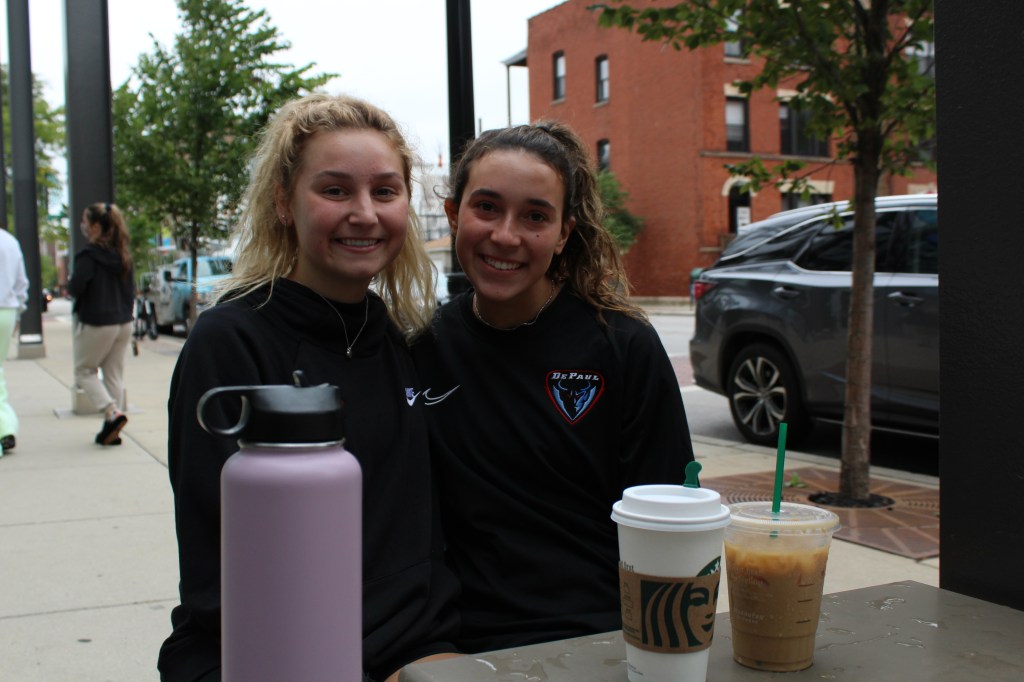 Colleges and universities throughout the country are taking vastly different approaches to try to operate safely in the ongoing pandemic. But several schools, including University of Illinois at Urbana-Champaign, have been forced to scale back as students increasingly test positive for coronavirus.
School leaders often have blamed those spikes on students going to off-campus parties, and failing to practice social distancing and wear masks.
DePaul, with more than 22,000 students, sits in a neighborhood where coronavirus infections among young adults surged this summer, in large part because of people packing bars and not wearing masks.
The university did not make a representative available to answer questions and referred a Block Club reporter to its website for details on its reopening strategies. But students and staff said Wednesday they felt comfortable with how school leaders were handling the situation.
The welcome tables typically staffed by people guiding students during their first day were replaced by hundreds of hand sanitizer and face mask stations. Only a few dozen students were at the Lincoln Park campus, and they had specific reasons to be on the grounds.
"It's weird how empty campus is, but Covid is very serious, so I'm glad DePaul is taking steps to limit possible exposure on campus," McKibben said.
'We Are Making It As Healthy As We Can'
Normal operations at DePaul came to a halt in March when the pandemic first hit the Chicago area. The university moved its courses and services online for the rest of the school year, according to Julie Emms, a university spokeswoman who presented Fall reopening plans during a Lincoln Park community meeting earlier this month.
The university opened up the Lincoln Park and Loop campuses slightly more than it did this Spring, according to university officials, but leaders are continuing to drastically curb how many people are on campus.
DePaul announced in mid-August nearly all fall classes would be held online the entire term.
DePaul also is limiting how many students live in dorms, restricting residence halls to athletes, international transfer students and people in work-study programs.
Students visiting DePaul must use its new #CampusClear app, which helps people self-screen for coronavirus symptoms and lessen the risk of spreading the virus to others. Anyone coming to campus must show their self-screening results to a university official before entering a campus building.
Staff also has installed more than 700 hand-sanitation stations throughout both campuses and introduced mandatory face-covering and physical-distancing protocols, Emms said.
"For those who have returned to campus, we are making it as healthy as we can," Emms said.
Lisa Gutierrez, a staff member at DePaul and first-year graduate student in its education program, said she was relieved by the university's efforts to reduce how many people visit campus. She said she feels it will help prevent the virus from spreading even further within the area.
"I like the emptiness here at DePaul because it's less stress for me and the other staffers or students who have to come into campus," Gutierrez said.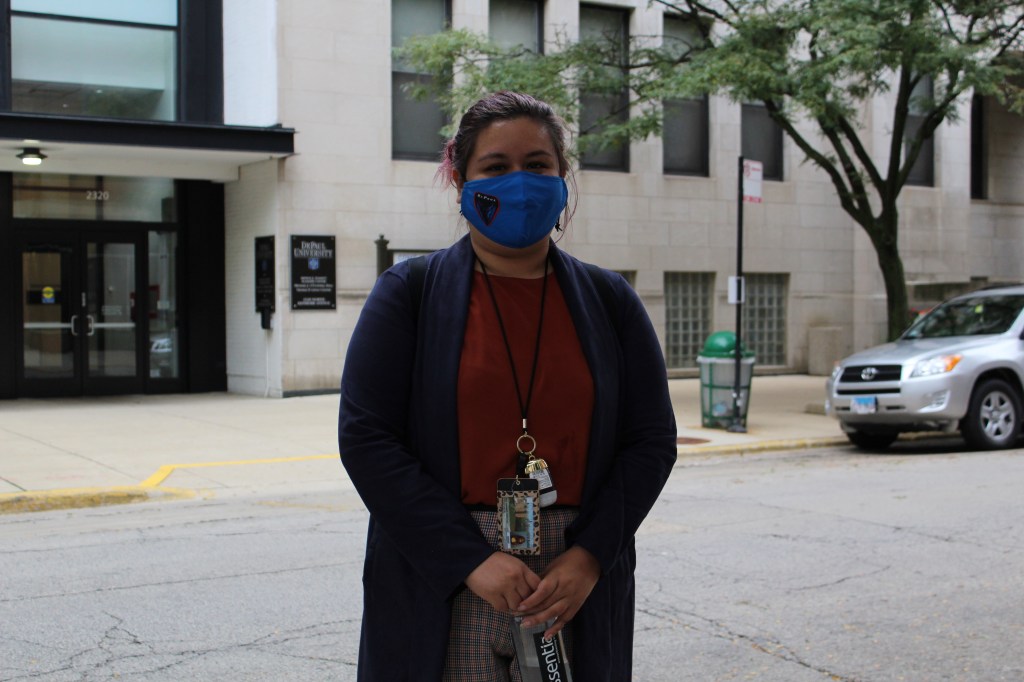 For McKibben and the rest of DePaul's women's soccer team, the new safety measures mean a delayed start to their season and major changes to their training, such as having to practice in small "pods" rather than as an entire team.
"Our whole season has been turned on its head, but I'm just happy DePaul is taking all these safety precautions so us as athletes are able to come back," McKibben said.
Compared to other universities, DePaul has erred on the side of caution in allowing only a few in-person classes.
The University of Notre Dame started the school year with in-person classes but quickly quickly reversed course after a spike in infections. U of I leaders say it's possible they will shut down its "in-person semester" if they do not reverse the trend of hundreds of students testing positive for coronavirus, the Tribune reported last week.
In Chicago, Loyola University closed its dorms and is holding most of its classes online. University of Illinois at Chicago is using a hybrid plan of in-person and online classes, but some faculty have pushed the school to cancel any in-person learning this fall.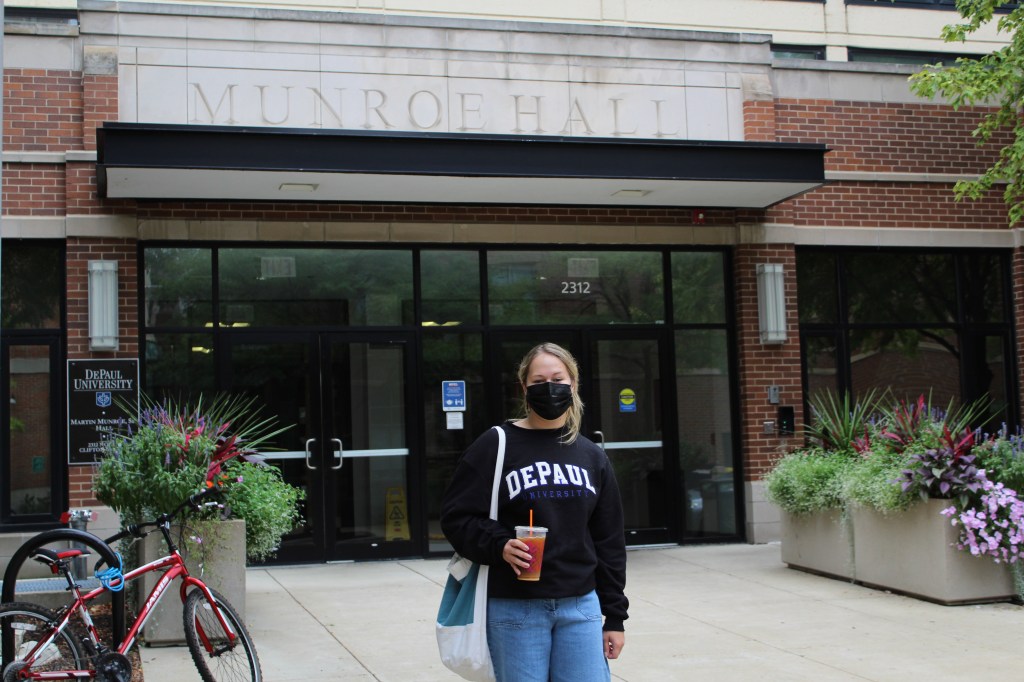 Freshman Hannah Andruss, who lives at one of DePaul's residence halls, said she feels more protected from the coronavirus when she's on campus because of the precautions the university implemented. 
Andruss said off-campus students might still go to parties or disregard other coronavirus safety guidelines, but she feels that's less likely to happen among students spending more time on campus
"Students living in dorms have reasons that we need to be here and are dedicated to following these guidelines so that we can stay," Andruss said.
Jake Wittich is a Report for America corps member covering Lakeview, Lincoln Park and LGBTQ communities across the city for Block Club Chicago.
Subscribe to Block Club Chicago. Every dime we make funds reporting from Chicago's neighborhoods.
Already subscribe? Click here to support Block Club with a tax-deductible donation.