ENGLEWOOD — Donations flooded into M.A.S.K.'s back-to-school giveaway Saturday, allowing the anti-violence group to collect thousands of supplies for local families.
The huge influx of donations came just days after someone broke into one of the group's shipping containers to steal thousands of dollars worth of items that were supposed to help families as the school year kicks off.
As news spread of how M.A.S.K. needed donations to replenish its supplies, people descended on the giveaway to help. One by one, they stopped by the lot at the corner of 75th Street and Stewart Avenue, bearing diapers, water, tablets and school supplies, as volunteers set up tents and barbecue grills.
"We were able to help over 200 families," founder Tamar Manasseh told Block Club. "It worked out beautifully."
M.A.S.K. — also known as Mothers Against Senseless Killing — has gained fame for its efforts to help communities throughout Chicago. Manasseh started the group by setting up events outside at 75th Street and Stewart Avenue, hoping to reduce gun violence there.
Manasseh's efforts were successful, and now the group has expanded its work — like with Saturday's giveaway, which was organized to help local families get much-needed supplies.
The bulk of donations came from individuals just looking to pitch in. By Saturday afternoon, dozens of boxes filled volunteer Casey Rucins' home office.
"Y'all bought: 89 tablets, 8,880 sanitizing wipes, 555 bottles of water, 2,000 masks, 480 bags of pretzels, 300 yogurt pouches, 300 bags of pirates booty, 5,760 baby wipes, 6,750 diapers, and 360 fruit and veggie pouches," Rucins wrote in a Facebook post.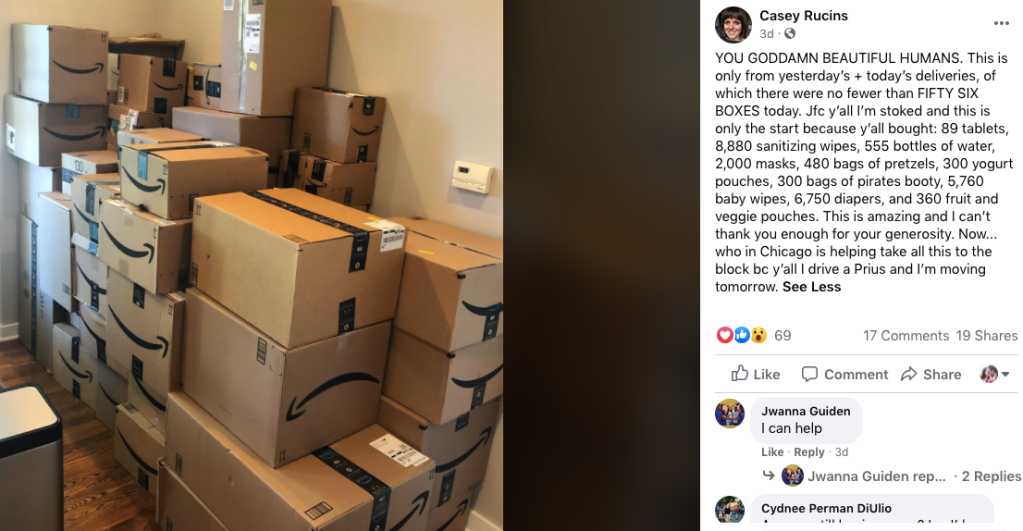 It took a van and a pickup truck to ferry the boxes across town to the Peace Academy campus.
The mass donations gave hope to Manasseh after last week's theft.
"This isn't about a break-in for me. It's about the goodness of people and what happened afterward," Manasseh said. "Nothing can hold us back. We can't be stopped."
Subscribe to Block Club Chicago. Every dime we make funds reporting from Chicago's neighborhoods.
Already subscribe? Click here to support Block Club with a tax-deductible donation.