PILSEN — Parents at Orozco Community Academy say Chicago Public Schools has yet to make good on a promise made nearly 18 months ago to expand the selective-enrollment school's gifted program.
In 2018, the district announced it would allow more children from across the city into the accelerated learning program, transforming the Pilsen elementary school, 1940 W. 18th St., from a part-gifted, part-neighborhood school into an exclusively gifted school for primarily Spanish-speaking and bilingual students.
CPS hasn't expanded the number of gifted seats at the school to date because additional students tested didn't qualify, a CPS spokesman said. But parents have questions about the testing procedures, with some arguing a short, five-minute test isn't long enough to evaluate whether a student is gifted.
The CPS promise came after years of collecting signatures, talking with parents and  administrators and convincing the local school council of the benefits of an exclusively gifted program, parent Guadalupe Carreon said. Some parents likened the expansion of the program to "winning the lottery."
But now, Carreon said she feels "deceived" by district officials because they haven't expanded the program to date.
"Why doesn't CPS want to expand the gifted program?" Carreon said.
Carreon and more than three dozen parents and students from Orozco Community Academy, Pulaski International School and Horace Greeley Elementary — the three regional gifted schools in the district — are calling on CPS to fulfill its commitment to the school.
"They haven't fulfilled their promise," Carreon said. "I'm here to ask for what we deserve, and that's for more gifted spots at the school."
'Wall-To-Wall' Gifted Program
In October 2018, district officials introduced plans to transform Orozco into a wall-to-wall gifted program and introduce a dual language program at nearby Cooper Elementary.
Before 2018, the school housed a Regional Gifted Center for English Learners program from kindergarten to eighth grade and a neighborhood school program for six, seventh and eighth grade students.
Under the changes proposed in 2018, the Level 1+ CPS school would offer a wall-to-wall gifted program, expanding its boundaries to allow children from anywhere in the city to apply for the selective-enrollment program.
RELATED: Pilsen's Orozco Elementary Would Become Entirely Gifted School Under CPS Plan: 'It's Like Winning The Lottery,' Parent Says
Enrollment in the school's gifted program has historically been limited to students who primarily speak Spanish. Under the proposed changes, heritage speakers — second- or third-generation students who have been exposed to the Spanish language but are dominant English-language speakers — would be allowed to enroll if selected after passing the district's gifted test, Orozco Principal Efrain Martinez previously told Block Club Chicago.
In 2017, the school had 75 applications for 30 seats, Martinez told Block Club at the time. Before the plan was approved by district officials, Martinez estimated the school could offer spots to 56 children in 2019.
Parents supported the plan and it was approved by the district in February 2019.
RELATED: CPS Plan To Make Orozco Entirely Gifted School, Reactivate Cooper's Dual Language Program Gets Parent Support In Pilsen
But the district has failed to add more seats over the past two school years.
Asked why the district has yet to implement the program at the school, CPS spokesman James Gherardi said "there wasn't a sufficient number of students who met the qualifications." 
"Providing equitable access to high-quality academic programs is a top priority of the district, which is why the district implemented a community-developed plan to transition Orozco to serve as a regional gifted center for [English-language learning] students," Gherardi said in an email.
Gherardi declined to say what criteria the students are evaluated on.
Parents pushing for the expansion said more than 80 parents had their children tested for the program at Orozco this year. They criticized the testing procedures, saying tests often lasted anywhere from two to five minutes.  
Parent Vanessa Lopez, leader of Concerned Parents for Equity at Orozco, demanded more transparency in the selective-enrollment process.
Pilsen resident and Orozco alumna Gladis Torres said her daughter took the test but was back less than five minutes later. After speaking with other parents, Torres said the majority of parents they surveyed had similar experiences. 
"Five minutes didn't seem like enough time to assess whether children were gifted," Torres said.
The district needs to overhaul the testing process to accommodate second- and third-generation students who have grown up in bilingual homes, Yessenia Cervantes said.
"We are asking for you to grow and achieve with us by restructuring your outdated EL Gifted admissions testing and standards," Cervantes said. She said parents do not want the district to lower its standards.
"Policies and methodologies need to evolve to meet the current needs of our communities," Torres said.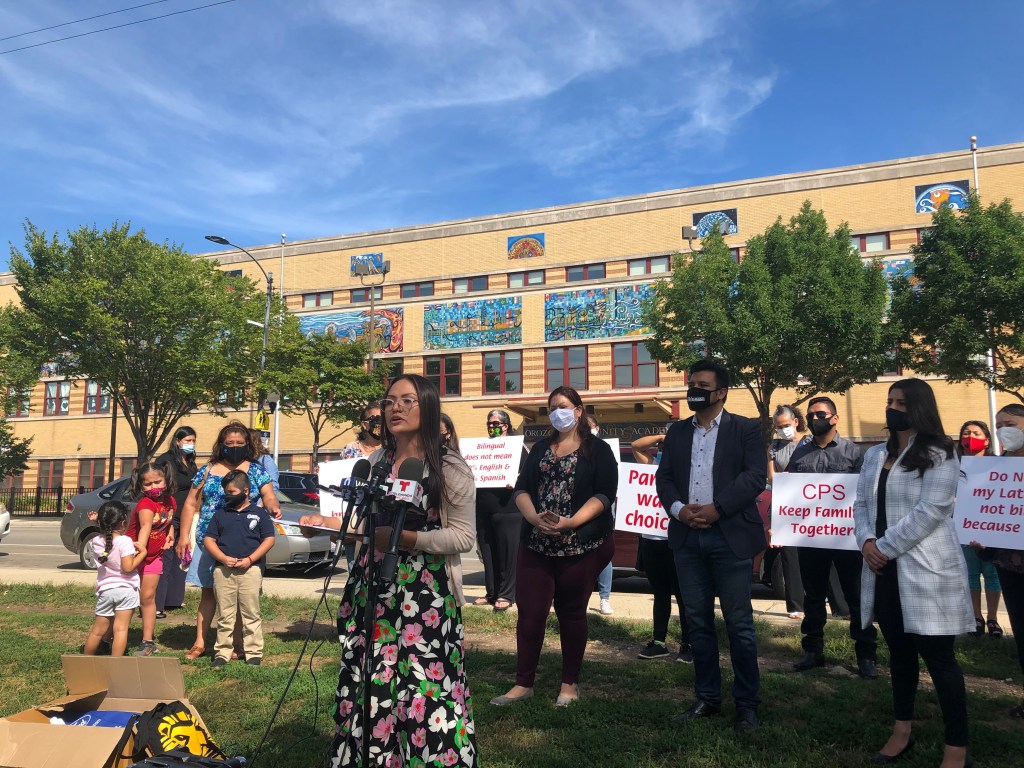 Orozco Local School Council member Abraham Celio said there are "injustices" in the process.
"Our kid need to be evaluated in a better way," Celio said. "Their future shouldn't be determined within two minutes." 
Ald. Byron Sigcho-Lopez (25th) and Cook County Commissioner Alma Anaya stood in support of the parents and called on district officials to fulfill the commitment made to parents in 2019. 
Torres and other parents said they will continue fighting until the district expands the gifted program and makes changes to selective-enrollment admissions. 
"We expect this to be a long battle because we are fighting years of inequity," Torres said. "We are fighting a system designed to be inequitable. In CPS' five year plan, they are claiming equity, but here is an opportunity to make right on what they are preaching and look what they do."
Subscribe to Block Club Chicago. Every dime we make funds reporting from Chicago's neighborhoods.
Already subscribe? Click here to support Block Club with a tax-deductible donation.