PULLMAN — Pullman's historic clock tower served as the centerpiece of a Labor Day celebration Monday, with local and federal officials breaking ground on the building's restoration and honoring the Pullman Palace Car workers' strike that took place there 126 year ago.
The clock tower restoration is part of $34 million in restoration work happening in the historic Pullman District, which then-President Barack Obama made a national monument five years ago. The clock tower work is expected to be done in time for a grand opening on Labor Day 2021.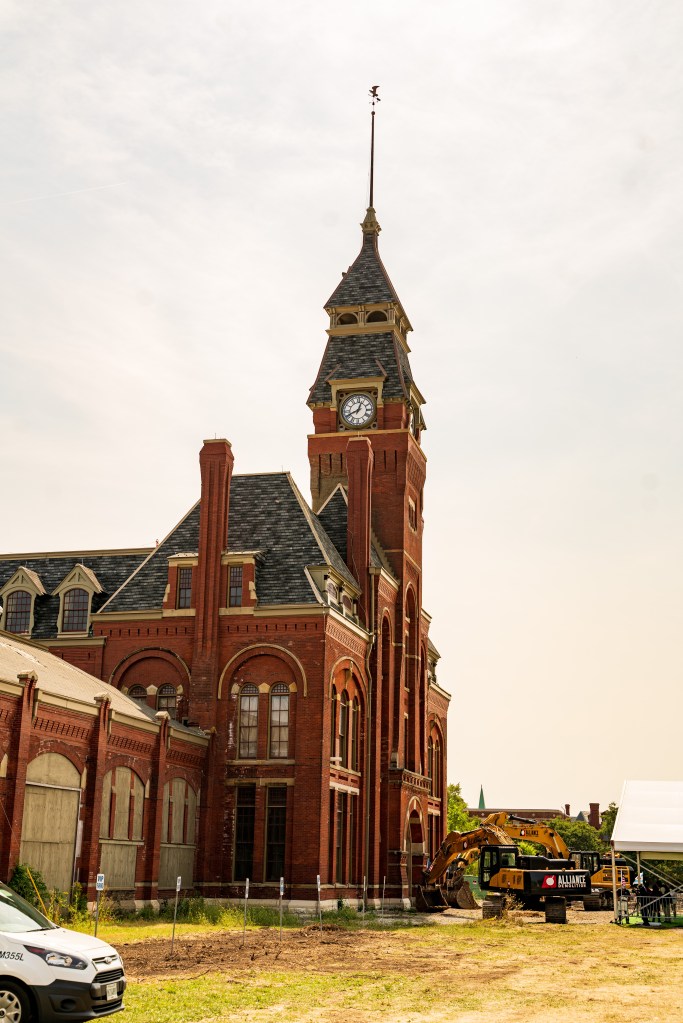 "He knew that we had a gem here in Pullman," Ald. Anthony Beale (9th) said at the groundbreaking Monday. "He saw fit to designate this area as a national monument, this is the second national monument in the state of Illinois, but the first in the city of Chicago."
Speakers noted the clock tower serves as a symbol of both Pullman and American labor history. Mayor Lori Lightfoot highlighted the importance of celebrating and honoring workers who are the "backbone of the city."
"The path forward to ending poverty and creating a more equitable Chicago has always started with listening and addressing the needs of our workers who are the backbone of our city," said Lightfoot. "Whether it's rail workers in the Pullman community over a century ago or workers across our city today, making sure that we do what we can to support workers and their aspirations for fair wages is vital to the future of our city."
Sen. Dick Durbin, whose family worked for New York Central Railroad in East St. Louis, spoke about the importance of Pullman porters. He recalled his curiosity and amazement as a young boy traveling in the Pullman Palace Car from East St. Louis to Los Angeles with his father.
"I remember being on that train, so excited. It was like I was flying in outer space," Durbin said. "This gentleman came along and said 'I'm your Pullman porter, I just wanted to let you know that the dining cart is going to be opening up soon and when you're back at eight o'clock, we will have transformed this into a sleeping cart,' I couldn't even imagine."
Built in 1880, the Pullman Clock Tower was designed by architect Solon S. Beman. The clock tower's significance to labor history traces back to the Pullman labor strike of 1894. It lasted from May 11 to July 20, 1884, and began as a result of wage cuts on more than 4,000 Pullman Company employees. 
Most of Pullman workers who built the cars lived in the company town, but many were left struggling to make ends meet as wages were cut but rents, water and gas rates did not.
During the strike, many of the workers joined the American Railway Union led by Eugene V. Debs. A massive boycott resulted in which workers refused to run trains containing Pullman cars. United States Marshals and Army troops were sent in to "take action." Over the course of the strike, 30 workers died.
"We're all here because we stand on the shoulders of those who came before us," said Colleen Callahan, director of the Illinois Department of Natural Resources. "When we think 126 years later when the Pullman workers walked off the job they did because they knew it wasn't fair and that it didn't feel right. And it's important that when we acknowledge that life isn't fair that it doesn't exempt us from trying to make it that way and that's what they were doing."
There was some disappointment from community members Monday for a lack of community participation at the groundbreaking.
Lorraine Brochu is a community resident and member of the Pullman Civic Organization created in 1960 in response to a developer's plans to expand the Calumet Harbor, a project that hurt Pullman. She said the groundbreaking event was a celebration of the accomplishments of organizations and the community.
But she said there was a lack of communication to bring in the people in the community who helped "keep the site alive."
"Today should have been a day of collective celebration," said Brochu. "So many have worked hard to save Pullman, and yet a groundbreaking occurred and the community wasn't invited. Perhaps COVID makes this unsafe, but in the name of transparency and decency, invite us all to celebrate at least in spirit."