LOGAN SQUARE — A neighborhood organization has raised nearly $8,000 to plant trees in Logan Square after a powerful storm took down dozens last month.
Logan Square Preservation plans to plant the trees sometime before November with help from private contractors and landscapers, said Shana Liberman, board member and beautification chair. The details are still being finalized.
The organization was already planning to plant trees in the neighborhood this year, but planting events had to be delayed due to the coronavirus pandemic.
Liberman said the money raised will allow the group's members to expand their efforts and plant trees near the monument and along Logan Boulevard near the Logan Square Farmers Market, areas hit hard by the storm.
"I am shocked at the number of dollars raised and I am delighted," Liberman said. "I had no expectations that it would be anywhere near that."
On Aug. 10, a powerful storm with tornado-strength winds swept through Chicago, knocking down power lines and downing more than 7,000 trees. The winds whipped into a confirmed tornado that tore through a part of Rogers Park.
In Logan Square, Logan Boulevard, which is known for its large trees, was hit especially hard in terms of tree damage. About 50 trees along the roadway, many of them mature, were knocked down or damaged in the storm, said Andrew Schneider, president of Logan Square Preservation.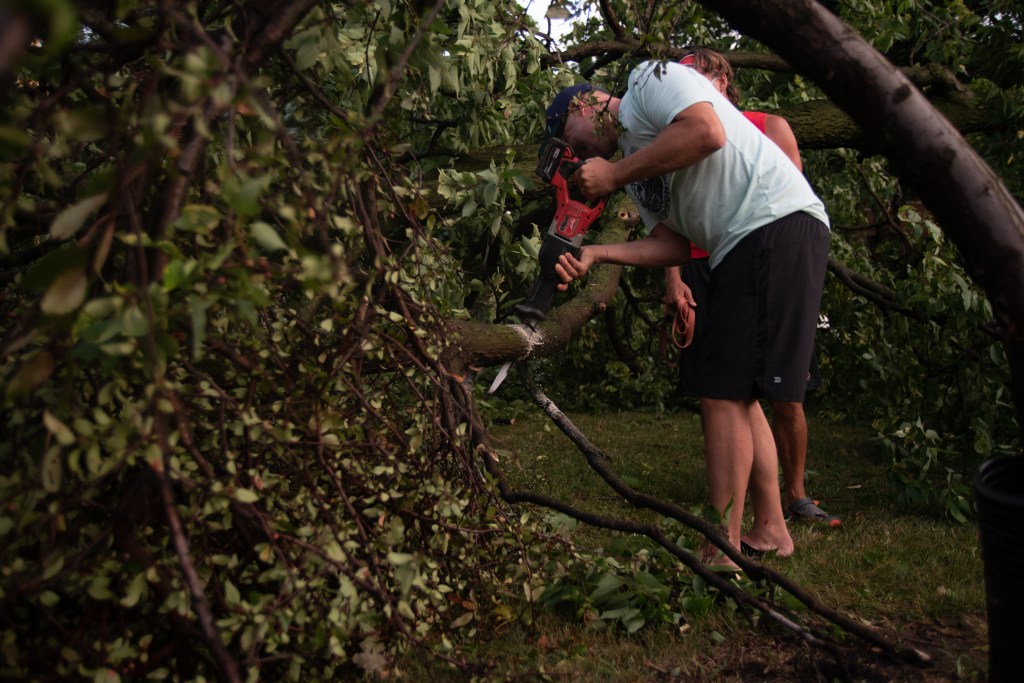 Liberman said her group will plant new trees near the felled ones so as to not disturb their root structures.
"You can't just remove those and plant in the exact same place," she said. "You have the whole root structure underground that will take a couple of years to decompose. We want to plant around that as best we can."
A planted tree costs roughly $1,000, but it's unclear how many trees Logan Square Preservation will get to plant with the money raised. The organization will put some of its own funding toward the effort, as it does every year, and that amount has yet to be determined, Liberman said.
But the money raised will go a long way in restoring greenery to the neighborhood.
"We were going to plant anyway, but that additional [$8,000] will help us so much more," Liberman said.
Logan Square Preservation has planted trees in the neighborhood since its founding in 1980.
Liberman said Schneider, the group's current president, sprang into action and put out a call for donations after the storm, and money started pouring in.
"It was remarkable the outpouring of sentiments and thoughts about all of the devastation," Liberman said.
"If you were just to drive down [Logan Boulevard] shortly after, it was really emotional, really unfortunate. And yet the neighbors are coming together and the community is investing in [trees], and it just warms my heart."
You can still donate to Logan Square Preservation's effort online. The group is matching each contribution.
Subscribe to Block Club Chicago. Every dime we make funds reporting from Chicago's neighborhoods.
Already subscribe? Click here to support Block Club with a tax-deductible donation.