LITTLE VILLAGE — Cook County Jail correctional officers are demanding hazard pay for working for months in one of the city's hot spots for coronavirus infections.
The Teamsters Local 700 union, representing about 2,500 correctional officers, launched an ad campaign demanding Cook County Board President Toni Preckwinkle approve hazard pay for frontline workers at the jail. They've bought mobile billboards, full-page ads in the Sun-Times and social media ads saying, "Tell Cook County Board President Toni Preckwinkle to Stop Spreading COVID-19!"
"We are calling on all Chicagoans to tell Toni Preckwinkle that all essential correctional officers must be compensated fairly for their service and be kept safe on the job," said union President Ramon Williams.
Preckwinkle's office did not respond to requests for comment.
The Cook County Jail was a hot spot early in the pandemic. At one point, the outbreak represented one of the largest reported clusters of coronavirus infections nationwide, according to a New York Times report.
Cook County Sheriff Tom Dart pushed back on criticism at the time, saying the numbers were so high largely because of the rigorous testing being done at the jail.
Currently, 31 detained people and 18 corrections officers are positive for coronavirus. There are more than 5,200 people incarcerated at the jail.
When the outbreak was at its worst, more than 300 detained people were sick with coronavirus at once, according to the sheriff's office.
As of April 21, more than 692 people connected to the jail had tested positive for coronavirus.
More than 500 people incarcerated at the jail today previously had coronavirus and recovered. Seven detained people died.
More than 500 employees of the Cook County Sheriff's Office have been infected with coronavirus, though not all were correctional officers working at the jail. Three correctional officers and one deputy who did not work in the jail died after developing severe complications due to coronavirus.
Critics have said the jail was crowded and unsanitary and social distancing has been impossible for detained people.
Despite efforts by Dart to move detained people to single cells, improve cleaning schedules and reduce the jail population, officers still struggled to get adequate personal protective equipment and to sanitize common areas at times, said union spokesman Anthony McGee. He said those shortcomings make the decision to deny hazard pay for workers especially egregious.
"The county has been ill-equipped to deal with the events that took place at the jail," McGee said.
McGee said officers are also regularly working 16-hour days to make up for staff shortages.
"We had an officer who never had a history of seizures. But because of being overworked, they were taken out in an ambulance from seizing out of mere exhaustion of working in that place," McGee said.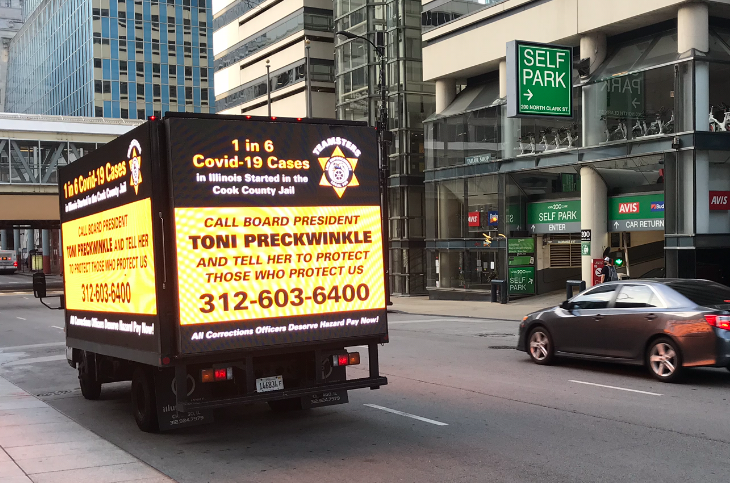 Some of the hazard pay advertisements emphasize the dangers that officers face, citing a study from University of Chicago researchers who found one in six COVID-19 cases in Chicago between March and mid-April were related to the volume of people cycling in and out of the jail.
 "That number is not a shocking figure for our members," McGee said.
The study was denounced by city officials who said the research does not take into account efforts to control the infection.
Negotiations have been stalled after the county offered hazard pay only to some correctional workers in frontline positions, McGee said.
"They have unilaterally determined that some people deserve it and others do not," McGee said. "That virus did not differentiate where it spread throughout that compound. So how could the employer suggest that a part of our bargaining unit should receive it whereas the other should not?"
Pascal Sabino is a Report for America corps member covering Austin, North Lawndale and Garfield Park for Block Club Chicago.
Block Club Chicago's coronavirus coverage is free for all readers. Block Club is an independent, 501(c)(3), journalist-run newsroom.
Subscribe to Block Club Chicago. Every dime we make funds reporting from Chicago's neighborhoods.
Already subscribe? Click here to support Block Club with a tax-deductible donation.