PILSEN — A man was killed by police Monday night after someone standing with a group of men allegedly opened fire on officers in Pilsen, according to a witness at the scene and Chicago Police.
Now relatives of the slain man, 26-year-old Miguel Vega of suburban Calumet City, are searching for answers. The shooting is under investigation by the Civilian Office of Police Accountability.
At 10:45 p.m. Monday, officers were driving in the 1300 block of West 19th Street when they saw five people standing on the sidewalk. Someone then allegedly shot at their police car, Chicago Police said in a preliminary statement.
A resident, who declined to be identified for fear of retribution, said they were out on a walk when they saw at least three men, whom they didn't recognize, standing on the block before the shooting happened.
Shortly after, a neighbor called 911 to report suspicious men on the block and police officers responded to the scene in an unmarked car.
Someone standing with the group of men "shot at the police, and the police shot back and killed one of them," the witness said.
When police returned fire, the men started running away, the witness said.
Deputy Chief Daniel O'Shea said at a press conference officers were responding to a call of a suspicious person when they got out of their car and someone fired shots in their direction, according to the Tribune. 
Vega was taken to Stroger Hospital in critical condition and later died, authorities said. Vega was shot in his head, authorities said, according to the Sun-Times.
No officers were injured. A gun was found at the scene, police said.
Two people were taken into custody at the scene. Two other people ran away and have not been found, police said.
The officers involved in the shooting will be placed on routine administrative duties for 30 days.
Several neighbors told Block Club Chicago they heard up to 20 gunshots before seeing a flood of squad cars fill the street.
Standing on the blood-stained street Tuesday where his brother was gunned down, Erik Vega, 20, said his family wants to see body camera footage corroborating police's narrative of the shooting. They said they don't believe he had a gun or shot at police.
The gun was recovered from beneath a car, according to a tweet from Chicago Police spokesman Tom Ahern.
"If you have a weapon you are going to drop it where they shot you," Vega said.
Police were wearing body cameras at the time of the shooting, a source told Block Club Chicago.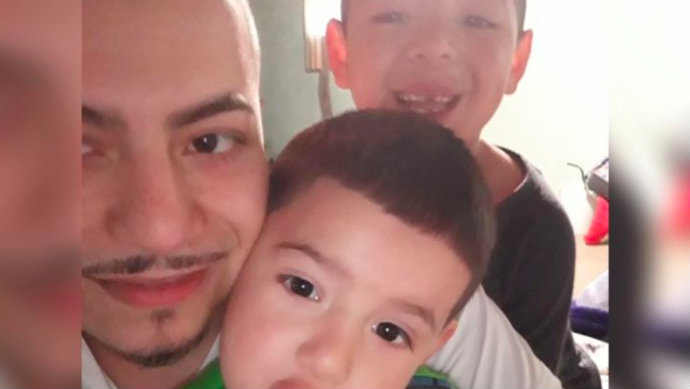 Miguel Vega's mother, Maria Vega, is also skeptical of the police account. Her son, a loving father of two, would often come to Pilsen to visit childhood friends and family, she said.
"I want to know the truth. It's not fair. I don't think my son would have shot at police," she said.
Miguel Vega's family is raising money on GoFundMe to help pay for his funeral.
"Sometimes my brother hangs with his friends from his childhood. Yesterday was one of those days," Erik Vega said. "Sometimes you have good people, sometimes you have bad people in your circle. I'm guessing some bad apples were around him at that moment."
On Tuesday afternoon, neighbor Helene Bennett was cleaning shattered glass that littered the street after a car window was shot out during the gunfire. She said she heard very loud gunfire before calling 911.
Since the shooting, she's heard varying accounts. She said she wasn't sure who fired first.
"It's just so sad. I wish we could get the guns off the street, and I wish cops would use a taser or some kind of paralyzing equipment," she said.
Police declined to answer questions about the shooting, citing a pending investigation.
Family left a candle and flowers where Miguel Vega was slain Tuesday.
Erik Vega said his family hasn't been given much information from police aside from a detective dropping off a piece of paper at their home.
"I just want justice for my brother's death. No one deserves to be shot in the head like that," Erik Vega said.
Anyone with information about the shooting is asked to call the Civilian Office of Police Accountability at 312-746-3609.
The shooting comes just a day after another incident where officers shot a man after he shot and wounded two officers in Austin, according to the Police Department.
Subscribe to Block Club Chicago. Every dime we make funds reporting from Chicago's neighborhoods.
Already subscribe? Click here to support Block Club with a tax-deductible donation.