CHICAGO — On Easter weekend in Chicago, a morning implosion at an old coal plant covered Little Village in a thick cloud of dust. With little notice, panicked residents in the working-class neighborhood watched as the debris wafted through their streets and across their homes in the midst of the coronavirus pandemic.
The developer was fined, admonished by Chicago's mayor and the site was temporarily shut down. But three months later, nearly 800 miles away, it happened again: An early-morning blast at an old industrial site sent a massive dust cloud into the air.
This time, there was no notice to neighbors. And the same developer is responsible.
The loud boom Jersey City, N.J., residents heard at 5:30 a.m. July 24 was an unannounced-but-planned implosion at the Hudson Generating Station, an old coal plant on the Hackensack River owned by Hilco Redevelopment Partners. Hilco also demolished the century-old Crawford Coal Plant smokestack in Little Village on April 11.
In the days leading up to the Jersey City implosion, neither city leaders nor Hilco officials sent residents any robocalls, text messages, letters, emails or other notifications, according to neighbors and local council members.
Jersey City sits just across the Hudson River from Manhattan. Some residents, already on edge because of the pandemic, feared the worst.
"The implosion induced a lot of panic, especially for us who live across the water from where 9/11 happened," said Jersey City resident Jessica Taube. "It's really jarring,"
Block Club Chicago spoke to nearly a dozen Jersey City residents and city leaders about the eerily similar situation to the Little Village implosion. More than a month later, neighbors are still searching for answers about why city officials allowed the explosion to happen — and what the dust cloud contained.
And as in Chicago, Hilco's leaders are facing little consequence for their actions in Jersey City.
"What they did was unconscionably wrong. They should pay a fine for it," Jersey City Councilman Yousef Saleh said of Hilco. "People thought it was something a lot worse."
RELATED: Planned Explosion Covered Little Village In Dust During Respiratory Pandemic — Why Did The City Let It Happen?
'I Thought It Was A Bomb That Went Off'
Residents in The Heights and Journal Square neighborhoods in Jersey City were awakened by the thunderous explosion at the nearby Hudson station. Residents more than 2 miles away also said they heard and felt the blast.
Lifelong Jersey City resident Michelle Diaz, who lives in the same ward as the site, said she thought it was a "bomb" or "some sort of terrorist attack."
Lori Pickhardt, staring out an open window in her kitchen, immediately took cover.
"I ducked down because I wasn't sure what was going on," Pickhardt said. "Then I waited to see if there was going to be another explosion. I thought it was a bomb that went off. … It was terrifying." 
More than 2 miles away, Taube was up early working from her kitchen table when the explosion shook her home.
"It sounded like it was in my backyard. … It scared me," Taube said. "My heart was racing for quite some time. I ran to the backyard, but I didn't see anything."
Some neighbors called 911 and mined social media for answers. A handful of photos circulating on Twitter showed a cloud of dust nearby.
Councilman Rolando Lavarro Jr., who represents the entire city but does not live near the site, fielded questions throughout the morning. But he was in the dark, too. He immediately called the city's Office of Emergency Management to find out "if there was some kind of disaster."
Lavarro eventually learned the blast was a scheduled implosion at Hudson. In some capacity, Hilco coordinated with Jersey City's Fire Department and buildings department, Lavarro said he was told.
Lavarro relayed the information to residents in a Facebook post, which prompted more questions from neighbors about why city officials — or Hilco, the site's owner — hadn't issued a warning.
Lavarro wondered, too. When the city imploded public housing towers in 2015, it was widely publicized.
Weeks after the implosion, Lavarro said he's still digging for answers.
Saleh, who represents Ward D, which includes the Hudson Generating Station, said he wasn't informed either. He was recently appointed after the ward's previous councilman died of coronavirus.
Under Jersey City noise ordinances, construction and demolition is not allowed before 7 a.m., Saleh said.
After the implosion, Saleh wrote on Facebook that had he known about the implosion, he would have "demanded residents be notified and notices be disseminated."
"This should not be the wild west with [an] implosion happening at the crack of dawn!" Saleh wrote on Facebook.
Saleh said he is now working on legislation requiring developers to provide notice to residents ahead of an implosion. 
Multiple calls and emails to Jersey City Mayor Steven Fulops and officials for the Fire Department and buildings department were directed to the city's spokeswoman, Kimberly Wallace-Scalcione, who did not answer questions. 
When Wallace-Scalcione was asked by local reporters about the explosion, she directed all questions to the demolition company, Independence Demolition. Independence Demolition also did not answer Block Club's questions.
Hilco Redevelopment Partners did not return multiple requests for comment.
Hilco purchased the shuttered 241-acre coal plant in Jersey City and the Mercer Generating Station, a 132-acre property in Trenton, N.J., from Public Service Enterprise Group PSEG in 2019, according to NewJersey.com.
The coal plants were opened in the 1960s before being decommissioned in 2017, according to the Philadelphia Inquirer. 
At the time, Hilco CEO Roberto Perez said the two sites offered "transformational opportunities to reposition underutilized land into modern industrial parks in one of the strongest warehouse distribution center regions in the entire country."
During the purchase announcement, Hilco declined to discuss the demolition timeline or environmental remediation of the coal plants, according to a NewJersey.com report.
Like other Jersey City residents, Saleh said the plans for the site have not been presented to him, nor is he aware what type of development Hilco has planned for the site. 
"I'm a lifelong resident. I was born and raised in the Heights. … I had no idea they were doing any of this down there, and I think a lot of people didn't, either," Saleh said. "They definitely have our attention now."
A History Of Secrecy And Environmental Fouls
In recent years, Hilco has purchased vacant industrial sites and converted them into massive warehouses. In Maryland, the company converted an old steel mill and shipyard into a massive distribution facility that houses an Under Armour and Amazon warehouse.
A Hilco affiliate came under fire for alleged environmental violations related to the site's demolition.
In 2015, they were fined $3.75 million for environmental violations in Dundalk, Maryland. Sparrows Point, a Hilco affiliate, and its partners committed violations that included failing to control stormwater, sediment and erosion, dumping trash and industrial waste, stockpiling scrap tires and handling asbestos improperly, according to the Baltimore Sun.
Since then, the company has continued acquiring a industrial sites, including the old Crawford Coal Plant in Chicago's Little Village neighborhood and Fisk Generating Station in Chicago's Pilsen neighborhood.
In 2016, Hilco Redevelopment Partners purchased sites from Edison Power Plant in South Boston, where it plans to transform the site into condos, apartments, retail space, offices and hotels. 
Most recently, the developer purchased a refinery in Pittsburgh. A representative with the company told the Philadelphia Inquirer it has an "aggressive" timeline for the project.
Throughout 2020, Hilco Redevelopment Partners and its contractors has conducted a handful of demolitions involving explosives in New Jersey and Chicago.
In late March, Hilco's contractor felled a smokestack at the Hudson Generating Station. Weeks later, it conducted another implosion at its Mercer site in Trenton, N.J.
The Easter weekend implosion in Little Village — one Hilco admitted was botched — sparked outrage and a stop work order in Chicago after a cloud of dust spread to at least six residential blocks, dropping dirt and other matter on homes, cars, business, trees "and every other inch of this community," a furious Mayor Lori Lightfoot said at the time.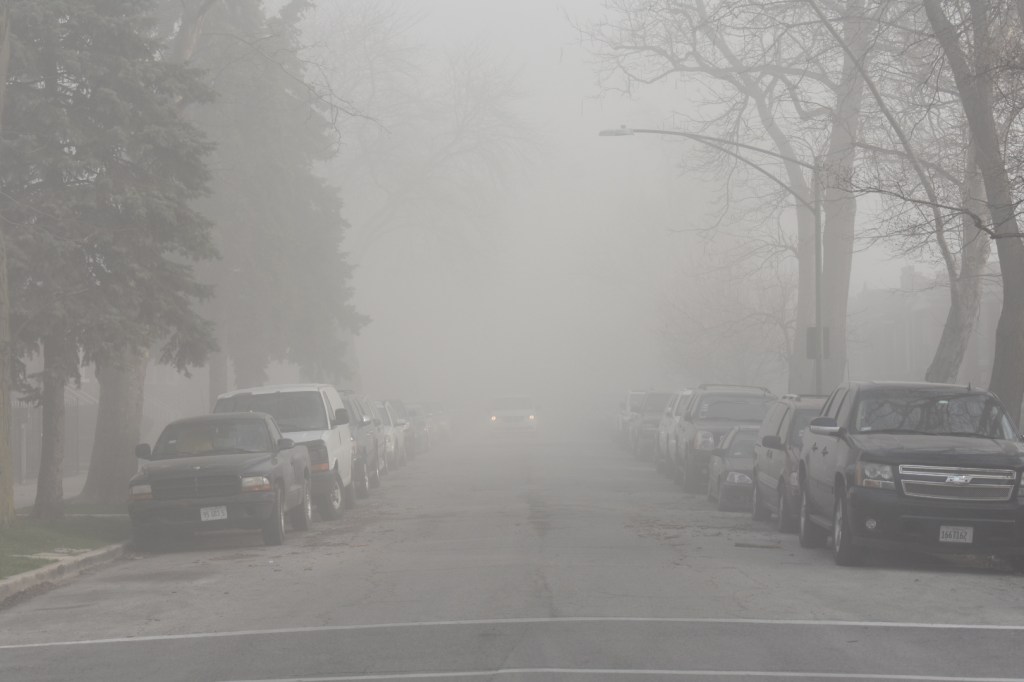 Hilco had given the city repeated assurances its contractor would not let any debris escape the site. Lightfoot blamed Hilco, which in turn blamed and fired its demolition contractor. 
Following the smokestack implosion in Little VIllage, Hilco CEO Perez issued an apology for the "anxiety and fear" caused by the demolition work. 
A month after the fiasco, the city quietly issued Hilco another demolition permit for the site, infuriating residents who protested on the mayor's block and pushed her to delay the work.
Despite apologizing and expressing remorse, the company similarly blindsided Jersey City residents with the blast.
After seeing photos of dust, Caroline Jones worried people's health could be affected. She wondered if any environmental analysis was done at the industrious site ahead of the demolition.
"Was there any dust mitigation?" Jones said. "I think the city needs to follow protocols when things are demolished and residents are notified, and environmental standards are upheld."
'They Are Just Hoping That We Will Just Move On'
The initial frustrations about the loud blast have subsided for some. Now, Amy Wilson and neighbors are more upset with city officials for failing to give residents any heads up. 
A warning so residents aren't terrified "doesn't seem like a huge ask … or a crazy demand to make of our local government or a developer," Wilson said.
"They implement emergency notification pretty regularly," Wilson said. "If there's going to be traffic diversions in a part of the city, they'll notify everyone. … They are not shy about it. That's what made the explosion so terrifying."
Adam Cohen, who lives about a mile from the site, said neighbors have sought answers from city officials since the company carried out its first implosion of a smokestack back in March. 
Cohen, an active member of a neighborhood association, reached out to Mayor Fulops several times to raise concerns about the lack of notification and the plume of smoke in the middle of a pandemic.
The Journal Square resident also said he was surprised a private company could violate a noise ordinance that resulted in numerous residents calling 911 and the city had yet to answer residents' questions, Cohen said.
Cohen said he agrees with tearing down a coal power plant and replacing it with something that would hopefully be more productive and better for the environment, but said residents need to be kept in the loop.
"It's almost as if they hope people forget so that they don't have to provide information," Cohen said. "That's the frustration that our neighbors share. There is no information. They are just hoping that we will just move on."
Read all of Block Club's Hilco coverage here.
Block Club Chicago's coronavirus coverage is free for all readers. Block Club is an independent, 501(c)(3), journalist-run newsroom.
Do stories like this matter to you? Subscribe to Block Club Chicago. Every dime we make funds reporting from Chicago's neighborhoods.
Already subscribe? Click here to support Block Club with a tax-deductible donation.